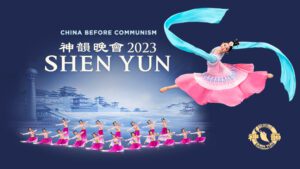 This holiday season Louisville theatergoers are in for a world-class treat with the return of New York-based Shen Yun Performing Arts to the Kentucky Centre on Dec. 30. It's just what you've been waiting for! And just in time to usher in the hope and bright promise of the new year!
Shen Yun is an internationally acclaimed performance that will leave you renewed, uplifted, and inspired. Gather your loved ones together and immerse in this timeless artistic experience of the ancient art form at the heart of the world's premier classical Chinese dance company. You'll be mesmerized by the elegance and expressiveness of classical Chinese dance, filled with grace, beauty, energy—like poetry in motion.
It's a comprehensive dance system cultivated over 5,000 years. The stunning athleticism of its leaps and spins, performed by the world's finest classical Chinese dancers, will keep you on the edge of your seats.
read more