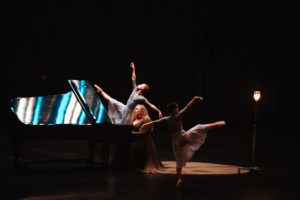 Louisville is known for its culinary scene, nightlife, entertainment, and of course, the performing arts. We also have an abundance of talented musicians, ranging from orchestra performers to vocalists and everything in between.
One of the most notable bands to originate here is My Morning Jacket, featuring Louisville native Jim James, who has led the band since its inception in 1988. The latest Louisvillian to make worldwide waves is hip-hop all-star Jack Harlow, who has had success with his catchy lyrics and smooth rhythm and rhymes. His current hit, "What's Poppin," features several Louisville references, including Vincenzo's restaurant and the University of Louisville basketball team.
One musician familiar with the spotlight and entertaining crowds large and small is local jazz, R&B and rock powerhouse singer/songwriter Carly Johnson. Having performed with artists such as Norah Jones, Bonnie Prince Billy, Houndmouth, and My Morning Jacket, as well as playing in a jazz guitar duo with critically acclaimed local musician, Craig Wagner, she has become a well-known and respected name in the Louisville music scene.
Her latest masterpiece is a song she wrote for a dear friend who courageously fought lung cancer with the power of positivity, and was an inspiration to everyone around her.
The song is titled Burn Your Fears and is accompanied by a video that was filmed at Whitney Hall at the Kentucky Center for the Performing Arts in partnership with the Louisville Ballet and Kentucky Performing Arts.
Audience publisher, G. Douglas Dreisbach, caught up with Carly to hear more about the song and upcoming album, her inspiration in writing it and how the partnership with the Louisville Ballet and Kentucky Performing Arts came to be.
G. Douglas Dreisbach: Congratulations on the new song and video. It is a great tribute to your friend and testament to your amazing talent. You have worked hard to get to this point traveling around the world and studying in Philadelphia for a period of time as well. What made you return to Louisville? What do you love about the city?
Carly Johnson: For full disclosure, I initially returned to Louisville due to being smitten with a guy! Luckily it worked out. We've been married for almost seven years, and we're expecting our first child this fall. Though I truly loved my experience in Philadelphia, it was also easy to return to Louisville because of its rich and varied music scene. I was able to take time to hone my craft here and actually make a living singing jazz full time for 10-plus years now. That's not something that's as practically achievable in larger cities. The immense support and love for live local music in Louisville is heartwarming to say the very least.
GDD: Where do you find creative inspiration for songwriting?
CJ: Most of my songwriting comes from personal experience, whether it's challenging times, great loves, family, or even just the sweeping emotions we all experience at different times in life. Sometimes, I'll write a song about someone else's story, which is where Burn Your Fears comes in.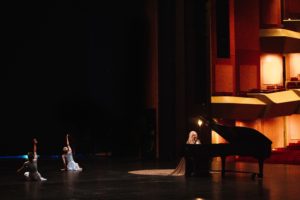 GDD: What are your favorite venues or events to play?
CJ: I absolutely love playing big concerts or festivals when I get to play my own original music, anywhere the crowd is exuding energy and really driving your own performance on stage. I had a blast playing Forecastle last summer. There's such a magical connection that happens between the audience and the performer that is definitely magnified when you're in front of a big crowd, though there is still magic to be found when I'm singing jazz in the corner of a small bar. It may only be one or two people zoned in and listening — but picking up on their attention is enough to make whatever music I'm singing feel important and meaningful. Other really special venues or events are any time I get to sing with Teddy Abrams and the Louisville Orchestra, which always guarantees being surrounded by a plethora of truly talented musicians and a passionate audience. The magnificent Whitney Hall is, of course, at the top of that venue list.
GDD: When did you realize that you had such a talent for singing and entertaining?
CJ: I've loved singing since I can remember and was lucky enough to get a lot of support from various music teachers. My first memories of singing as a kid are singing along to various Disney princesses —Sleeping Beauty and The Little Mermaid definitely played a big role in my love for singing. I eventually moved on to idolizing the voices of Whitney Houston and even the rock vocals of Steven Tyler from Aerosmith.
Even though I loved singing, doing so in front of people didn't come easy. I had pretty significant stage fright all the way through high school. Finally getting up the courage to switch from playing alto sax in the middle school band to joining choir once I entered high school was my first step toward singing in public and not just in the shower. With encouragement from my choir director, I was eventually auditioning for solos and participating in the high school talent show. Thankfully, from there I built up my courage enough to commit to pursuing singing in college and everything opened up from there. I still get nervous every time I go out to perform, but now I just look at it as part of the process, and I don't let it keep me from doing what I love.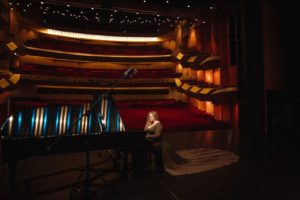 GDD: What have been some of your most memorable moments in your career?
CJ: I've been so lucky to get to travel and perform at some really iconic venues in the United States and Europe, and even some beautiful and historic places here locally. Memorable moments certainly include The Palace, Whitney Hall, Iroquois Amphitheater, The Muhammad Ali Awards and Forecastle Festival here in Louisville, all the way to The Hotel Cafe in Los Angeles, The Blue Note jazz club in New York City and the Cavern Club in Liverpool, England.
GDD: What has been your proudest moment?
CJ: I would have to say that I'm torn between two moments. The first moment would be performing a show of my own original music at the Cavern Club in Liverpool, England, where The Beatles grew up and often performed. I'm such a huge fan of The Beatles; it was chilling to stand where they stood and get to sing in the same space where they became who they are, surrounded by all of my bandmates that I love so dearly.
Second, would be in Louisville at Iroquois Amphitheater, with the Louisville Orchestra. Not only was it my first time (of thankfully many more to come) singing with the LO, but it was also a performance of a song that I wrote called The Believer (which you can hear on my forthcoming debut album this October). Hearing your own song arranged and played by an entire orchestra for the first time is truly mind blowing, and something I'll never forget.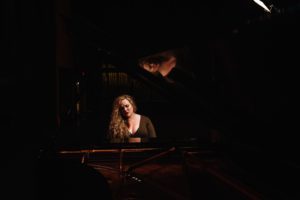 GDD: Your latest song, Burn Your Fears was written to honor a friend who courageously battled cancer. Can you tell us more about that experience and what led you to write the song?
CJ: I wrote it for a dear friend of mine, Marisa Wittebort, shortly after she was diagnosed with an extremely rare form of lung cancer (ROS-1), as a 30-year-old non-smoker. She really beat the odds and was able to live four years after being diagnosed, but she passed away last November, just a month after being honored by the American Lung Association as a Lung Force Hero.
A few months after her diagnosis, Marisa told me the story of how she decided to embrace life going forward into the new year. She, her sister, and her family watched as Marisa wrote down her greatest fears on tiny pieces of paper and threw them into a fire in their backyard. I was so inspired by her courage to face the possibility of these stark truths, and by her choice to move forward and be wide open to the new path in front of her. This compelled me to write the song, Burn Your Fears.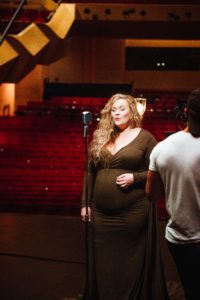 GDD: What was it like writing a song for someone you were so connected to and passionate about?
CJ: It was hard. I knew I would have to dig deep and go to a difficult place to even begin to scratch the surface of what she could possibly be feeling. I wrote the song as an anthem for her, in the sense that it's about facing something incredibly difficult in your life, allowing yourself to completely embrace and feel every emotion it brings your way, and deciding to find beauty and live your life fully in a different way than you had planned.
It's always had a universal theme to it that anyone living with trauma has been able to relate to, but now more than ever, it feels immensely poignant and even more relatable than before. Right now, we're all afraid, experiencing intense emotions and we're trying our best to navigate this new way of life within a pandemic; we're having to learn to find joy and beauty, and live our lives in a different way.
GDD: How did the partnership with the Louisville Ballet and Kentucky Performing Arts begin, and how did it evolve into a full-scale production?
CJ: I had always envisioned ballerinas for this video, just how fluid their movements are and how that can evoke and translate emotions so well. With Louisville being so supportive of each other in different fields of the arts, I'd been lucky enough to make friends with some extremely talented dancers and choreographers who had seen me out performing around town, and striking up the concept and conversation about a future video was always exciting and welcomed. KPA has always been so supportive of what I do, and my own personal history of falling in love with Whitney Hall as child — my mom taking me to see The Nutcracker and so many other concerts there at an early age — made reaching out to The Kentucky Center with my proposal a no-brainer.
The vision was that the video would be simple in the sense that it is mostly just myself singing and playing piano in the middle of the Whitney Hall stage to a massively empty house. But as the song continues, four string players gradually appear in the audience, and they pick up their instruments and play from their seats when the strings part starts in the song. Then, as the song builds, three ballerinas join the stage dancing around the piano.
What the viewer is experiencing during the video is a reflection of their feelings and emotions with the great big, beautiful, empty Whitney Hall house, representing the loneliness we're all experiencing and that many people have experienced through trauma. Myself playing on stage despite being alone represents our strength as humans to continue and endure. The appearance of the string players and eventual ballerinas represents humanity and hope for the future along with a sense of community in our shared feelings as people.
GDD: Why did you decide to film the video at Whitney Hall?
CJ: Whitney Hall is so important to our community. It represents a longstanding beautiful mecca of the arts in Louisville and is locally owned and supported directly by its patrons. At a time when music and the arts are really struggling, and Whitney Hall is sitting empty with the future being so uncertain, it felt like it would be an impactful message to include the towering gorgeous hall as the background for new art being created. It also serves as a way for Whitney Hall to be showcased and seen by everyone who misses it.
It is personal to me, not only because I grew up going there to be dazzled by all the many performances as a kiddo, but also because I came fortunate enough to know it as a place for even myself to perform. I was actually on stage at Whitney Hall with conductor Teddy Abrams and the Louisville Orchestra on Friday, March 13, singing the beautiful music of Jacob Duncan, in what was probably the last rehearsal that took place before the shutdown. I am dreaming of the day when we all get to be back up there again in front of an audience and a packed house.
To purchase Carly's new album and learn more about her, visit CarlyJohnsonMusic.com