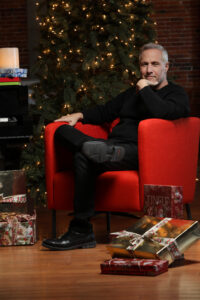 There is no doubt that this holiday season will not look like past years. Longstanding traditions may be put on hold, family gatherings may be limited, and things will just be different.
With the COVID virus continuing to wreak havoc on the world as we once knew it, businesses from every industry have been affected. Among those hit the hardest have been concert venues, most of which have been dark since March. Musicians and industry leaders have stepped up to help venues in any way they can. One of them is musician Jim Brickman.
With multiple awards, gold and platinum albums, and collaborations with artists such as Lady Antebellum, Martina McBride, Johnny Mathis, Olivia Newton John, and more, Brickman's music has enlightened millions and now he wants to bring the sounds of the holidays to your home with the Comfort & Joy at Home Virtual Holiday Tour streamed live on December 10 to benefit Kentucky Performing Arts.
A portion of the proceeds from each online concert will benefit various venues that host the special evenings of holiday cheer and our chance to help out KPA is December 10, so we hope you can check it out.
Audience Publisher, G. Douglas Dreisbach, caught up with the star himself to get the scoop about how he came up with the idea of the tour, his background, and his perspective about the arts and the world.
Douglas Dreisbach: How have you coped with some of the new normals of the pandemic?
Jim Brickman: Well, you know, we all have to navigate it and think about what we can do now that maybe we weren't able to do before. With necessity being the mother of invention, for me, that means a lot more creating, more recording, and more virtual events.
 DD: How have you altered your process for finding creative inspiration?  
JB: I am a songwriter first and foremost, and what songwriters really do, in my view, is reflect the tone of what goes on in the world during periods of time. The environment we live through affects the kind of music you write. In my case, because I am a singer/songwriter/artist, I want the music I put out for my audience to reflect what they might need right now. I want it to help soothe, comfort, heal, and calm them. For the holiday season, I want to bring joy in the music, and a lot of smiles and happiness and lift spirits.
I feel the job of a songwriter/artist, in any given time in the world, is to reflect back what the audience wants and what they might need, and that comes from the environment we are living in.
DD: Why do you think music and the arts are so important today?
JB: Music uplifts us all and lets us escape, and theater does the same thing. You're watching amazing performers that are bringing these characters to life, reflecting back some of what we all go through, relatable experiences that are live. But live theater's also about the community gathering in one place to celebrate the arts. When you have a place like The Kentucky Center, you have community involvement in supporting the arts, and when people get together in their own town, in their own community, at a venue that is comfortable that they know, there's a celebration not only of the arts and what you're watching, but also of the collective experience people are having with each other.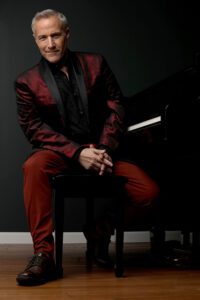 DD: This holiday season, your Comfort & Joy at Home Virtual Tour will benefit venues across the country, including Kentucky Performing Arts on December 10.  Why is it important to you to give back to the venues?
JB: I have toured for 25 years, and most of the places I perform are beautiful performing arts centers around the country. Many of them are historic landmarks that have been around for a hundred years or more, bringing entertainment to their communities. These venues have always really welcomed me and what I do, so I am grateful for that. I have always appreciated the physical places that I get to perform, but it is not just about the music or performance, it is about the whole environment. When you go in a venue, the feel of the place is as much a part of the experience as the music, especially at Christmas.
They have all been so kind to me over the years, and I really felt like it was important during this time to support local theater. Like in Louisville for example, where you have such a vibrant arts community, I want to help out and also remind the audience that it's going to take a while to get back to those experiences, and that a lot of these arts organizations are suffering.
With the tour, we decided to do something that was not just the same old thing, and just put up a virtual concert that people around the world can tune in to once, but provide a one-night experience that benefits the Kentucky Performing Arts. Anybody in Louisville — or from anywhere — can watch, and proceeds will still go to Kentucky Performing Arts.
You can tune in from Wichita if you've got friends there. They can still watch and support the Kentucky Performing Arts as well. To make it as close to a live performance as possible, we offered tickets on Zoom, so instead of just a passive watching something, now there can be interaction. I can see you. You can see me. You can clap. You can dress up. You could eat snacks. You could decorate the house, and I'll be able to see it. And again, it will give that community feel of sorts. You might get on there with me and see your friend, like, "Hey, I didn't know you were a Jim Brickman fan. How are you?" That kind of thing. By doing it on Zoom, and then being able to do meet-and-greets, it provides a completely different type of unique experience that is exclusive to the Louisville community.
DD: You are going to a lot of cities across the country, and it's such an exciting concept. How did you originally come up with it?
JB: Well, I'm fortunate in that I have, right here in Cleveland, a production studio, because we do a lot of Facebook Live. We have my radio and TV show where we are filming all the time, and I thought, "We have this beautiful environment." It's not like I'm sitting on my couch playing a guitar, which is fine, but the way this all started was when people were like, "Hey, I'm going to play you a song!" I just felt like I wanted to bring as complete of an experience as I could. I had done a couple of live videos on YouTube, but I would look into the camera, and think, "Well, this isn't satisfying for me, so how could it be satisfying for other people?"
There's a certain quality and feel when you tune in and see other people, other faces, and you see me, and I can say, "Hey, Louisville, it's Jim. How's everything going down there?" I'll know what the weather's doing that night. I wanted to get as much out of the audience as possible. So, not only are we doing it on Zoom, but with every ticket on Zoom or meet-and-greet, you will get a Christmas stocking full of gifts that is delivered to your door the week before the concert. The stocking has a CD, some hot chocolate, some jingle bells, a program to the show, a ticket for that night's event, and an entire experience to go along with the show. That's really the creation, to make it as complete and tactical as possible without being there.
DD: What can the audiences expect to hear? Classic holiday songs? Some of your original music? Or a little bit of both?
JB: One of the things that is always true about my shows is that I feel like people want to hear the hits, so I'm lucky enough to have had hits that people know. I'll be doing those, but also Christmas, of course — hymns and carols of Christmas, just like when I'm there. We usually play Louisville every year or every other year, so I am lucky that I get a chance to simulate that.
We also take a lot of people, like on Facebook — we'll say, "Hey, if anybody's coming to the Louisville show tonight, put in your requests, and we'll do your requests." We can't take everybody on Zoom's requests or we would be there all night — but that day, we'll send a message out to everybody in Louisville saying, "If there's something you want to hear tonight, let us know, or make a dedication." Again, these are things you can't do if it's just a passive launch.
DD: You would not ever be able to pull this off without the hard work and dedication you've had for 25 years in the business. Going back to some of your earlier career, when did you first realize that you had the talent for songwriting/creating music? And did you have any early musical influences or motivators that helped you go down the path that brought you to the world you are in today?
JB: I had a great teacher when I was a teenager who encouraged me to write my own music, and I had a style that was unique to me ever since I was probably 12. There was something inherent in me where I was not really copying people, it was more of a feel thing in my approach, and I still play the same way today. But then I was fascinated with commercials, TV jingles and radio jingles. I loved them, so I pursued advertising when I was in my early 20s. I was a jingle writer and producer for many years until my early 30s. That was really my songwriting foundation because I was writing.
When you do commercials every day, you write in a different style, because there are different products and different things you need to do for each one. So, if it is a car, it's a rock song, or if it's an air freshener, it's a country song. You get very good at creativity on demand. It's almost like an editor saying to a newspaper writer, "OK, our deadline is 5 o'clock. Write it, and have it done and in to me." It's the same kind of thing. So, I got very good at writing on demand and very efficient songwriting.
And then, I moved to L.A., and ironically, since you mentioned Bruce Hornsby, I loved the way that the piano sounded on his The Way It Is album, and I pursued trying to find the piano that he played, because I loved how it sounded like a pop instrument, and not like a classical instrument.
I found the piano and recorded my first album on that piano. And then, I listened back to this piano solo stuff, and I thought, "I would take a bubble bath to this. This is peaceful. There's nothing really out there like this, that people can get and just chill and relax and unwind and de-stress." And so, that was how the career was born.
DD: You've done a lot of collaborations with various artists over the years. Was there ever a time when you thought, "Wow, I can't believe I got to do this with him or her?"  
JB: Well, yeah, I mean, many of them, I still pinch myself when I get a chance to work with them. When you grow up admiring people and then get a chance to work with them, or especially have them singing your song, that is the goal. My first big concert tour was a co-bill with Olivia Newton John, which I don't know how I got because I don't think anybody knew who I was. That kind of thing, and that experience with her, being on tour, kind of catapulted it into a level where I was starting to meet people that I admired all the time, and I would just ask them if they wanted to do something. Like if I wanted to work with Johnny Mathis, which I did, for a Christmas song, I just was relentless in trying to find them and would ask them if they would. Some of them knew me. Some of them didn't. But I just figured the worst that they could say was no, and a bunch of them did, but a bunch of them also said yes.
DD: Why should people tune-in to the Comfort & Joy at Home virtual holiday tour on December 10?
JB: To support the arts and your local community and to rebuild Louisville when it comes to performing arts. You will be entertained and will get that gift on your doorstep and build community by enjoying an evening of Christmas music that you cannot do in person, but it is as close as possible. This is a great opportunity to enjoy the show and still give back to the arts and Kentucky Performing Arts in the community of Louisville.
Quick Hits with Jim Brickman
Favorite music genre: Pop or Broadway
Favorite musician or band: "Growing up, I was absolutely in love with The Carpenters."
First live concert: The musical A Chorus Line and Barry Manilow
 The last live concert you attended: "I was on tour with Harry Connick Jr., I went to his show the night before mine, and so I watched his show. Oh, and then I just saw Trisha Yearwood, because I was interviewing her for my radio show."
Favorite theater that you like to perform in or visit: Severance Hall in Cleveland. "It is one of the most breathtaking looking, feeling, and sounding places on Earth."
Favorite holiday song to perform or listen to? O Holy Night. "I think it is just a breathtaking song. I just recorded it again with a Broadway singer named Kelli O'Hara, and I think it's just a beautiful, beautiful hymn."
Other Info about Jim Brickman's Comfort & Joy at Home
December 10 at 7 p.m.
Silver Package: $40
• Live Virtual Concert
Gold Package: $75
• Live Virtual Concert
• Interact with Jim in the Zoom Room
• Stocking full of Christmas gifts delivered to your doorstep
Diamond Package: $125
• Live Virtual Concert
• Interact with Jim in the Zoom Room
• Stocking full of Christmas gifts delivered to your doorstep
• After Show Party with Jim
CLICK HERE for more information and to purchase your virtual ticket.