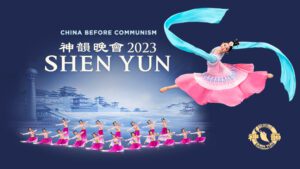 This holiday season Louisville theatergoers are in for a world-class treat with the return of New York-based Shen Yun Performing Arts to the Kentucky Centre on Dec. 30. It's just what you've been waiting for! And just in time to usher in the hope and bright promise of the new year!
Shen Yun is an internationally acclaimed performance that will leave you renewed, uplifted, and inspired. Gather your loved ones together and immerse in this timeless artistic experience of the ancient art form at the heart of the world's premier classical Chinese dance company. You'll be mesmerized by the elegance and expressiveness of classical Chinese dance, filled with grace, beauty, energy—like poetry in motion.
It's a comprehensive dance system cultivated over 5,000 years. The stunning athleticism of its leaps and spins, performed by the world's finest classical Chinese dancers, will keep you on the edge of your seats.
Discover China Before Communism
With some 20 dance vignettes sprinkled with song performances in the two-hour production, all new this season, Shen Yun is set to take you on a storytelling journey through China's age-old divinely inspired culture prior to communism.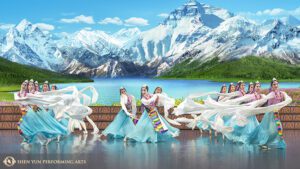 You see, China was once called "Land of the Divine." It was a time when divine beings walked the earth, imparting wisdom that gave birth to dance and music, medicine and architecture, even martial arts, establishing a splendid civilization.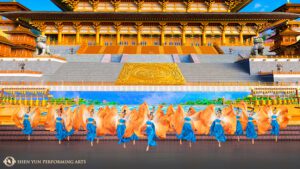 Why Shen Yun Is Banned in China
Ancient Chinese wisdom—steeped in Buddhist and Taoist spirituality and values—flourished for millennia until communism seized control. Sadly, this culture of old, the soul of the nation, has for decades been systematically destroyed by the communist regime. This is why Shen Yun is banned in China today.
Despite that, through foremost excellence in dance and music, Shen Yun is reviving that cherished heritage and sharing it with the world. It's a heritage steeped in reverence for the divine.
What does "Shen Yun" mean?
Shen Yun means "the beauty of divine beings dancing." The performance is a cultural extravaganza that lets you experience the beauty and wonder of the authentic classical China.
"Reclaiming the divinely inspired cultural heritage of China. … I encourage everyone to see and all of us to learn from," fashion designer Donna Karan said of the show.
Shen Yun Shows Hope
Shen Yun has worked "to bring back the best that civilization has ever created," said New York Times #1 best-selling author David West Reynolds after seeing the show at Kentucky Centre in 2021.
"As an archaeologist, I look at culture with a perspective across thousands of years, so I see how today is a time where so much beauty is being destroyed in art but also in our cultural manners," said Reynolds, who has served as a BBC documentary host and Discovery Channel consultant.
"Chinese civilization is so powerful, and to see that so much has been lost, but so much has been saved—Shen Yun has saved so much before it was too late," he said. "Powerful art is willing to take on powerful themes. Shen Yun does this—it shows us the whole range of who we are, but it also shows us who we can be, and that's the hope."
Shen Yun Is 'a Touch of Heaven'
Former Czech Republic culture minister shared that sentiment, noting, "there is a massive power in this that can embrace the world. It brings great hope. … It is truly a touch of heaven."
Let Shen Yun help you rediscover beauty and light in a time of challenge and uncertainty. Through classic stories of love, faith, heroism, and resilience, the performance brings you a gift of hope and strength, for battling darkness with courage, overcoming adversity with wisdom.
Patented Backdrop Animation, Live Orchestra, Feast of Colors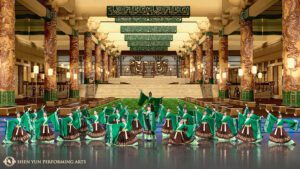 You'll also be captivated by Shen Yun's vibrant sea of color in its costumes and high-tech backdrop animation. The attire, true to the styles of China's various dynasties, regions, and ethnic groups, is a feast for the eyes. The backdrop-stage interaction—a patented Shen Yun invention—will likewise amaze you as you watch the dancers traverse back and forth between the stage and background scenery.
Then there's the all-original live music. Shen Yun's orchestra is a world-first in its permanent fusion of classical Western and Chinese instruments. The show also features the classical bel canto tradition of operatic singing.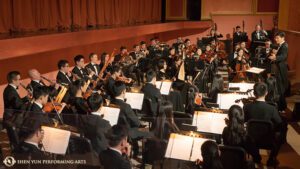 "It's extremely well done. … It's wonderful to have Shen Yun in the building and really help us elevate the level of what has performed here," said Alexander Neef, now general director of the Paris Opera and previously general director of the Canadian Opera Company (COC). He was speaking after seeing Shen Yun at the renowned Four Seasons Centre, the COC's own opera house in Toronto.
Shen Yun Is 'the Best Show'
Since 2006, Shen Yun's annual tours have left millions in awe around the world.
Within the ever-growing trove of kudos from notable figures is praise from former 20th Century Fox VP Richard Wolfe, who said: "The best show I've ever seen. No question. If you miss this show, you miss the best show!"
Master cellist Christine Walevska called Shen Yun "absolutely the greatest of the great—a must-see!" and described it as "divine, reborn, and 'hope."
Former actress and associate producer Nancy Brock noted: "It's the best I've ever seen–you must go, or you'll never forgive yourself for what you didn't find out."
Adventure calls. A refreshing journey awaits. [c1] See it for yourself. Bring your family and friends, as Shen Yun is not to be missed!
Shen Yun's eight touring companies will travel to over 150 cities internationally during the 2022–23 season. In Louisville, Shen Yun's artists will grace the stage at the Kentucky Centre's Whitney Hall on December 30, 2022. Tickets range from $84 to $184. Visit https://www.shenyun.com/louisville/kentucky-center-whitney-hall or tickets.kentuckyperformingarts.org/20840, or call 877-663-7469 or 502-584-7777.