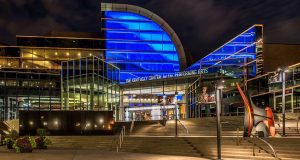 Kentucky Performing Arts' family of venues are the primary performance spaces for several major art groups in Louisville, including PNC Broadway in Louisville, Louisville Orchestra, Louisville Ballet and more. The KPA venues are The Kentucky Center for the Performing Arts, the Brown Theatre and Old Forester's Paristown Hall, Louisville's newest, state-of-the-art performance venue.
KPA venues are currently closed due to the COVID-19 social distancing protocols. Audience publisher, Douglas Dreisbach, caught up with KPA President and CEO, Kim Baker, to see how they are doing amid the current situation. This interview was also featured in the April edition of Audience Magazine. 
Douglas Dreisbach: How are you and the team at Kentucky Performing Arts doing?
Kim Baker: We are doing well. The most important thing right now is that our staff is healthy, and we are really staying connected. We have been using technology and video conferences so we can see each other, and just making sure that as many people are staying at home as possible so they can take care of their families and themselves.
DD: Tell me about your role at KPA and some of your top priorities. Have any of those priorities changed since the COVID-19 pandemic?
KB: My responsibilities mainly include working with our board to create a vision for KPA and then developing the strategy that supports it. So, as you might imagine, right now we're in close contact with trying to figure out what we need to do for the future of the organization.
Leadership is a big part of what I do, not only within KPA, but around the community, I'm having to be very accessible be part of bigger conversations. I also spend time staying connected to the national sector to be aware of what's happening.
Now, everything is accelerated, and it's very timely. So very practically, I have to ensure that the center remains healthy through this time period and that we come back strong when the virus passes and we can reopen our doors.
DD: When stages around the world went dark, what were some of your first thoughts, and looking back, were those thoughts accurate?
KB: I don't remember the exact moment that it happened, but we really started increasing our cleaning regimen and making sure we had the right cleaning supplies initially. Then I remember across the country, that certain governors were just closing down places with gatherings of over like 300, and then it went down to 100, and then it went to 50 and 10. In a matter of hours, we went from, "This is coming. It hasn't gotten here yet" to, "It's here." At that moment, all I could think about was the health and safety of the staff, the volunteers, the artists and all of the audiences.
DD: Being the house for so many great organizations, how do you decide when to cancel or postpone a performance or show?
KB: We are staying in close communication with the groups who use the center as well as the promoters that come in. We're really just trying to plan out far enough where we can. For example, Anastasia is one of the shows that had to move, and they've got a time that's slotted in August. We're moving a lot of events, and we're rescheduling a lot of events. We have been creating a lot of "Plan Bs" so that if we're not able to be open, we can push those a little later into the season. We continue to stay very flexible, stay in close communication with a lot of the renters for the center itself.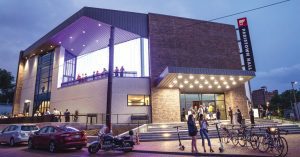 DD: Why do you think the arts are such an important part of our community?
KB: There are two sides of the coin. There is the economic importance of the arts that is undeniable, producing around $462 million in annual expenses and total economic activity. There is just no question it is a huge driver from an economic impact standpoint. And then there is the cultural importance of the arts and live events. The arts have always been a reflection of who we are as a community and it gives us an opportunity to reflect and to come together and share those stories that relay the human condition. It provides a very powerful outlet for people to experience and think about things in a way they may not usually experience or think about.
DD: What have been some highlights for you with the arts and Kentucky Performing Arts? Are there any shows or artists that haven't played KPA venues yet that you hope to?
KB: I've seen hundreds of shows, probably thousands, so it is hard to say. Recently, I saw Hamilton in New York and really loved it. Comparing that to seeing it in Louisville, I got the satisfaction of watching our regional audiences experience the atmosphere, and it felt very much like it did in New York, where people were just screaming before the show even started. Seeing a show like that and the excitement of the audience is always so enriching.
DD: How can people support the Kentucky Performing Arts?
KB: I think the best way people can help right now is to take care of themselves and their loved ones and support KPA if you can. We have our annual donations, where individuals become KPA donors and have access to advance ticket sales and many other things that connect them to KPA programming. We are asking that people continue to support the center, give to the annual fund, and if you are able, to offer support during this time that would be great and critical for the arts community.
DD: What has been your escape to unwind and relax during these times?
KB: I have really enjoyed more family time. Working from home allows that more because when I take a lunch break, I'm around the kids. We have been taking a lot of walks and bike rides, so I'm just enjoying that family time. I also love the different flowers blooms this time of year. I have all kinds of different flowers, and I feel like we are really enjoying the springtime when other years we may have missed because I might be so distracted.
I've been doing a little dreaming, too. I'm hoping that once this is over, I can get back involved in a community orchestra, because I love playing music. I'm a flute player, but working around the arts doesn't give me much time to perform. I'm thinking about playing with some of my girls who are in music. They play violin and viola. I am kind of bound and determined to make music and find an outlet for that.
DD: Have you been enjoying any local restaurants offering carryout or curbside pick-up that you would like to give a shout out to?
KB: There are so many wonderful restaurants working hard during this time. We try to frequent several. We love Impellizzeri's Pizza and the Come Back Inn. We also love Red Hog, so that is on our list to try very soon.
DD: Has there been anything this situation has forced you to do, that you weren't doing before, that you will continue to do when it is all over?
KB: I would like to be laser-focused on what our priorities are and try to make sure we really give the time executing the plan. We have talked for a long time about building a work-from-home scenario for our teams to offer more flexibility and all of a sudden, overnight, everyone's working from home, and we're staying connected, and we're making it happen. I think that is something that we will continue to do more of. In the performing arts, we are so busy. We are working during the days, evenings and weekends, and so much of your heart and soul goes into what you do, but you really have to feed that part of your life that is your family, and those personal things.
So, if there is anything good that comes out of this, for me it is reconnecting with that and making time for that having a healthy life, which is so important to artists and to a creative community.
DD: Is there anything you'd like to add?
KB: I would like to put out there that the center is just an anchor institution in our community, and it is so important for us to stay healthy and strong through this. We will come back. We will be there. We will be strong. And it's going to take the community and their support to ensure we are here in the way we need to be. The arts are so interconnected in our lives and the center is really the heart and the hub where so many things come together. We can't wait until can have that energy here again.