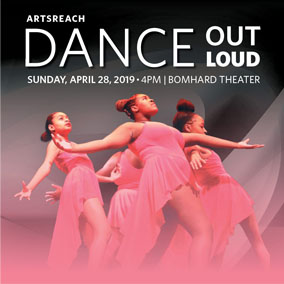 The 3rd annual Dance Out Loud event will feature dancers of all ages and abilities, from pre-school to professional, performing African, ballet, contemporary, hip hop, tap, and lyrical choreography.
Performers include:
ArtsReach Our Voices Dance Collective
Brandon Ragland, Louisville Ballet
ArtsReach Cabbage Patch Dance Studio
Daysia Cathey
D.E.S.T.I.N.E.D. Dance Company
Genesis Arts
La'Nita Rocknettes School of Dance
Waterworks Dance Theater
In addition, Dance Out Loud will highlight fashion by Nicole Scott's uNICque Styles modeled by Jamila Smith's JDS Models.
Since 1991, The Kentucky Center's ArtsReach Program has empowered community centers to program the arts, nurtured and developed diverse artists and audiences, engaged youth and created community through the arts.
For more information about ArtsReach find them on Facebook at http://www.facebook.com/artsreachky
Location: The Kentucky Center, Bomhard Theater
501 W Main St 
Date: Sunday, April 28th @ 4:00 PM
Ages: All ages
Price: Free and open to the public, no tickets required.
Running Time: Approximately 2 hours