PNC Broadway in Louisville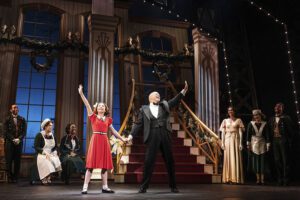 We could all use a little more hope and joy in our lives right now, and that's exactly what the iconic musical Annie brings to the stage. It tells the story of a young girl who dreams of a life outside the miserable orphanage where she lives. When she's chosen to spend the holidays with billionaire Oliver Warbucks, she finds herself caught up in the excitement and joy of the season.
But it's not all fun and games — Annie also has to confront the scheming Miss Hannigan, who runs the orphanage. Along the way, she befriends a lovable mutt named Sandy and learns that holding onto hope when times are tough can take an awful lot of determination. Luckily, Annie is full of determination in that small, scrappy package of hers.
For generations, Little Orphan Annie has reminded theatergoers that sunshine is always right around the corner, and now the best-loved musical of all time is back — just when we need it most. 
That's why PNC Broadway in Louisville is bringing the Tony Award-winning musical back to The Kentucky Center from February 14 to 19, 2023. The all-new tour, produced by TROIKA Entertainment LLC, is sure to be the perfect pick-me-up.
read more