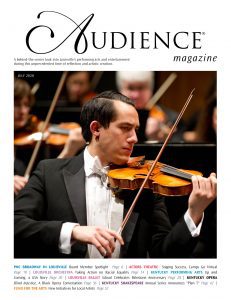 In collaboration with the performing arts groups of Louisville, we are excited to bring you Audience Magazine, an all-digital publication that delivers a behind-the-scenes look into the performing arts and entertainment during this unprecedented time of reflection and artistic creation. 
Audience Magazine highlights enlightening articles and information about the arts groups as well as spotlights on Louisville Landmarks and interviews with inspirational representatives from the arts community.
We will give you the latest news and information from your friends at PNC Broadway, Actor's Theatre, Louisville Orchestra, Kentucky Performing Arts, Louisville Ballet, Kentucky Opera, Kentucky Shakespeare and Fund for the Arts.
We are excited to offer Audience Magazine to you for FREE of charge. Simply fill out the information below and we'll email it to you. (*Your information is 100% confidential and we will not sell it or give it out to anyone.)
CLICK HERE to check out the June Issue.
Thank you for your support…and we'll see you at shows again soon!
Sincerely,
Your friends at Audience!
Audience Magazine – Free Sign-up Form