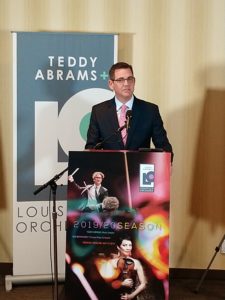 The Louisville Orchestra Board of Directors, together with CEO, Robert Massey, are pleased to announce an unprecedented 5-year contract to extend the term of Teddy Abrams as Music Director. This extension from the usual 3-year contract renewal shows the organization's confidence in the artistic direction and creative vision of the young conductor.
"We're thrilled to make this extraordinary commitment to engaging Teddy until the 2024-2025 Season. His vision for the renaissance of the arts for our orchestra and our community is unique in the world," says John P. Malloy, President of the LO Board of Directors.
Abrams was named Music Director of the Louisville Orchestra in 2014, the youngest conductor ever named to that position with a major orchestra. He's become a popular figure throughout Louisville while developing a national reputation for innovation and community building.
read more