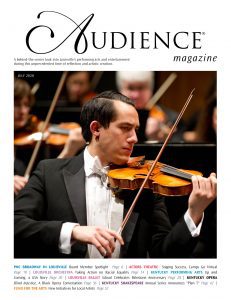 In collaboration with the performing arts groups of Louisville, we are excited to bring you Audience Magazine, an all-digital publication that delivers a behind-the-scenes look into the performing arts and entertainment during this unprecedented time of reflection and artistic creation. 
Audience Magazine highlights enlightening articles and information about the arts groups as well as spotlights on Louisville Landmarks and interviews with inspirational representatives from the arts community.
We will give you the latest news and information from your friends at PNC Broadway, Actor's Theatre, Louisville Orchestra, Kentucky Performing Arts, Louisville Ballet, Kentucky Opera, Kentucky Shakespeare and Fund for the Arts.
Sign up for free today!
read more