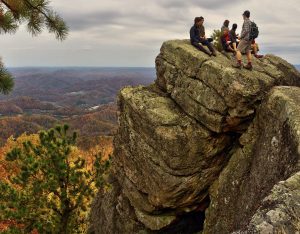 In a few recording sessions scattered over the autumn, winter and spring of 2017 and 2018, 44 musicians and writers from all across Kentucky gathered on the slopes of Pine Mountain in Harlan County to make a record. Their aim: Connect all of us to the important work of the Kentucky Natural Lands Trust. Produced and Engineered by Daniel Martin Moore, sales of the Pine Mountain Sessions album directly benefit the Lands Trust and the Pine Mountain Settlement School.
This concert is a celebration of the album and the crucial mission of the Lands Trust, featuring some of the incredible artists from the album.
The Artists
Joan Shelley. Shelley is a songwriter and singer who lives near Louisville, not far from where she grew up. Since the 2015 release of her album Over and Even, she has crossed the country and toured Europe several times as a headlining artist, joined by guitarist Nathan Salsburg.
Pine Mountain
91.9 WFPK presents
Pine Mountain Sessions
Thursday, August 22, 2019, 8:00 p.m.
The Kentucky Center-Bomhard Theater
Maurice Manning. Manning's next book of poetry, Railsplitter, will be published this fall. He teaches at Transylvania University and lives with his family in Washington County.
Rachel Grimes. Grimes is a composer and pianist who creates music for chamber ensembles, orchestras, film and collaborative live performances. Her work has been performed by ensembles such as the Louisville Orchestra, Kansas City Symphony, Knoxville Symphony, A Far Cry, Longleash and the Dublin Guitar Quartet. Releases include the recent soundtrack The Doctor From India, Through the Sparkle (with astrïd on Gizeh Records 2017), The Clearing (Temporary Residence), Book of Leaves, Marion County 1938, If Then Not When with King's Daughters & Sons (Chemikal Underground) and numerous albums with ground-breaking indie chamber group Rachel's (Quarterstick/Touch and Go). She scores for film and multi-media installations and has licensed music to numerous film and TV works internationally. www.rachelgrimespiano.com
The Other Years are Anna Krippenstapel and Heather Summers. In cars and in kitchens and around old-time music festival campfires, Heather and Anna have been singing together for ten years. Born three days apart—not blood kin, but hatched from neighboring eggs—their voices lock together with a sympathetic vibration. It's a sonic convergence that contains more than the individual notes the two are singing — a sacred harp "hollow square," where chords are made from the space between the notes.
Silas House. House is a New York Times bestselling author of six novels whose work has appeared in Time, The New York Times, Oxford American, Garden and Gun and many other publications. He serves on the faculties of Berea College and Spalding University's School of Writing.
Marianne Worthington. Worthington is a poet, educator, and co-founder and poetry editor of Still: The Journal.
Daniel Martin Moore. Moore is a songwriter, singer, producer, engineer and photographer from Hardin County. His ninth album, Never Look Away, will be released in October.