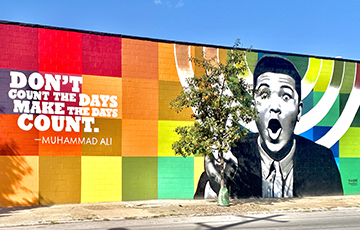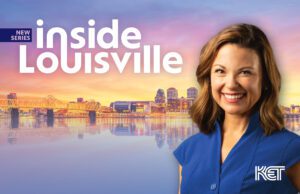 KET is unveiling a new program that's all about Louisville!
Inside Louisville, hosted by Kelsey Starks, features conversations with Louisville's biggest newsmakers and personalities, celebrating the people, places and traditions that make the River City such a vibrant and diverse community. The half-hour weekly program also features stories that explore Kentucky's largest city, spotlighting its neighborhoods, nightlife and noteworthy attractions.
read more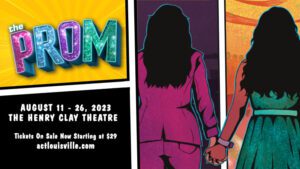 ACT Louisville Productions (ALP) producers Beth Craig Hall and Randy Blevins along with Pandora Productions Producing Artistic Director Michael J. Drury have announced performances and the cast of the regional premiere of the musical The Prom. Each performance at The Henry Clay Theatre August 11 – 26 will include a community Prom experience complete with refreshments for sale, photo opportunities, a Prom royalty selection, along with dancing before the show and at intermission. In the spirit of the show, attendees are encouraged to dress in their most authentic Prom attire.  Tickets to all fourteen performances are now on sale at actlouisville.com starting at $29.
read more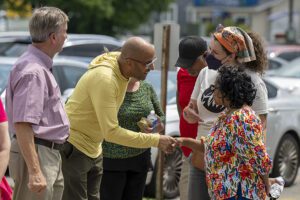 The Fund for the Arts is one of the most important organizations dedicated to the local arts. It was founded in 1949 and is one of the two oldest United Arts Funds in the country. The focus of the group is to support, promote, and develop the arts, artists, and arts organizations to help create a healthy and vibrant community for all.
With a vision for a healthy and vibrant community where everyone embraces the art that exists in our lives every day, everyone contributes to the well-being of our arts community, and it is understood that everyone belongs to the arts community, FFTA plays an important role in our arts community.
We caught up with president and CEO, Andre Kimo Stone Guess, who is a Louisville-native growing up in the Smoketown area, and accepted what he considers the right job at the right time just two years ago.
Andre's energy, compassion and dedication to the local arts scene is inspiring and we are excited to hear what he has been doing in his first two years, what he is working on now, and what he hopes to come in the future.
Listen to the full interview below:

read more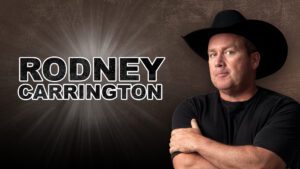 When it comes to the great comedians over the years, names like Richard Pryor, George Carlin, Robin Williams, Rodney Dangerfield and Eddie Murphy come to mind. More modern names might include Chris Rock, Jim Gaffigan, Ron White, Jeff Foxworthy, Dave Chappelle and several others. Live comedy is something that has a long-standing history and a bright future and delivers audiences a personal experience based on how you interpret what they are trying to convey. Whatever the content might be, it all seems to fit the personality of the person who is delivering it with one goal in mind, to make their audiences laugh.
We recently caught up with one of the top comedians on tour today, Rodney Carrington, who has his own niche of great comedy, combined with songs that are cleverly written with topics that well, might just make you feel awkward depending on who you're watching it with.
Nevertheless, his fans love him and we can't wait to see him at Whitney Hall on March 24th. (Do your research before you go as the content might not be appropriate for younger audiences.)
Audience502 publisher, G. Douglas Dreisbach, caught up with him to find out more about his career and what fans can expect when he hits the stage in March.
Check out the full interview and get your tickets to his show at KentuckyPerformingArts.org
read more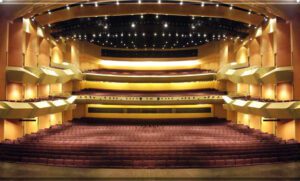 Louisville is loaded with great venues to catch live music. We are excited to present some of our favorites.
Keep an eye on our Entertainement Calendar and the venue websites for upcoming events around the city.
Enjoy!
read more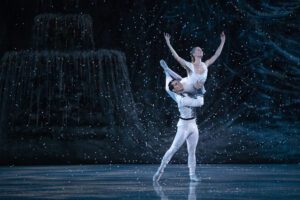 A delightful holiday tradition for audiences of all ages, Louisville Ballet's beloved production, The Brown-Forman Nutcracker, returns to the stage December 9-23, 2022 at The Kentucky Center's Whitney Hall.
With beautiful choreography by Val Caniparoli performed to Tchaikovsky's iconic score –  played live by the Louisville Orchestra and conducted by Louisville Ballet Music Director Tara Simoncic – this local treat is the perfect addition to annual holiday celebrations.
Don't miss this amazing holiday tradition. Get tickets and information at LouisvilleBallet.org
read more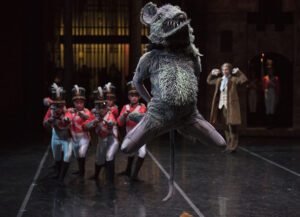 A Louisville Ballet tradition since 1963, The Brown-Forman Nutcracker returns to the Kentucky Center with exciting updates to the classic. A magical story for all ages, the show dazzles with beautiful performances by the artists of Louisville Ballet, Tchaikovsky's masterpiece symphony played live by The Louisville Orchestra, and the sweet addition of children's cast dancers from throughout the community. 
Louisville Ballet's artists are delighted to bring this beloved holiday experience live for the first time since 2019. Natalie Harris, Director of Marketing for the organization, remarks, "We can't emphasize how exciting it is to be performing live and to bring back the magic of the season to so many in our community." This feat of artistic collaboration between professional cast dancers, children's ballet school students, local craftsmen and designers of the set and costumes, and musicians from The Louisville Orchestra must not be missed.
read more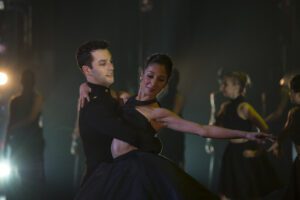 Louisville Ballet returns to the historic Brown Theatre for an exhilarating update to the timeless classic, Swan Lake. The inaugural production of the 70th Anniversary season, Swan Lake has been reimagined again from Artistic and Executive Director Robert Curran's original premiere in 2016.
Curran collaborates with Louisville-based media artists, Ryan Daly and Garrett Crabtree, laser scenic designers, and Tiffany Woodard, costume designer, to create a unique interpretation of this classic tale of love and betrayal.
read more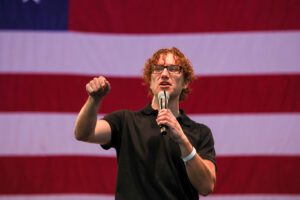 The Louisville Orchestra has been a staple in the arts community since Robert Whitney founded the company in 1937, when Charles Farnsley served as mayor of Louisville. Farnsley led the orchestra as its music director for 30 years, until 1967, and then turned the reins over to Jorge Mester from 1967 to 1979. Farnsley returned in 2006 until 2014, after several other talented music directors came and went.
In 2014, the company introduced the current music director, Teddy Abrams who brought new and exciting energy to LO and the city of Louisville. He is an inspiration to many, a thought leader for the arts community as a whole, and the city is lucky to have him. We are excited to celebrate his work as he embarks on his fifth season with the Louisville Orchestra, and one that is likely to be the most anticipated ever. 
Audience Magazine publisher, G. Douglas Dreisbach, caught up with Abrams to learn more about his background, his interest in music and the community, and what he is excited about for the upcoming season.
Teddy Abrams Interview – Part 1
Teddy Abrams Interview – Part 2
read more
The Fund for the Arts is a vital asset for the arts in Louisville. Its goal is to provide arts access and education, and foster diversity, as well as promote the city as a nationally recognized epicenter of the arts. During a roller coaster of a year — the arts and the community overall are just now starting to rebound from the challenges of the pandemic — Christen Boone, who has navigated the Fund for the past seven years, announced her resignation.
After a national search for a new President and CEO, the Fund for the Arts' next chapter will be led by one of Louisville's own, Andre Kimo Stone Guess. On Tuesday, June 30, Guess was publicly introduced at the Fund for the Arts Summer Arts Kick-off that was attended by Mayor Greg Fischer, this year's Campaign Chairperson, and Brown-Forman Chairman, Campbell Brown, Board Chairman and CEO of Stock Yards Bank, James 'Ja' Hillebrand, and outgoing President & CEO for the Fund, Christen Boone.
Audience publisher, G. Douglas Dreisbach, caught up with Guess to learn more about his background, his interest in the arts and the community, and what he is excited about for the future of the Fund for the Arts.
Listen to the full interview below:
read more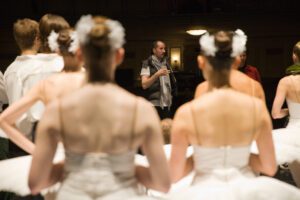 The mission of the Louisville Ballet is to make moving art that inspires connection, conversation, and a profound sense of community by striving for bold collaborations and nurturing the next generation of artists, celebrating diversity and creating access for all. This has been a year to really push those boundaries and reconfigure the way the ballet achieves some of these goals.
Audience publisher, G. Douglas Dreisbach, caught up with Louisville Ballet Artistic Director, Robert Curran, who has led the company through a re-imagined Season of Illumination to bring the community in Louisville and beyond the magic of the ballet.
Listen to the full interview for free below.

read more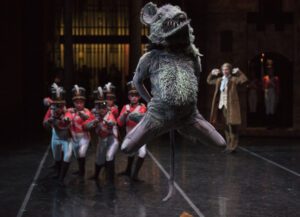 For millions of Americans, the holiday season isn't complete without a trip to the theatre to watch The Nutcracker, choreographed by Val Caniparoli. But in 2020, safety supersedes tradition, leaving venues around the country dark for the foreseeable future. 
Such is the case for The Kentucky Center, where the Louisville Ballet performs this holiday classic. This June, the company announced the 2020-21 Season of Illumination will be all-digital and include a new ballet art film production entitled Kentucky! Volume 1 and the Brown-Forman Nutcracker, with more productions to be announced later. 
While many regard the pivot as bittersweet, artistic director Robert Curran says it was an unexpectedly easy decision, and one that has brought a renewed sense of excitement to the company.
read more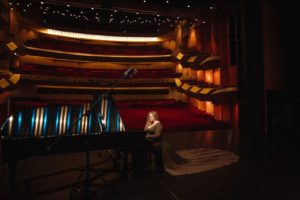 Louisville is known for its culinary scene, nightlife, entertainment, and of course, the performing arts. We also have an abundance of talented musicians, ranging from orchestra performers to vocalists and everything in between.
One musician familiar with the spotlight and entertaining crowds large and small is local jazz, R&B and rock powerhouse singer/songwriter Carly Johnson. Having performed with artists such as Norah Jones, Bonnie Prince Billy, Houndmouth, and My Morning Jacket, as well as playing in a jazz guitar duo with critically acclaimed local musician, Craig Wagner, she has become a well-known and respected name in the Louisville music scene.
Her latest masterpiece is a song titled Burn Your Fears that she wrote for a dear friend who courageously fought lung cancer with the power of positivity, and was an inspiration to everyone around her.She also released a video compilation in partnership with the Louisville Ballet and Orchestra musicians filmed at Whitney Hall at the Kentucky Center for the Performing Arts.
Audience publisher, G. Douglas Dreisbach caught up with Carly to hear more about the song and upcoming album, her inspiration in writing it and how the partnership with the Louisville Ballet and Kentucky Performing Arts came to be.
read more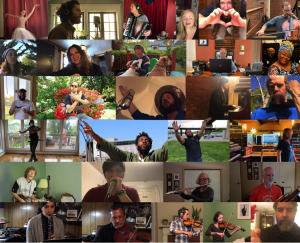 When it comes to creativity, Louisville certainly is at the top of its game. Once again, the creative minds of musicians around the city have collaborated to create an uplifting video that features lyrics and landmarks from around Louisville.
The song and musicians were organized by Louisville Orchestra Music Director Teddy Abrams. It features two dozen artists from different backgrounds from bluegrass to rock. Included in the long list of contributors are Jim James and Patrick Hallahan of My Morning Jacket, singer/songwriter Will Oldham, cellist/composer Ben Sollee, Scott Carney of Wax Fang, percussionist Dani Markham, hip hop star Jecorey Arthur, gospel singer Jason Clayborn, singer Carly Johnson and others from Louisville's music scene.
read more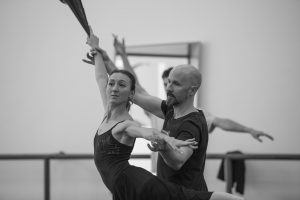 The Louisville Ballet was founded in March 1952 and is now recognized as one of the most highly-regarded regional ballet companies in the country.
As the official state ballet of Kentucky, it has hosted some of ballet's biggest names, including Mikhail Baryshnikov, Twyla Tharp and Wendy Whelan, performed for over tens of thousands of people, and reached more than 20,000 school-age children through its educational programming.
Audience Publisher, Douglas Dreisbach, caught up with Artistic Director, Robert Curran, about how the team at the ballet is coping with the current crisis and what we can expect in the company's 2020-21 season. This interview was also featured in the April edition of Audience Magazine. 
read more