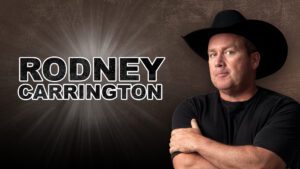 When it comes to the great comedians over the years, names like Richard Pryor, George Carlin, Robin Williams, Rodney Dangerfield and Eddie Murphy come to mind. More modern names might include Chris Rock, Jim Gaffigan, Ron White, Jeff Foxworthy, Dave Chappelle and several others. Live comedy is something that has a long-standing history and a bright future and delivers audiences a personal experience based on how you interpret what they are trying to convey. Whatever the content might be, it all seems to fit the personality of the person who is delivering it with one goal in mind, to make their audiences laugh.
We recently caught up with one of the top comedians on tour today, Rodney Carrington, who has his own niche of great comedy, combined with songs that are cleverly written with topics that well, might just make you feel awkward depending on who you're watching it with.
Nevertheless, his fans love him and we can't wait to see him at Whitney Hall on March 24th. (Do your research before you go as the content might not be appropriate for younger audiences.)
Audience502 publisher, G. Douglas Dreisbach, caught up with him to find out more about his career and what fans can expect when he hits the stage in March.
Check out the full interview and get your tickets to his show at KentuckyPerformingArts.org