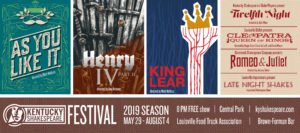 Kentucky Shakespeare kicks off its 59th annual free Kentucky Shakespeare Festival in Central Park with a comedy, a history, and a tragedy. The season begins with their professional productions of As You Like It May 29th, then Henry IV, Part II June 13th, followed by King Lear on June 27th. July 9th-21st all three performances will be presented in repertory. The season will be dedicated to the late Bekki Jo Schneider, former Producer of Kentucky Shakespeare and founder Doug Ramey's immediate successor. "Last year we lost our dear friend Bekki Jo. She was instrumental in helping make the company what it is today, not only during her tenure here as an actor and leader but for years after as a mentor to me and to so many others in our community. We dedicate this season to her as we celebrate her life and legacy," said Matt Wallace, Producing Artistic Director.
"Though it's winter now, we've been busy planning an exciting 59th season of Kentucky Shakespeare Festival! This season features a company of 20 performers and an array of 54 community pre-shows, with 7 productions and 58 performances over our 10-week summer season," says Wallace. "Thanks to an Imagine 2020 Project Grant, made possible by Louisville Metro Government in partnership with the Fund for the Arts, we will also present the Kids' Globe this summer! Before performances youth can visit our Kids' Globe tent to participate in free interactive, hand-on arts activities all summer long. We'll again have a variety of 28 food trucks from the Louisville Food Truck Association rotating nightly, along with our Brown-Forman Bar, Will's Tavern and Will's Gift Shop. If you haven't been lately, you haven't been!"
The season kicks off with As You Like It, Shakespeare's beloved, gender-swapping romantic comedy set in the Forest of Arden, where lives can be transformed when you least expect it. Matt Wallace directs, setting the production in 19th century Kentucky. It will feature live music with the cast performing original songs composed by Louisville singer/songwriter Aaron Bibelhauser of the bluegrass band Relic. The production stars Hallie Dizdarevic as Rosalind with Jon Becraft as Orlando, Gregory Maupin as Touchstone, Abigail Bailey Maupin as Jacques, Crystian Wiltshire as Silvius, Jon Patrick O'Brien as Oliver, and making their Kentucky Shakespeare debut, recent Actors Theatre performers Amber Avant as Celia and Angelica Santiago as Phebe.
Henry IV, Part II explores the precarious friendship of Prince Hal and Falstaff. The play is the third installment in the "Game of Kings" series, which wraps up with Henry V in 2020, the Festival's 60th season. The production is directed by Associate Artistic Director Amy Attaway and will again feature original music from Wax Fang's Scott Carney. Tom Luce returns as the title king, J. Barrett Cooper returns as Falstaff and Zachary Burrell as Prince Hal, with cast members including Will DeVary as Prince John, Amber Avant as Lady Percy, Kyle Ware as Ensign Pistol, and Kentucky Shakespeare veteran Monte Priddy as Shallow. "This play is a little detour from the wartime saga, and it easily stands on its own. It's irreverent, funny, and deeply human – I can't wait to show our audiences this different side of everyone's favorite fat knight," said director Amy Attaway.
Rounding out the main stage productions is one of Shakespeare's most powerful tragedies, King Lear, last performed by Kentucky Shakespeare 32 years ago. Wallace directs the production, set in ancient Britain, that follows a once-great ruler's descent into madness. Kentucky Shakespeare veteran Jon Huffman takes on the title role, with cast members including Jennifer Pennington as Gloucester, Dathan Hooper as Kent, Braden McCampbell as Edmund, and Neill Robertson as Edgar.
The Louisville Improvisers return with Late Night Shakes on select Saturdays bringing late night improvised Shakespeare shows, June 1st, 15th, 29th and August 3rd.
Kentucky Shakespeare's Globe Players Professional Training Program for high school students will present the comedy Twelfth Night, directed by Kentucky Shakespeare's Director of Education Kyle Ware, running July 24th – 27th.
Cincinnati Shakespeare Company returns to the Kentucky Shakespeare Festival stage July 28th and 30th to present the touring production of Romeo and Juliet directed by Caitlin McWethy.
Louisville Ballet will close out the season for the fourth year in a row, with another yet-to-be-titled world premiere of Shakespeare in Dance. Created by Roger Creel and Scott Moore, the production features performers from the Louisville Ballet and original music and choreography by Creel and Moore. The production runs July 31st to August 4th.
Nightly Schedule
6:30pm Food Trucks Open
7:00pm Will's Tavern, Will's Gift Shop, and Kids' Globe open
7:15pm Nightly Community Pre-Show Entertainment
8:00pm Main Stage Production
DIRECTORS
Amy Attaway (Associate Artistic Director, Director – Henry IV, Part II)
Matt Wallace (Producing Artistic Director, Director – As You Like It and King Lear)
DESIGNERS
Karl Anderson (Scenic Designer)
Donna Lawrence-Downs (Costume Designer)
Casey Clark (Lighting Designer)
Laura Ellis (Sound Designer)
Josh Blum (Properties Master)
Eric Frantz (Fight Choreographer)
Barbara F. Cullen (Choreographer, As You Like It)
Aaron Bibelhauser (Composer, As You Like It)
ACTING COMPANY
Amber Avant
Jon Becraft
Zachary Burrell
Isabella Christensen
J. Barrett Cooper
Will DeVary
Hallie Dizdarevic
Dathan Hooper
Jon Huffman
Tom Luce
Gregory Maupin
Abigail Bailey Maupin
Braden McCampbell
Jon Patrick O'Brien
Jennifer Pennington
Monte Priddy
Neill Robertson
Angelica Santiago
Kyle Ware
Crystian Wiltshire
***Note to reviewers: the dates listed above are the PREVIEW PERFORMANCES. We ask that you please plan to review the OPENING performances on Thursday, May 30 (As You Like It), Friday, June 14 (Henry IV Part II), and Friday, June 28 (King Lear).***

For more information about Kentucky Shakespeare visit: www.kyshakespeare.com.
ABOUT KENTUCKY SHAKESPEARE
Designated the Official Shakespeare Company of the Commonwealth and is the largest touring arts provider in Kentucky.
Mission: Grounded in the works of Shakespeare, we enrich our community by presenting accessible, professional theatre experiences that educate, inspire and entertain people of all ages.
Vision: To use Shakespeare's universal truths and the power of the arts to transform lives. Shakespeare belongs to everyone.