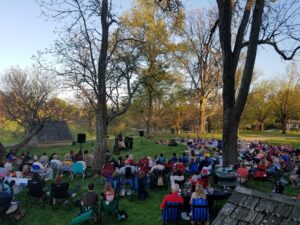 Creative freedom. Magic. Joy. After months of social distancing and isolation, the light at the end of the tunnel is finally growing brighter. Some semblance of normalcy is emerging with the spring, and that includes Kentucky Shakespeare's return to the parks for the first time in two years.
On Saturday, April 17, at 6:30 p.m., Kentucky Shakespeare kicks off its 2021 Spring Parks Tour at Maples Park with an abridged performance of Romeo and Juliet.
"Romeo and Juliet will be our first step back into parks since the summer of 2019," says Amy Attaway, Associate Artistic Director. The company was two weeks into its 2020 spring season when COVID shuttered live performances and gatherings nationwide. 
"For us as artists, being back in the room together, making this play has been very cathartic and a very important step forward," Attaway adds. "Even though it's strange because we can't touch each other, or have to wear masks, or can't sit next to each other off stage, the family is back together. It's meaningful. Personally, it's meaningful — and I hope it will be for people we are able to reach."
Currently, there are 23 scheduled or pending live, in-person performances in April and May for audiences throughout the state of Kentucky and Southern Indiana. Performance details can be found on the Kentucky Shakespeare: Parks Tour website.

Shakespeare for the People
When many people think of William Shakespeare, they likely think of English class essays or elaborate performances in exclusive venues.
Kentucky Shakespeare aims to change that by making his plays accessible to everyone. 
Before its annual Spring Parks Tour, Kentucky Shakespeare brought the Bard's works to schools all over the state. Abridged versions of Shakespeare's most famous plays were strategically designed for school assemblies, keeping educational performances to 50-90 minutes in length and allowing for in-depth guided discussions to support school curriculum and academic standards.
For many students, these performances bring Shakespeare to life, breathing meaning and understanding into the written words on the page. 
The educational programming became so successful that in 2014, Kentucky Shakespeare expanded by taking the tour to local parks around Louisville, thanks to the support of Metro Council. This was the birth of the annual Spring Parks Tour, which now covers the entirety of the Bluegrass state as well as Southern Indiana.
"We wanted to take Shakespeare off the pedestal and make him 'Shakespeare for the people,' " Attaway says. Everything about the tour's production, preparation, and performance contribute to this end goal. 
But perhaps the biggest selling point to the public will be the play itself. Romeo and Juliet is a classic story — and possibly the Bard's most famous — and the timing of this production as Kentucky Shakespeare's return to the stage could not be more serendipitous. 
An Echo of the Past
At its core, Romeo and Juliet is a story about two lovers who desperately want to be close together, yet are not able to be close to each other. Of course, the theme itself is not new, but it has refreshed meaning and depth as everyone can relate to forced long-distance relationships in the midst of the pandemic. "This theme feels perfect for this time," says Attaway.
Romeo and Juliet dives into deep-seated feuds that the title characters are born into and simply can't understand. These inter-family feuds have existed for so long that the older characters don't even know the reasons for them anymore, yet they find themselves intertwined in this struggle. Could this not also relate to the current struggles in our community?
Perhaps Romeo and Juliet was penned for a time such as this.
The best estimates of Shakespeare writing Romeo and Juliet are between 1591 and 1596, with the Norton Anthology of Shakespeare claiming it was penned precisely in 1595. Though the Bubonic Plague preceded Shakespeare and the Great Plague of London came much later, an outbreak of the Black Death occurred in London in 1592-1593. 
Just two years before Shakespeare wrote Romeo and Juliet, Elizabethan England relied on lockdowns and social distancing to curb an epidemic. The Bard was personally affected, as it was ordered that plays be "restricted or banned" entirely.
As if that similarity weren't enough, there were 12 major protests in London in June 1595. Historians count a total of 35 major protests between 1581 and 1602. Again, Shakespeare likely witnessed this firsthand, as the demonstrations typically began at theaters before spreading outwards with a "carnival atmosphere." These protests focused on class and religion.
If there is any semblance between the landscape and characters in Romeo and Juliet and our current experiences, it is likely more than mere coincidence. Shakespeare faced challenges that we still grapple with today. And Attaway expects the company's return to the stage to be a cathartic and serendipitous experience for the actors and audience alike.
An Unprecedented Season Months in the Making
As the pandemic shuttered in-person gatherings and live performances, Kentucky Shakespeare's behind-the-scenes production processes had to evolve as well.
Early rehearsals and initial table reads occurred via Zoom, providing the actors with the opportunity to work on character development and establish rapport with the other players. As production moved forward, the cast and crew began rehearsing indoors in a large hall with social distancing guidelines in place.
One of the benefits of performing an abridged version of the play is that it involves minimal props and costume requirements compared with a full-fledged production. As Attaway puts it, the smaller ensemble is a "down and dirty, actor-centric version of what we do."
In a typical season, Kentucky Shakespeare does not travel with front-of-house staff for its Spring Parks Tour. This year, the company is traveling with extra front-of-house staff to assist with audience spacing and to help manage hand sanitizer stations for the audience. All precautions are being taken to ensure that audience and company members alike are protected during the season.
While public parks are the key focus of the Spring Parks Tour, Kentucky Shakespeare is also returning to its roots, providing schools with various opportunities to engage with Romeo and Juliet. The first option is to book a pre-recorded performance. Students will still have the opportunity to hear first-hand from the actors and company members, as a pre-recorded question-and-answer session will be included after the performance.
For schools that want more interconnectivity but are unable to safely host assemblies, they can book a live virtual performance that will be streamed directly into their classrooms. The Q&A portion following the performance will happen in real time, allowing students to truly dig deep into the contents of Romeo and Juliet.
Finally, schools that can safely assemble and bring in outside guests may book a live performance (including a Q&A session) with Kentucky Shakespeare.
Meet the 2021 Shakespeare in the Parks Tour Cast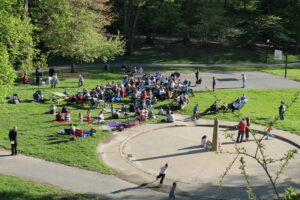 When previewing the 2021 Parks Tour cast, Attaway couldn't help but brag on the cast. All of the actors are local, and many have worked with Kentucky Shakespeare during previous summer seasons. To ensure maximum safety, they all are currently in the process of getting their COVID-19 vaccines.
For Romeo and Juliet, there were no production-specific auditions. Rather, the company holds ongoing regular auditions so they can keep their eyes on Louisville's impressive talent pool. The company utilized players already on their roster, but also reached out to new talent who were adept at Shakespeare, playing multiple characters, and education.
Mollie Murk (Juliet) has performed previously with Kentucky Shakespeare as well as the Actors Theater of Louisville. As a co-founder of the Hope Summer Repertory Theatre's education program, she has a heart for education.
Tony Reimonenq III (Romeo) graduated in May 2020 from the University of Southern Mississippi with a bachelor's of fine arts degree. He began working with Kentucky Shakespeare in August 2020, serving as an Artist Educator.
Georgette Kleier (Nurse/Prince/Apothecary) is an Adjunct Professor with the Indiana University Southeast theater department, boasting over 15 years of teaching experience at Youth Performing Arts School. She lives in New Albany with her husband, Michael, and their dog, Riley.
Abigail Bailey Maupin (Mercutio/Lady Montague/Balthazar) is a longtime friend of Kentucky Shakespeare, having worked with the company regularly since 2014. Coincidentally, her last onstage performance with the organization was in the 2016 summer season, where she also performed in Romeo and Juliet, appearing as Speed and Lady Capulet.
Gregory Maupin (Lord Capulet/Friar Lawrence/Gregory) is married to Abigail Bailey Maupin. Together, they are ukulele duo Rannygazoo. They also co-founded Le Petomane Theatre Ensemble in 2004. Maupin has worked extensively with both Kentucky Shakespeare and the Actors Theatre of Louisville.
Brittany "BeeBee" Patillo (Tybalt/Lady Capulet/ Peter/Friar John) served as the reigning 2019 Kentucky Derby Festival Queen. She is a Louisville native and graduate of the University of Louisville. Aside from her impressive list of credits, which includes an acting apprenticeship at Actors Theatre of Louisville, Patillo is known to many as an active volunteer in her community.
Shaquille Towns (Benvolio/Paris/Watch) is a local actor and a graduate from the American Music and Dramatic Academy in New York, where he studied musical theater. Among his credits are Hairspray (Seaweed) and A Raisin in the Sun (Asagai).
Similar to the themes of Romeo and Juliet resounding more clearly in 2021, the cast and crew of this year's tour will leave their own artistic fingerprints on Shakespeare's classic work.
"One of the brilliant things about Shakespeare," Attaway says, "is that it shows you something different with different actors with different times in life."
For the full performance schedule, visit Kentucky Shakespeare: Parks Tour. 
  By Daniel C. Chioco