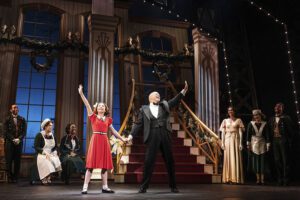 We could all use a little more hope and joy in our lives right now, and that's exactly what the iconic musical Annie brings to the stage. It tells the story of a young girl who dreams of a life outside the miserable orphanage where she lives. When she's chosen to spend the holidays with billionaire Oliver Warbucks, she finds herself caught up in the excitement and joy of the season.
But it's not all fun and games — Annie also has to confront the scheming Miss Hannigan, who runs the orphanage. Along the way, she befriends a lovable mutt named Sandy and learns that holding onto hope when times are tough can take an awful lot of determination. Luckily, Annie is full of determination in that small, scrappy package of hers.
For generations, Little Orphan Annie has reminded theatergoers that sunshine is always right around the corner, and now the best-loved musical of all time is back — just when we need it most. 
That's why PNC Broadway in Louisville is bringing the Tony Award-winning musical back to The Kentucky Center from February 14 to 19, 2023. The all-new tour, produced by TROIKA Entertainment LLC, is sure to be the perfect pick-me-up.
"We're thrilled to be bringing such a fresh, new, and heartfelt production to audiences across North America starting this fall," says Kori Prior, COO and Executive Producer of TROIKA Entertainment. 
Director Jenn Thompson adds, "For decades, Annie has continued to shine brightly, not only as an appeal to our better angels, but also as an example of the thrill of hope, hard-won: promising a better 'Tomorrow' not only for Annie herself, but for all who need her message now more than ever."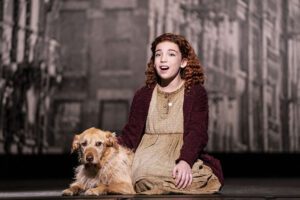 Meet the Cast
In the title role of Annie is Ellie Pulsifer, a 12-year-old actress from South Florida making her tour debut. 
Christopher Swan stars as billionaire Oliver Warbucks, and Stefanie Londino plays the scheming Miss Hannigan. Julia Nicole Hunter plays Grace, Nick Bernardi plays Rooster, Krista Curry plays Lily, and Mark Woodard plays FDR. And of course, the lovable mutt Sandy is played by Addison, a stray rescued and trained by Tony Award honoree William Berloni. 
The Orphans are played by Riglee Ruth Bryson, Bronte Harrison, Vivianne Neely, Izzy Pike, Kenzie Rees, and Valeria Velasco. The featured ensemble includes Kolten Bell, Bradley Ford Betros, Luther Brooks IV, Harrison Drake, Laura Elizabeth Flanagan, Jataria Heyward, Carly Ann Moore, Kevin Ivey Morrison, Leeanna Rubin, Andrew Scoggin, Sophie Stromberg and Kaley Were.
Behind the Scenes
Jenn Thompson, who at the age of 10 stepped into the role of Pepper in the original Broadway production, is directing the new production. The show is choreographed by Patricia Wilcox (Motown, A Night with Janis Joplin), with orchestration by Dan DeLange. Talitha Fehr is the Music Coordinator, and Elaine Davidson is the Music Director.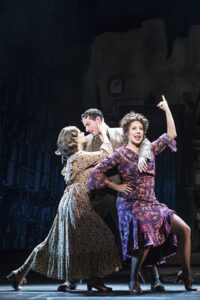 The design team for Annie includes scenic design by Wilson Chin (Pass Over), costume design by Alejo Vietti (Jersey Boys), lighting design by Philip Rosenberg, sound design by Ken Travis (Disney's Aladdin), hair and wig design by Ashley Rae Callahan, and casting by Paul Hardt of Hardt Casting LLC. 
About the Show
Hailed by the Chicago Tribune as "one of the best family musicals ever penned," Annie features a book by Thomas Meehan, music by Charles Strouse and lyrics by Martin Charnin. All three authors received 1977 Tony Awards for their work.
By permission of Tribune Content Agency LLC, Annie is based on Harold Gray's popular comic strip "Little Orphan Annie," which premiered in the 1920s in the New York Daily News and became one of the most widely read strips in the '30s and '40s.
Lyricist Martin Charnin bought a coffee table book called, "The Life and Hard Times of Little Orphan Annie," as a Christmas gift for a friend in 1970. The clerk at the bookstore was too busy to wrap the book, so Charnin took it home to wrap it. Instead, he read the book and was inspired to turn it into a musical.
Annie first premiered on Broadway in 1977, and it has since been performed all over the world.
It features a memorable score that includes such iconic songs as "Tomorrow," "It's the Hard Knock Life," and "I Don't Need Anything But You." The musical has been adapted into several film and television versions, and it continues to be a popular choice for school and community theater groups.
Annie is a celebration of family, optimism, and the American spirit — and it's the ultimate cure for all the hard knocks life throws our way. Don't miss your chance to see Annie live in Louisville! Get your tickets now at kentuckyperformingarts.org or by calling 502-584-7777.
Article By Daniel Chioco
Photos courtesy of Matthew Murphy and Evan Zimmerman for MurphyMade