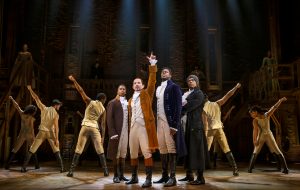 PNC Broadway in Louisville has brought the biggest hits to Louisville. Most recently, Hamilton entertained sold-out shows for a thre- week stint in 2019 and is scheduled for an encore visit as part of the 2019-20 season.
Audience publisher, Douglas Dreisbach, caught up with President Leslie Broecker to talk about everything from the exciting new season, to the importance of the arts in our community and the what goes into scheduling, to rescheduling a season for Broadway. This interview was also feature in the April edition of Audience Magazine.
Douglas Dreisbach: Tell us about your role with Broadway in Louisville and Broadway Across America, and what your top priorities are.
Leslie Broecker: Our top priority is to find the very best shows from Broadway, with a lot of diversity, and get them into the cities that we work in. In addition to Louisville, I am also responsible for Kansas City, Cincinnati, Columbus and Indianapolis, so it has been an interesting picture to watch unfold.
Our subscription numbers after our season announcement on March 12th have remained really strong because I think everybody is looking forward to the future. It is interesting to watch things across the country, and in the five cities that I work in, and to see season ticket numbers staying strong.
DD: With Broadway shows traveling around the country and intertwining with other shows, I can only imagine the task of rescheduling and the decisions to cancel. What goes into scheduling, and rescheduling, shows? Is it like a big puzzle to make sure all the pieces fit?
LB: It's not a 1,000-piece, it's a 5,000-piece puzzle. It is the most complicated puzzle you'll ever see. Trying to figure out which shows are stuck in theaters and can't leave due to quarantines and other reasons, and what shows might be available and when is challenging.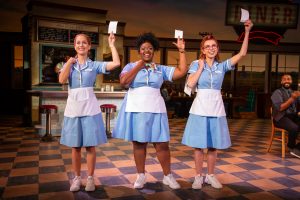 From juggling the avails in theaters, the shows that won't be able to make it and some shows that are at the end of their tour and not continuing in the fall, I would say our programming team, along with all the folks like me who are representing cities, have been doing at least 18-hour days ever since this started, trying to navigate what's available and when.
The other thing is so much of this is open-ended. As optimists, we are moving forward as well as we can. We rebooked Anastasia for the first week of August because we know that, when the time is right and it's safe to go back, people are going to want to be at the theater. That's what our business is about, bringing people together for this shared experience. And if August is too early and we have to move it, so be it.
DD: How is your team seeking creative inspiration or using this time in a positive way?
LB: It is exciting to see the Broadway folks coming out and doing inspiring videos they can share with folks. Andrew Lloyd Weber has made his catalogue available, and you'll be able to download and watch his musicals. Patti LuPone has made a video in her game room or basement or whatever, and it's a hoot to see where everybody lives and they're performing. Rosie O'Donnell hosted her show for like three and a half hours from home, and had around 60 different Broadway performers doing performances to raise money for Broadway Cares. That is certainly inspiring.
DD: What is the best way for the arts enthusiasts of Louisville to support Broadway in Louisville and your team during these times?
LB: I think the best support is buying tickets and coming back and supporting not only the theater, but the Broadway series as well. That's really what we ask. Order season tickets. Look towards the future. Support us. I think speaking for the arts community as a whole, if people had tickets to cancelled shows, donate those tickets back to the arts organization. Some folks have sent tickets back to us for the local theatrical association, and we put that right into our fund to purchase tickets for kids.
There are a million ways to come back and support the arts, but most importantly, I think for all of us, is to buy tickets and come back to the theater when you feel safe and when we're open.
DD: Why do you think the arts are so important to the community and our overall state of mind?
LB: When you see a production or you hear a musical, there is a sense of escapism. You are transported completely out of your space and time into a different place, and if it's really great, you're completely and totally engaged.
I also think it lends itself to introspection and makes you see some of yourself in the characters, and perhaps there's affirmation in that or understanding. I just think it opens so many doors and avenues for your creative mind to process through things. And when we share and do that with people in a theater for a unique, live experience, it just — I don't know — pulls emotion. I get goosebumps when I watch a show. I've been doing this for 34 years, and I still sit there and all of a sudden, that crescendo or those two people singing and hitting those notes together or that emotional moment — then my eyes get filled, and I have goosebumps. I think the arts is something our psyche needs, and it feeds it.
DD: The new season looks amazing! In addition to bringing back Hamilton, there's a buzz about Cats, To Kill a Mockingbird and Waitress, which was cancelled due to the fire two seasons ago. And then you fold in Mean Girls, Tootsie and Ain't Too Proud to Beg. This might be one of the best seasons in a long time, maybe ever, for Broadway in Louisville. Tell us about what goes into determining what shows come to Louisville and what went into determining this amazing season.
LB: Well, the first thing is, I get to know the shows early on. I am a Tony voter, so I go to New York and see most, if not all, of the productions that open on Broadway. A lot of the shows that open on Broadway are never intended to go on the road and tour, but many of them are created with that in mind. That's the first thing, is really vetting all the shows and seeing what will play in what city and what our subscribers and ticket buyers love.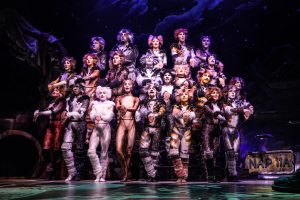 Usually, things start in June, and we start to work seeing which shows did well at the Tonys, and we survey our audiences to find out where their tastes are running and what is their familiarity with various shows. And then, I like to look at a combination of brand-new shows from Broadway. There's always the shows that were the year before, because every show can't hit every city in the first year it goes out, so you've got this new show cycle that's a couple of years. Then everybody has favorites that are the chestnuts of Broadway, the revivals that we love, so I want to put something in that whets that appetite. You want something that's maybe a date-night show. You want something that's a family show.
I love shows that are great for the family, that everyone can enjoy, and then that creates the memory, and that creates this cycle of creating theater lovers. We are thinking even beyond just next season. Then you look at the expense of the shows. You don't want to book shows that price themselves out of everybody's price range, so a nice balance of programming, well-priced so that it's affordable.
The other side of the coin, particularly in Louisville, would be with the Kentucky Center for the Arts. It is a great building that we share with the orchestra, the ballet and the center's programming, so we all navigate each other's calendars and weave the complications of the shows on the road and their tours along with the dates that are available in the arts center.
So, it's a jigsaw puzzle, but normally not the 30,000-piece jigsaw puzzle it is right now, where everything is moving at one time because of the circumstances. Normally we are able to work at a less frenetic pace. And that's how it all comes together.
DD: During these times, how are you trying to relax and get away from your daily grind?
LB: Well, this early spring is pretty incredible, and I live on a farm and have a lot of gardens and whatnot, so I've really started with that. I've planted kale. I've got the vegetable garden weeded, cleared and ready. I also have an ATV, so we ride around a lot, just taking it all in. We have a magnolia field that's in full bloom right now, so I'm sneezing and can't breathe great when I do it. But we've just been trying to get outside and take advantage of this early, pretty spring. And watching lots of Star Trek. The new Picard series that came out on CBS All Access is fabulous, so you know, little diversions is what it's all about.
DD: Are you doing any local restaurant takeout or delivery that you would like to give a shout out to?
LB: Hillcrest Tavern — I crave the sliders and fries, so that's where we've been tending to head. It has also been very therapeutic to really have time to cook. So, we've been exploring new recipes and revisiting some old ones that we haven't done in a while, so that's been kind of nice, as well.