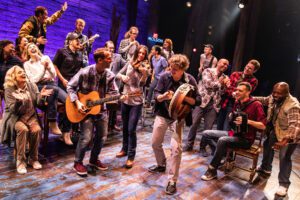 Canada's longest performing Broadway musical Come From Away returns to Louisville as part of their first post-pandemic North American Tour. Join us February 15th – 20th, 2022 at The Kentucky Center for an unforgettable performance. This New York Times Critics' Pick will fill audiences with laughter, tears, and the hope that human kindness can drive out the darkness of hatred. Be a part of an emotional return to live theater and see the performance that tells a poignant tale of how one small town swings into action on September 11th, 2001. Writers Irene Sankoff and David Hein deliver book, music, and lyrics that are at once hilarious and heartwarming. The musical boasts a total of seven Tony nominations including Best Musical, Best Original Score, and Best Book of a Musical. Come From Away director Christopher Ashley received the 2017 Tony for Best Director of a Musical.
The true story follows one group of the nearly 7,000 passengers and 19 animals that found themselves stranded in Gander. The small village in Newfoundland, Canada was hardly prepared to accommodate so many unexpected visitors. The musical retells and celebrates the surge of local hospitality to help the stranded passengers. Come From Away's charming cast of characters draws inspiration from the real-life travelers and citizens of Gander that welcomed them.
At first consumed with confusion over the unexpected detour, the passengers soon learn that each of their 38 planes diverted from America airspace due to the terrorist attacks in New York City. Emergency shelters pop up throughout the town as the citizens rally to accommodate the unexpected rush of people in need. Strangers begin mixing with one another, developing lifelong friendships, and even falling in love. In a testament to the devastation of 9/11, the characters also grapple with tragedy and prejudice in wake of the terrorist attacks.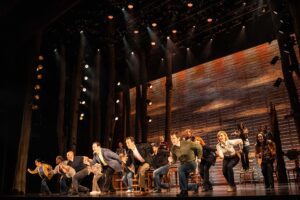 After the first production at Sheridan College in Oakville, Ontario in 2013, Come From Away landed at the La Jolla Playhouse in San Diego, California. By 2015, the musical found its way to the Seattle Repertory Theatre and the Ford's Theatre in Washington, D.C. In 2016, the musical opened at the Royal Alexandra Theatre in Toronto. Come From Away opened on Broadway for the first time on March 12, 2017 at the Gerald Schoenfeld Theatre. Beloved by audiences in New York City, many of the first performances were standing room only. In unprecedented demand Come From Away recently beat out The Drowsy Chaperone for longest running Canadian musical in 2018 with a total of 674 performances.
Tony award winning director Christopher Ashley returns for the 2022 tour bringing enthusiasm and impressive accolades. As artistic director of the La Jolla Playhouse, Ashley is no stranger to Tony-worthy productions. He received prior Tony nominations for his direction of The Rocky Horror Show and Memphis, and won the Lucille Lortel Award for his direction of Fires in the Mirror. In addition to the 2017 Tony awarded to him for Best Direction for Come From Away, Ashley has also won the Outer Critics Circle Award and the Craig Noel and Helen Hayes Awards. He also received nominations for the Drama Desk and Dora Awards. Ashley's more recent projects include the Apple TV film production of Come From Away (2021) as well as Netflix's Diana: The Musical (2021).
Accompanying the North America tour is an outstanding and seasoned Broadway crew. Tony-nominated Kelly Devine is brilliant as director of musical staging. Devine received the Olivier Award in London for Best Choreography following the 2019 international tour of Come From Away. Other nominations for her Musical Staging in Come From Away include the Drama Desk and Outer Critics Circle Awards. Devine received a Tony nomination and Drama Desk nomination for her work on The Rocky Horror Show (2014). Her experience includes work on films such as Detroit and The Upside. She's worked on popular television shows including Pretty Little Liars and Wormwood.
Ian Eisendrath, a Laurence Olivier Award winning music director, joins the tour as music supervisor and oversees the Musical Arrangements of the production. Scenic designer Beowulf Boritt offers a stunning stage design along with lighting designer Howell Binkley. Costumes for the 2022 tour are by Lucille Lortel Award winning costume designer Toni-Leslie James.
Guests can look forward to many notable performers, each portraying real passengers or townspeople. Kevin Carolan, who has starred in hit television shows like Billions, The Good Wife, and Boardwalk Empire, plays Claude Elliott, the mayor of Gander.  The real Elliot is now 67 and retired. He explained in an interview with USA Today that "to see how our people came through on 9/11 is one of the greatest moments in my tenure as mayor."
Bonnie Harris, played by Sharone Sayegh, ran an animal Shelter in Gander. Harris served a crucial role in caring for the large cats, Bonobo apes, and other exotic animals that required care during their time in Gander. Sharriese Hamilton and Julie Johnson play fast friends Hannah and Beulah, two women who bond over their firefighting sons.
Australian actress and singer Marika Aubrey plays the cool-headed pilot Beverley Bass. Bass had the misfortune of telling her unhappy passengers they were stranded in Gander. Bass, the first female pilot hired by American Airlines, is celebrated for keeping the passengers calm as they waited on board for 28 hours before departing the plane.
Come From Away won't leave a dry eye in the house, and it's sure to leave you with the resonating certainty that humanity is capable of goodness. Relive a life-changing week in Gander where thousands of strangers discovered friendship, love, and generosity. Some endured unthinkable loss. Audiences new and old will feel moved by this musical rendition of an incredible true story. Come From Away reminds us of the compassion we owe to each other as human beings, and of the comradery we build when we work together to overcome tragedy. Tickets can be purchased from The Kentucky Center for February 15th – 20th, 2022.
By Amanda Kern