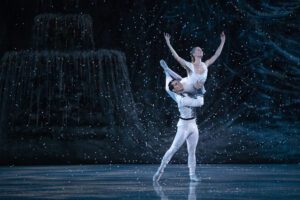 A delightful holiday tradition for audiences of all ages, Louisville Ballet's beloved production, The Brown-Forman Nutcracker, returns to the stage December 9-23, 2022 at The Kentucky Center's Whitney Hall.
With beautiful choreography by Val Caniparoli performed to Tchaikovsky's iconic score –  played live by the Louisville Orchestra and conducted by Louisville Ballet Music Director Tara Simoncic – this local treat is the perfect addition to annual holiday celebrations.
Don't miss this amazing holiday tradition. Get tickets and information at LouisvilleBallet.org
A TIMELESS TALE FOR ALL
Val Caniparoli's The Brown-Forman Nutcracker – based on the writings of E.T.A. Hoffman and the ballet interpretations of William and Lew Christensen – is a story of family, adventure, and of course, magic. It's the second version of five Nutcracker productions that Caniparoli has created, and in writing about his creative process for the production, Caniparoli recalls his first experience with The Nutcracker at the San Francisco Ballet School. "What I remember most strongly is the music for the snow scene: I just thought 'How gorgeous is this music?' – and I've felt the same way about it for almost 50 years."
The timeless story begins on Christmas Eve, when Herr Drosselmeyer is making special toys for his godchildren, Marie and Fritz. Drosselmeyer gives Marie her gift, the wonderful Nutcracker, at the annual family Christmas party. Marie is immediately enchanted by the Nutcracker, but Fritz, in a fit of jealousy, accidentally breaks it in a fight over the toy. The Nutcracker is repaired, and as the clock strikes midnight, Marie falls asleep and drifts into a vivid dream.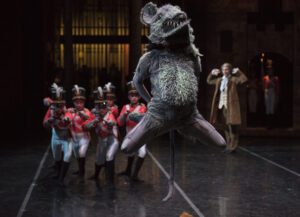 Inside Marie's dream is where the true magic begins. After a battle featuring giant rats and toy soldiers, The Nutcracker is transformed into a handsome prince who invites Marie on an enchanted journey through a swirling snowstorm to the Land of the Sugar Plum Fairy. Marie and her Prince are entertained by sweet dances from distant lands, a comical but fantastic Madame Derby and her jockeys, and a beautiful Rose, accompanied by her bouquet. Finally, the most wonderful dance of all is danced by the Sugar Plum Fairy and her gallant Cavalier. As Marie and the Nutcracker Prince prepare to leave, everyone returns for one last farewell as, alas, all dreams must come to an end. Or was it a dream?
MAKING MAGIC HAPPEN
There are many versions of the Nutcracker story presented across the world, but Louisville Ballet creates a truly transcendent experience through distinctly local touches and creativity. Every audience member will love the holiday classic, but Louisville natives will be charmed by familiar details in the show's design – like the appearance of the St. James Court fountain in Act I.
Louisville Ballet's incredibly skilled Company Artists make the ballet look as effortless as falling snow, but taking a peek behind the scenes reveals just how much time and dedication goes into creating an enchanted experience. The work of countless artisans – including costume designers, milliners, bootmakers, prop makers, scenic designers, wig makers, and more – is stitched together to form a seamless display of snowy delight. More than 910 yards of tulle, 862 individual sequins, and 200 pounds of paper snow make up the sparkling scenes on stage. And while many elements of the show are made locally, much of the costuming is a fantastic collaboration between artists from across the states and as far as South Africa. The beautiful set features canvases hand painted by artists including Peter Cazalet, the show's Scenic and Costume Designer.
Louisville Ballet also worked with Marshall Magoon of Los Angeles, CA for Magic and Illusion Design. Magoon's work has been used in TV, film, and on Broadway, and his work in The Brown-Forman Nutcracker represents his long standing dedication to his craft. Dolls move on their own, tables float, and a Christmas tree grows on stage, leaving audience members wide-eyed in disbelief.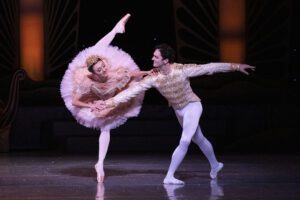 Such a breathtaking experience is the product of 365 days of planning and the coordination of nearly 250 people at Louisville Ballet. One of the most rewarding elements of the show, according to Louisville Ballet Stage Manager, Kim Aycock, is watching the one hundred tiny dancers who make up the Children's Cast. The children are featured in many roles, from rats to soldiers to jockeys, and foster a deeper connection between stage and audience.
"The moments five minutes before we start are probably some of my favorite times, just hearing the anticipation in the audience, and the anticipation of the children on both sides of the curtain," says Aycock. "There's a connection, I think, when children see themselves on stage." Aycock says that providing magic and memories for families and children, both on and off stage, is her favorite part of the experience.
Remembering the magic of the ballet's inception – and noting how wonderful it is to continue the Louisville Ballet tradition under Artistic Director Robert Curran for years to come – Caniparoli writes, "I hope that the audience will continue to be entertained and, as if they are watching through children's eyes, will leave their troubles and cares behind. Everyone should bring someone they love with them to share the special joy of The Brown-Forman Nutcracker."
THE GIFT OF CELEBRATION
While The Brown-Forman Nutcracker offers enough merriment to satisfy anyone's itch for live performance, many viewings also offer pre-show entertainment in The Kentucky Center's spacious lobby. School groups and community members band together to bring music, dance, and celebration to guests before the curtain rises, further connecting participants to all the artistic charm Louisville has to offer.
The Sugar Plum Fairy also invites young guests to a magical afternoon of holiday fun and festivities at pre-show Sugar Plum Parties on December 17 and 18. Enjoy snacks and sweet treats, create unique art projects, meet the Children's Cast, and enjoy live entertainment before the show. The event, which frequently sells out, is sure to be the cherry on top of a fabulous live art experience.
Louisville Ballet will once again offer a Sensory Friendly matinee performance of The Brown-Forman Nutcracker, special tickets for Snow Zone Sweet Seats at every performance, and a Nutcracker Gift Shop with ornaments, t-shirts, tote bags, and more at The Kentucky Center.
Filled with magic, artistry, and awe-inspiring sets and costumes, The Brown-Forman Nutcracker is a shining star of Louisville's holiday season, sure to dazzle dreamers of all ages.
To learn more, purchase tickets, and support Louisville Ballet, visit louisvilleballet.org or call (502) 583-2623.