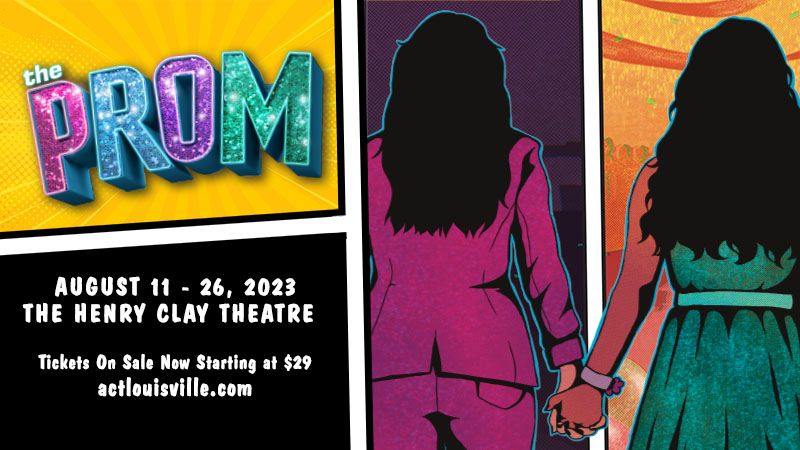 ACT Louisville Productions (ALP) producers Beth Craig Hall and Randy Blevins along with Pandora Productions Producing Artistic Director Michael J. Drury have announced performances and the cast of the regional premiere of the musical The Prom. Each performance at The Henry Clay Theatre August 11 – 26 will include a community Prom experience complete with refreshments for sale, photo opportunities, a Prom royalty selection, along with dancing before the show and at intermission. In the spirit of the show, attendees are encouraged to dress in their most authentic Prom attire.  Tickets to all fourteen performances are now on sale at actlouisville.com starting at $29.
Four fading Broadway Stars are in desperate need of a new stage. When they hear that trouble is brewing for a small-town Indiana prom — and press is involved — they put a spotlight on the issue…and themselves. The town's parents want to keep the dance on the straight and narrow — but when one student wants to bring her girlfriend to the prom, the entire town has a date with destiny. The Prom won the 2019 Drama Desk Winner For Outstanding Musical and was also nominated for 7 Tony Awards.
"It's a joy to finally realize this partnership with our good friends at Pandora Productions to bring this funny, sweet, and important musical to the stage for the first time in our area," said Hall.  "The Prom aligns with both organizations' missions to educate and elevate young artists in our city while providing opportunity and access to work with true theatre professionals."
Drury adds, "We've been working to collaborate with ACT Louisville Productions since before the pandemic. I can't think of a better pair of organizations to present the Regional Premiere of an amazing show about acceptance and love. It's a total celebration of our friends who live in rural areas trying to live as their true selves. This show holds up a mirror to injustices based on differences and it will make a tremendous difference to the audiences who see it."
The Prom will be directed by Brian Gligor, a New York-based theatre artist who has worked all over the world. Brian taught acting technique and theatre history at Wesleyan University and University of Tennessee.  He played Mark in the original National and Japan tours of RENT, and has also appeared on 30 Rock, Guiding Light, One Life to Live, and All My Children.  We are so excited for the experience and vision Brian will bring to this production."
The Prom will have fourteen performances August 11-26 at The Henry Clay, located in Downtown Louisville at 604 S 3rd St, Louisville, KY 40202. Tickets are on sale now online at actlouisville.com starting at $29.
The Prom cast and creative team:
THE PROM
Book & Lyrics by CHAD BEGUELIN
Book by BOB MARTIN
Music by MATTHEW SKLAR
Based on an original concept by JACK VIERTEL
Original Broadway Production directed and choreographed by
Casey Nicholaw
Originally Produced on Broadway by
Bill Damaschke, Dori Berinstein, Jack LaneJames & Catherine Berges, Nelda Sue Yaw, Natasha Davison, Joe Grandy, Kimberlee Garris, Lisa Morris, Terry Schnuck, Jane Dubin, Rosalind Productions, Inc., FAHS Productions, Seth A. Goldstein, Mike Kriak, Don & Nancy Ross, Pamela Hurst-Della Pietra & Stephen Della Pietra, Cliff Hopkins, Masie Productions, Vivek Shah, Three Belles & A Bob, Arment-Tackel, Armstrong-Manocherian, Fakler-Silver, Fox Theatricals-
Mosbacher-Lonow, Palitz-Stern-Smedes, Nancy & Ken Kranzberg/David Lyons, Larry & Elizabeth Lenke/Elizabeth L. Green, Iris Smith/InStone
Productions, Kuhlman-Ketner/Wallace-ATxRandomProductions, The John Gore Organization and The Shubert Organization (Philip J. Smith:
Chairman; Robert E. Wankel: President); Produced in association with Independent Presenters Network, Margot Astrachan, Darren P. DeVerna &
Jeremiah J. Harris and Reagan Silber
CREATIVE TEAM
Producers: Randy Blevins, Michael J. Drury, and Beth Craig Hall
Director: Brian Gligor
Musical Director: Angie Hopperton
Choreographer: Daniel Scofield
Stage Manager: Azariah Taylor
Sound Designer/Engineer: Stephan Carpenter
Lighting Designer: Nick Dent
Costume Designer: Susan Neason Toy
Properties Designer: Azariah Taylor
Hair and Makeup Designer: Deidre Brooks
Set Builder: Rob Gagnon
Assistant Stage Manager: Josh Bowling
Ticketing Manager: Robert Kingery
Stage Management Intern: Jesse Leezer
CAST
Emma Nolan: Annie Weible
Alyssa Greene: Jericah Greene
Dee Dee Allen: Heidi Platt
Barry Glickman: Michael J. Drury
Trent Oliver: Robert Kingery
Angie Dickinson: Emily Schroering
Marion Hawkins: Jason Brent Button
Mrs. Greene: Sage Martin
Sheldon Saperstein: Zachary Trinkle
Shelby: Grace Cuenca
Kaylee: Rachel Disney
Nick: Field Oldham
Kevin: T Russell
Company:
Grayson Boehm, Keegan Conner, Maggie Hugues, Mariah Jones, Aliya McCoy, Eliza Smith