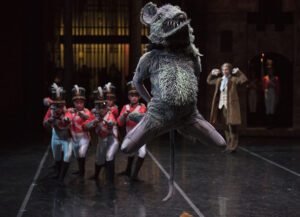 A Louisville Ballet tradition since 1963, The Brown-Forman Nutcracker returns to the Kentucky Center with exciting updates to the classic. A magical story for all ages, the show dazzles with beautiful performances by the artists of Louisville Ballet, Tchaikovsky's masterpiece symphony played live by The Louisville Orchestra, and the sweet addition of children's cast dancers from throughout the community. 
Louisville Ballet's artists are delighted to bring this beloved holiday experience live for the first time since 2019. Natalie Harris, Director of Marketing for the organization, remarks, "We can't emphasize how exciting it is to be performing live and to bring back the magic of the season to so many in our community." This feat of artistic collaboration between professional cast dancers, children's ballet school students, local craftsmen and designers of the set and costumes, and musicians from The Louisville Orchestra must not be missed.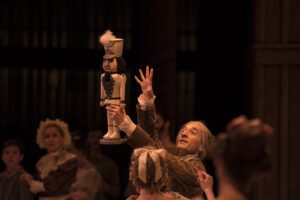 The Brown-Forman Nutcracker tells a story for all ages about bravery, family, and the magic of belief. When young Marie is gifted a special nutcracker doll at a Christmas Eve party by her godfather Drosselmeyer, a magician, she is filled with curiosity and delight to the chagrin of her mischievous brother, Fritz. After the party, as midnight sets in on Christmas Day, Marie is awoken to see Drosselmeyer's magic-making ensue a battle between the house-mice and tin soldiers. When her Nutcracker comes to life, Marie assists him in defeating the Mouse King, and together they travel into the Land of the Sugar Plum Fairy. Angels greet them as Marie and the Nutcracker Prince as they arrive at the Palace of the Sugar Plum Fairy. 
Act II invites audiences into a realm of magic beyond imagination. Marie and the Nutcracker Prince visit the Land of Sweets and meet the Sugar Plum Fairy, who throws a great party to honor the duo's victory over the Mouse King. Marie and the Nutcracker Prince are dazzled by performances from sweets around the world: Spanish Chocolate, Chinese Tea, Arabian Coffee, Russian Caviar, and French Pastilles. Danish sheperdresses, Madame Derby and her Jockeys, along with Rose and her flowers aid in the spectacle of magic as well. Finally, the Sugar Plum fairy and her prince dance for Marie and the Nutcracker Prince before bidding them goodbye, ending Marie's beautiful Christmas morning dream.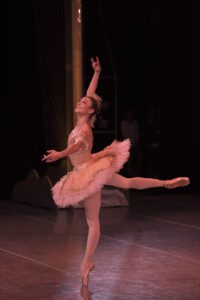 Louisville Ballet's exclusive Brown-Forman production is filled with magic, artistry, awe-inspiring sets and costumes, and distinctly Louisville touches. Choreographer Val Caniparoli perfects the choreography for the thirteenth year since his Brown-Forman version's debut with Louisville Ballet in 2008, and proves with mastery over the art form that this year certainly won't be his last. Caniparoli reflects on his long history with the show, "The first production of The Nutcracker that I was a part of was Lew Christensen's iconic version, and later on Willam Christensen's, whose version was the first complete production in the U.S., premiering on Christmas Eve of 1944. What I remember most strongly is the music for the snow scene: I just thought, "How gorgeous is this music?"— and I've felt the same way about it for the last 48 years."
He describes his inventive choreography for the timeless show, "The Brown-Forman Nutcracker is the second version out of five that I choreographed. Each version is very different, but I would say that the common thread is that I try to stay true to E.T.A. Hoffmann's original story and my inspiration of the Christensen brothers, with a slight nod to their Vaudeville ballet background and legacy."
Just as Louisville Ballet's inaugural production of the 2021-2022 season, Swan Lake, pushed boundaries on traditional ballet stereotypes on lightness and darkness of skin tone, Artistic and Executive Director Robert Curran breaks away from harmful anti-Asian stereotypes typically seen in the Chinese Tea Dance in Act II of The Brown-Forman Nutcracker. This shift away from antiquated biases traditionally portrayed in the show was first seen in the New York City Ballet's 2017 production. In a pledge to portray Asian cultures with positivity and nuance in art, Curran then signed Georgina Pazcoguin and Phil Chan's petition, "Final Bow for Yellowface." The petition calls for artistic organizations to renounce outdated caricature portrayals of Asian peoples in performance, particularly in various renditions of The Nutcracker ballet.
Pazcoguin and Chan write, "Continuing to present an 19th century view of Asians does not allow for character nuance for Asian American dancers today. If all audiences see is [caricature] from a bygone era as the only representation of Asians on stage, what message does that send to our Asian students who dream of dancing the Swan Queen? What does that say to the Asian audience members who want to see themselves on stage, only to find themselves as the butt of the joke?"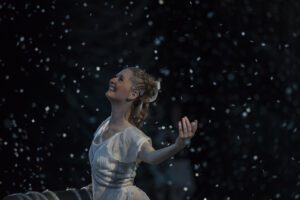 Curran is proud to mark Louisville Ballet's commitment to artistically exploring nuance and complexity across cultures. He remarks, "I think we as a race have failed in [cultural appropriation] on a lot of fronts," Curran said. "I want to make sure that I have access to many resources, like Phil, who can help me, guide me through issues."
Chan was pleased with Louisville Ballet's portrayal of Chinese culture in The Brown-Forman Nutcracker, as the production staff ensured the breaking away from stereotypes to present audiences with art inclusive for all. Curran recalls, "[Chan] thought the Chinese dragons we use are very appropriate, not used gratuitously or inappropriately and he was pleased with what we had done. There are many versions that are very beautiful and respectful of Chinese tradition."
Aside from magical scenes and larger-than-life characters performed with Louisville Ballet's standard expertise and skill, audiences can look forward to "Snow Zone Sweet Seats" and a decorated lobby featuring pre-show performances by community arts partners. For the show's biggest fans of small size, the Sugar Plum Parties have returned for pre-show fun before the December 18 and 19 matinees in the Kentucky Center's Todd Hall. Participants will have the opportunity to join the Sugar Plum Fairy and her friends in the Land of Sweets for snacks, photo opportunities with Nutcracker cast members, activities, art projects, and a special Nutcracker Storytime.
Caniparoli concludes that The Brown-Forman Nutcracker is a staple in household holiday traditions for a worthy reason, "It is an honor to continue this wonderful relationship with Louisville Ballet and The Brown-Forman Nutcracker under the artistic leadership of Robert Curran. I hope that the audience will continue to be entertained and, as if they are watching through children's eyes, will leave their troubles and cares behind. Everyone should bring someone they love with them to share in the special joy of The Brown-Forman Nutcracker."
Tickets to The Brown-Forman Nutcracker, special Snow Zone seating, and Sugar Plum Parties are available at www.LouisvilleBallet.org or by calling (502) 583-2623. Louisville Ballet is proud to offer a sensory-friendly performance on Sunday, December 12th at 11:00 AM for audience members of all ages with special needs. Season ticket holders automatically get access to the performances. Season tickets to Louisville Ballet are available for purchase here.
Louisville Ballet remains 100% committed to undertaking any and all measures to keep our artists, staff, and audiences safe. Louisville Ballet supports Kentucky Performing Arts' (KPA) policy of requiring proof of vaccination or a negative COVID-19 test to attend all performances at any KPA venue. These venues include The Kentucky Center, Brown Theatre, and Old Forester's Paristown Hall. KPA's current mask requirements will also continue at this time.
By Eliza Metts