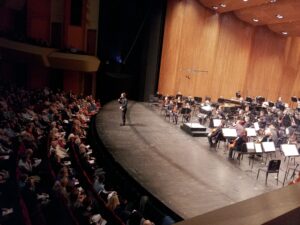 The time if finally here for what is surely the most anticipated season in recent memory for the Louisville Orchestra. Like many Orchestras and entertainment groups around the world, the Louisville Orchestra also had to endure the grueling hiatus from performing for almost twenty months due to the COVID-19 pandemic and are ready to get back on stage for their patrons, and the community. Once again, Whitney Hall at the Kentucky Center for the Performing Arts will be filled with the majestic symphonic sounds by YOUR Louisville Orchestra musicians and conducted by Bob Bernhardt and Teddy Abrams, and everyone is ready for the season debut.
Audience is excited to offer previews of each performance this season to give you some background for each performance as well as insight into what ot expect and what to look for when you attend. Find more articles in Audience Magazine, our digital monthly magazine dedicated to the arts and entertainment in Louisville. CLICK HERE to subscribe for FREE.
We hope you enjoy the previews written by local arts aficionado, Julie Engelhardt.
October 23 – Music of Prohibition – POPS Series – Bob Bernhardt, conductor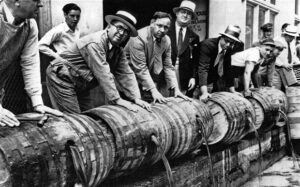 On October 23 at 8 pm. the Louisville Orchestra presents their debut program in their POPS series for the season titled "Music of Prohibition."
"This concert is a tribute to an industry that developed as an end-around to a constitutional amendment that was passed in 1920," POPS conductor Bob Bernhardt says. "Prohibition was the constitutional ban on the production, importation, transportation and sale of alcoholic beverages." Bernhardt explains that amendment created a lot of room for illegal behaviors, but it also spawned an incredibly rich musical life in the speakeasies of New York, at the Moulin Rouge of Paris and in clubs and cabarets of Berlin.
"We start in New York, then go to Paris, then take the train to Berlin, and finally we head back to the states," he says.  The orchestra welcomes the addition of three vocalists to this concert: Myra Maud, Bronson Norris Murphy and Madison Clair Parks. "This is like a semi-staged musical review," Bernhardt reveals.
There are times throughout the program that the orchestra will perform without the vocalists' accompaniment. This is referred to as "traveling" music which helps transition the concert from one city to the next.  In most cases the traveling pieces are those written by Raymond Scott.   Audience members might possibly recognize the first piece by Scott titled 'Powerhouse,' as it was often used in cartoons produced by Warner Bros. Studios.
Our first stop in New York City features pieces such as 'Put a Tax on Love,' made famous by singer and entertainer Eddie Cantor, and "What'll I Do," written by the prolific Irving Berlin. Next, we cross the Atlantic Ocean and head to Paris, France. In this segment you'll enjoy selections including "La Vien en Rose," made popular by Edith Piaf, De Temps en Temps, and La Conga Blicoti. After Paris, we head towards Berlin.  Selections dedicated to this segment include 'Jonny,' and 'Alabama Song' from the Rise and Fall of the City of Mahagonny." Our next destination is Atlantic City where the audience will be treated to tunes such as Sweet Georgia Brown written in 1925, but recognizable today as the song used by the Harlem Globetrotters. Our travels return us to New York City where we conclude the evening with pieces such as 'On the Sunny Side of the Street', and 'We're in the Money.'
"Music of Prohibition" is one of many shows conceived by Grammy Award winning arranger   Jeff Tyzik. "Jeff's productions are, in my opinion, always top notch," Bernhardt says. "The arrangements are great for the orchestra, the soloists are always superb, and they provide wonderful entertainment."
For more information, visit LouisvilleOrchestra.org
October 30 – Teddy Talks Schubert – Classic Series – Teddy Abrams, conductor 
On October 30 at 8 p.m., Louisville Orchestra Conductor Teddy Abrams presents his fourth installment of "Teddy Talks" which features Romantic ere composer Franz Schubert and his Symphony No. 9 in C Major ('The Great'). The program is divided into two sections, starting with a talk by Abrams offering insight and discussion about the composer and the symphony. He provides background information about Schubert and what motivated him to compose his music, and where the piece lies on an emotional level. "All of these composers have rich, interesting lives to talk about," he says.
He adds, "It's actually a fun exploration. My goal is that I always want to give people a lot of 'a-ha' moments when they say, 'oh my goodness, I would have never listened to it that way.'"
The first half also showcases samples of the symphony played by the orchestra. "The orchestra is on stage the entire time during the first half so they can demo little bits and pieces of the work we're talking about," Abrams continues.  "We're basically giving people a map, so when they listen to the symphony during the second half, played straight through, they'll recognize elements of the piece that will give them a much richer listening experience," he says.
Abrams explains that Schubert's Symphony No. 9 is music that is not overly complicated to listen to, yet it has infinite layers of complexity.  "That's one of the things that has always drawn me to it. He uses the straightforward simplicity of beautiful, melodic writing—he writes truly beautiful melodies that anybody can walk out of the hall humming. On the other hand, his pieces are so deep and have such profound emotional depth and power that you could spend a lifetime still discovering things about those very melodies."
For tickets and information, visit LouisvilleOrchestra.org