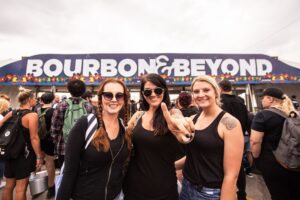 Bourbon & Beyond and Louder than Life are two of the regions biggest music festivals, and both are returning to Louisville in September for back to back weekends and for what will surely be a great time for any music connoisseur.
In this month's Audience Interview, we are excited to to catch up with two of the team members from Danny Wimmer Presents that make it all happen, Chamie McCurry who handles marketing and communications and Del Williams who is the head of talent. They are ready for another year and can't wait to be back in Louisville.
Enjoy the interview!
Listen to the interview in it's entirety below or keep reading for the transcript.
Doug Dreisbach: Danny Wimmer presents produces Bourbon & Beyond and Louder Than Life here in Louisville, as well some of the biggest music festivals in the country. We are super excited about the line-up for both this year and look forward to another two-weekends of music and fun. Why did you all decide to land in Louisville for these events And has the market lived up to the expectations that you had?
Chamie McCurry: Well, Danny Wimmer first started visiting Louisville because he wanted to create a bourbon, so that was his sort of his entry into the marketplace. After spending time there, he decided that he didn't just want to create a bourbon, he wanted to create a movement in this city, with live entertainment that pulls in the bourbon, pulls in artists and pulls in the local community. He wanted to create something for multiple weekends to really highlight and showcase this amazing city and bring in fans from all over the country to experience Louisville and fall in love with it the way that he did.
So, he quickly pivoted from bourbon and started Louder than Life, which—this company was built on rock festivals, and then after the success, and a couple years of Louder than Life, he added Bourbon and Beyond into the mix, which really was sort of a love letter to the city of Louisville and the state of Kentucky, in terms of mixing bourbon and making that be just as much of a headliner as the artists that play it.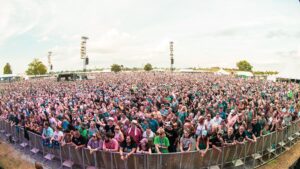 DD: Initially, Louder than Life was held down near the river at Champions Park and Mother Nature didn't cooperate creating several challenges from heavy rain and flooding. Now the festival was moved to a totally new space that you created the Fair and Exposition Center that has plenty of parking and the logistics of getting in and out have been great. How was the transition to this new space and has it been an easier space from a management and production standpoint?
Del Williams: It has. And with the former venue, we had some issues we really couldn't control, and the whole fan experience is the top priority for all the Danny Wimmer Presents festivals. We want the fans to have an incredible experience across the board from every little detail, from individual blades of grass, no kidding, to the way the restrooms are laid out, to the excellence in the entrances, the parking, all the lifestyle-oriented exhibits that we have, the festival village, the vantage points for seeing the fans. I mean, it just goes on and on. And the previous venue did have some challenges, but we love where we're at now, because as you've already pointed out, some things that are superior to the previous venue. Now we just feel like we can offer, as with all of our shows, a more complete experience that really is in line with the philosophy of DWP, where people know that when they go to one of our shows, that regardless of the lineup, they're going to have an amazing time because we have factored in everything that is important to them. And this venue really allows us to do that.
CM: Yes, and just to echo what Del was saying, the team at the Kentucky Exposition Center have been incredible partners to us. The infrastructure they have with their full-time staff in developing the grounds and really identifying the best use within the space, they have really been great partners to us, and we're incredibly thankful for that relationship.
DD: For years, you have brought in the biggest names in the industry to the festivals. For Bourbon & Beyond this year, we're going to see Pearl Jam, Chris Stapleton, Jason Isbell, Greta Van Fleet, and many more. These are major household names that a lot of people have either seen before or have listened to a lot.
When you find some of the "undercard" bands, or lesser-known names on the bill, how does the hierarchy of booking go? Do you also book them with other festivals as part of the pitch to play? And how does the makeup of the non-household-name-band booking go?
DW: We look several things when we book bands. We look for passion. We look for artists that are great musicians and have great musicianship, as well as showmanship. We love the discovery aspect of a festival, where you go to a show, and you discover an act that you hadn't heard of, and you come away going like, "Oh, my God, I saw the greatest new artist." That is just as important to us as it is to the headliners. But every single slot really has a purpose. To mirror the community of Louisville having so much soul and pride, we want to instill that into our festivals in Louisville. So, yeah, every slot's great, and I'm really glad you mentioned that. Chamie and I talk about this all the time, about why the undercard is so key.
There are acts like, for example, S.G. Goodman, who is a Kentucky artist and has a really good following in the state. She's an up-and-comer, and again, lots of passion and a cool act. A lot of people will walk away having discovered someone they will hopefully start downloading music and getting into. Jocelyn and Chris is another set you will see and feel like you just discovered the next big act. Jocelyn's a superstar just waiting to be embraced. Those are both acts that are earlier in the show but ones you will want to check out.
But it's all about balance, too, where Bourbon & Beyond is about Kentucky and Louisville, in that it's a combination of elements, personalities, and genres. So, we balance it with classic rock, blues, soul, alternative, Americana and mix some country crossover in there as well. We kind of blend it all together, so that it just a really compelling mix of great variety that represents that heart and soul that is indicative of what Louisville and Kentucky are all about.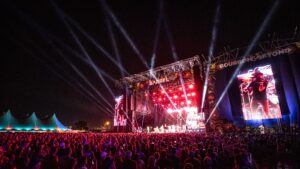 DD: It seems that festivals like these create a great exposure for the bands, whether big or small. The marketing of music has become more direct with somewhat of a micro-marketing approach. Ultimately, putting them on a stage in front of this many music fans is equivalent to them having to play twenty smaller bars or sets to get that kind of exposure. Does part of your pitch to the bands include helping them get exposure? And do you facilitate any post-festival production and marketing for the bands you discover?
CM: We love spotlighting up-and-coming artists, and we love educating our fans who maybe bought a ticket for the top one or two bands in the hopes they discover something new while they're at the festival. I know I've personally discovered a lot of bands by going to festivals, getting there early and being surprised by some of the performance that I've seen.
We do work on the marketing side with the artists to get access and information about them, to get video and content from them and really try to educate our fans and get them excited about experiencing them. We also have an amazing public relations team that, post-event, works to push up a highlight. We have an onsite content team that does backstage interviews and behind-the-scenes content and a lot of that is focused on our up-and-coming bands and to showcase that spotlight on them to all the fans that are at home via our Twitch channel. We push it out on YouTube post-event because our hopes are always that someone that we book maybe in the second or third slot on the third stage is, in five years, a headliner. That's a Cinderella story, and that's what we love, when stories like that happen.
DD: Is there much interaction between the band's backstage, as far as the up-and-comers and the superstars? Or do they kind of stay in their own world?
DW: It's like a big family and we really try to create that environment, where there is a big fraternity feel and the artists are getting together. I've never seen so much unity, just having the backstage have so much warmth for a show. It's just really cool because there are some artists that have already collaborated, like for example Chris Stapleton and Brandi Carlile. And there are a number of artists that are really excited about The Doobie Brothers being there with their complete lineup, with Michael being involved with the show, as well. And then there are a lot of younger acts are talking about them, too, so there's a lot of reverence for the older acts. And then, a lot of younger acts who love the opportunity to meet each other and possibly parlay that into some touring together down the road.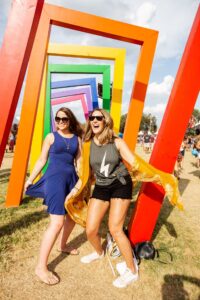 DD: Every year of the festivals seem to get bigger and better. What are some of the things fans can expect this year? What's new? I heard something about a big bourbon bar, which I know will be well-received. Also, are there any differences between the two festivals from an experience, non-music perspective?
CM: Yes, at Bourbon & Beyond, we're going to have the world's largest, rare bourbon menu, which is exciting. So, all of the bourbon fans out there could just spend a whole day in our Silver Dollar Hunters' Club, sampling bourbons. We are also excited about having the Always Sunny podcast on site filming their podcast for the very first time at a live event right in front of our audience. So, we're incredibly excited about that.
Soon we will also be announcing our full culinary and bourbon programming, so that is the one thing that does set Bourbon & Beyond apart, is that we have a culinary stage. We have a bourbon stage. We have the bluegrass stage. We have a lot of things going on outside of the main stages and performances for fans to be able to step away and have a more personal experience through some of our activations. We also have speakeasies and other things where fans can have fun and just kind of explore the venue, explore the site, and get lost in the bourbon world for a little bit.
DD: Do you have any festival tips for fans to navigate and plan their day or weekend?
CM: The best way to plan and navigate your weekend is to download our app, which you can find on iTunes or Google Play, and can create your own personalized schedule. We won't announce set times until about two weeks before, but once that happens, you can actually create your own schedule and get a push notification when a band you want to see is taking the stage, a couple minutes before, so you get that reminder to head to that stage. You'll be able to get familiar with the map, so you understand where everything is going to be, and you can just really plan your weekend with a very personal touch. So, I definitely recommend downloading the app for the maximum festival experience.
DD: We can't wait for another couple of great weekends for Bourbon & Beyond and Louder Than Life. Is there anything else you would like to add to let people know about the festivals?
DW: I will tell you that Chamie and I and the entire Danny Wimmer Presents team are so proud to bring these shows to Kentucky. We always have the fans in mind for everything we do, and we're very honored to be there and looking forward to it. We're excited to bring this program back, and that live events are back in full force. We know they're going to be amazing shows, and the fans are going to be extremely happy.
For tickets and more information, visit Bourbonandbeyond.com or LouderthanLifeFestival.com.