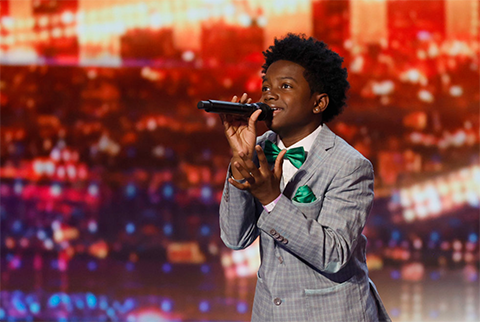 Getting on a stage in front of an audience is one of the hardest things imaginable for millions of people who suffer from performance anxiety, better known as stage fright. A psychological setback, it can often be overcome with determination and practice.
When we watched 11-year-old Louisvillian, D'Corey Johnson, walk on stage to perform for the judges and audience of America's Got Talent recently, we saw a lot of confidence — and certainly no stage fright.
We caught up with D'Corey, his mom, Nakia, and voice coach, Dionte Colbert, to find out more about this Louisville singing sensation.
Listen to the full interview with Audience publisher G. Douglas Dreisbach below.
D'Corey has packed a lot of hard work into his young life. A few years ago, he got noticed on social media when he sang the national anthem for his school. That sparked interest from others, including local musician Mark Maxwell from the popular band, The Crashers. Mark became somewhat of a show business mentor to D'Corey, and they performed together at galas and events. After recently wrapping up a 51-city tour with Hits! The Musical, it sure seems like the sky's the limit for this talented young man.
When the opportunity came to perform for Simon Cowell and the judging panel for AGT's 18th season, everyone encouraged D'Corey to give it a shot, and he absolutely took the opportunity and ran with it.
G. Douglas Dreisbach: Congratulations on your recent success with America's Got Talent. D'Corey, how have you liked being in the spotlight thanks to your big debut?
D'Corey Johnson: I love it! It's like — it's a dream come true, you know?
GDD: Nakia, how has it been for you, trying to manage everything with the family, and keeping balance, day in and day out?
Nakia Johnson: It's a huge task because I'm his stylist. I'm his hairdresser. I write his music. I have my own line. Then I have my other kids at home that I take care of, and then the traveling is a constant. But I love everything that I get to do for him.
GDD: D'Corey, tell us a little bit about yourself. Where do you go to school? What grade are you in?
DJ: Well, I'm D'Corey Johnson, the one and only. I'm 11 years old, and I'm homeschooled, and I love being homeschooled. I'm in the fifth grade and going into the sixth. And I love my life.
GDD: When did you first realize that you had a musical talent or a will to sing the way you do? And how has that developed?
DJ: When I was 4, my mom put me in the choir, and then when I started to grow up, she put me in LCCC Theater, and then they gave me the lead role to sing Michael Jackson's "I'll Be There." When I hit the high note, I just knew that I was going to be a star. And the rest is history.
GDD: D'Corey has worked with a few local singing coaches, including Rosetta Galloway and Turley Richards. He is currently working with Dionte Colbert. Dionte, you've got a singing sensation on your hands there. Tell us a little bit about what it's been like working with D'Corey.
Dionte Colbert: It's been an amazing journey to watch him because he came to me four years ago, and it has been great to watch his progression and to see him develop not only as a vocalist, but as a child in general.
GDD: At what age do you see most young singers start blossoming, and how will that change in the next few years? How do you coach your students to deal with their voices as they mature?
DC: All kids are different. Some mature faster than others. With D'Corey, now we're going through something where his voice is getting deeper, so some of the songs he was able to sing and knock out of the park when he first went viral in 2021, we have to approach it differently now. It's more about picking the right songs that are in his range. And now, we're looking at just him doing his own original music.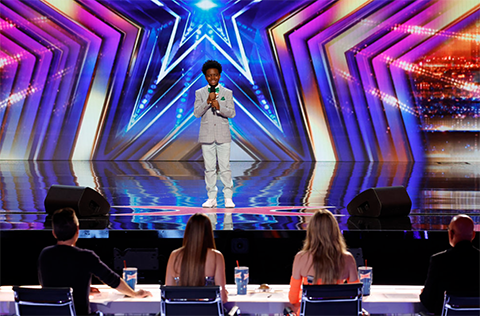 GDD: D'Corey, on the America's Got Talent audition, why did you choose the song "Open Arms" by Journey?
DJ: The executive producers, the music directors — they actually chose "Open Arms" for me, so I didn't choose it. But they told me to learn it, and I only had five days to send it off. To remind you, I was still on Hits! The Musical tour, so every chance I got to learn, I just learned it, and I just knew it, in like two days, three days. That's how fast I catch on.
GDD: When you went onstage for AGT, you seemed really confident, you were ready to go. You talked to the judges very easily, and then you absolutely crushed it with the song. What were you feeling when you went out onstage? Did that feeling continue when you started to sing?
DJ: I was feeling very confident because I have performed in front of crowds at galas and my own concerts. Mark Maxwell actually took me up under his wing. His band is The Crashers and he has let me perform with him on stage. I got to perform "Tomorrow" from Annie on the stage with him.
GDD: When you finished the song, everybody was standing and cheering. Your favorite judge, Simon, asked you to sing the refrain without any background music, which can be really hard to do. You nailed it and absolutely blew the roof off. When he asked you to do that, were you kind of taken aback? What was going through your mind?
DJ: I was just like, "OK, so I'm going to knock this out," because I absolutely love singing a cappella. I actually started singing a cappella when I was very young.
GDD: So, you knew you could do it, and you knew you had it. Nakia, when he sang that part, the camera kind of panned over to you, and you just looked so proud. What was going through your mind, watching your 11-year-old son do what he loves and entertaining so many people?
NJ: Well, I knew, when Simon said a cappella — I knew he was going to hit it out of the ballpark anyway because when he was a kid, he started singing in my salon, singing for my clients, and he wouldn't have any music. And actually, Dionte had to — because he sang so much without music — Dionte had to teach him how to sing with music.
Also, the reason why Simon ended up asking him to sing a cappella is because when he started singing with the music, the crowd went crazy and just started screaming "golden buzzer, golden buzzer," to where it drowned D'Corey out. You couldn't even hear him sing, and you could barely hear the music, and that was when Simon was like, "OK, can you sing a cappella?"
And then they ended up drowning him out again. So, actually, people don't know it, but D'Corey had to come back like 30 minutes later and re-sing everything all over again and then do it a cappella again, because the crowd went crazy, which is a good thing.
GDD: So, when he came out, the real time was like 30 minutes later?
NJ: Yeah, because they let the other acts go ahead and continue with their stuff, but then they came back, and then D'Corey had to redo it all over again. But the first time is when he was crying because he was so overjoyed with how the crowd took to him, and just the fact that you see the upstairs balcony and the downstairs, and everybody in the downstairs is just screaming and yelling and clapping and giving him standing ovations. They didn't even want to sit down.
My face was kind of serious because I was like, "Please stop," because I wanted them to hear him sing. But they were screaming so loud. And I was thankful. I was thankful, but I was so happy that Simon ended up asking him to re-sing the song, so people could hear his voice and hear how beautiful he sounds. And I knew that D'Corey was going to knock everybody off their feet, because when Lester Holt came here, the news media, the cameramen — they started crying, and they were like, "This is what we need — people like him — that we need in the world to make a change." I knew D'Corey had it all along.
GDD: D'Corey, I saw a clip where you had an early opportunity to sing the national anthem for your school. How did that come to be?
DJ: It was my birthday, and I asked the teacher, "Can I meet the principal?" Because I never met the principal. And she was like, "Yes," so she introduced me to the principal, and I asked the principal, "Can I sing the national anthem?" And she said, "One day," so that one day came. She pulled me into her office. She said, "You ready?" I said, "I'm ready," and the rest is history.
NJ: They were just coming out from Covid, so that's why he hadn't known the principal at that time.
GDD: What's next for you? What are you working on?
DJ: I put music out. I have a song called "Beautiful Morning" and "I Wish" on all streaming platforms, and I'm going to work, work, work, work, work, until I become a star.
I'm going to the Beyoncé concert as well. She's my idol, and I look up to her so much.
GDD: Well, it's been a pleasure having you on today and we will be pulling for you. Your path so far has been exciting and inspiring. What would you tell other aspiring singers, especially young singers, who haven't taken the step to perform in front of others, but know that they have a talent? What would you tell them?
DJ: Never give up, because the haters are going to say that you can't sing, or that you can't do certain things, or they're going to talk about the way you dress. Just believe in yourself because you can make it. I believe in you, and others will, too.
GDD: One last thing — before this interview, we reached out to our friends at Broadway in Louisville, and they knew who you were and were aware of your singing. We were able to work out some tickets for you to come see Wicked here in Louisville this fall. And from what I understand, that's your favorite, right?
DJ: Yes! I love Wicked. I've never seen it before, but I love it because I've heard the music, and I just love it.
For more Audience Interviews with local and national arts and entertainment icons, visit Audience502.com
By G. Douglas Dreisbach