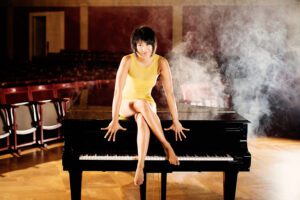 The Louisville Orchestra is bringing superior performances to the stage to kick off the new year.
One of the first shows in an exciting 2022 lineup will be held on January 8, when charismatic piano superstar Yuja Wang will debut celebrated Music Director Teddy Abrams' very first concerto. The world premiere of his highly anticipated concerto will showcase Abrams' remarkable originality and invigorating leadership as a gifted maestro and composer. The Louisville Orchestra has performed 14 of his original works during his eight years as Music Director, including Unified Field (2016), The Greatest: Muhammad Ali (2017), and The Order of Nature (2018, in collaboration with Jim James from the band, My Morning Jacket). 
The orchestra is pleased to present Abrams' first full concerto written for piano and orchestra in "giant sonata form." He describes this enormous, 35-minute, quasi-classical concerto as if "Gershwin and Rachmaninoff got together and wrote a piece, but in the musical vernacular of the 21st century." He composed the piece for friend and former classmate, Yuja Wang, and it's dedicated in her honor.
To fully express his unique compositional voice in the concerto, Abrams will conduct an expanded orchestra that includes three saxophones, a drum set, an electronic keyboard, an electric guitar, and an electric bass. Sections of the piece draw from across several dynamic genres, including Latin Jazz, Bebop, and Funk. The piece begins with a full orchestral exposition, to be restated and adapted by Wang in a kind of call-and-response conversation between orchestra and piano. 
"The piano solo cadenzas are the hinges of this concerto," Abrams explains. "They are meant to be a vehicle for Yuja Wang — all very tough, and all written out."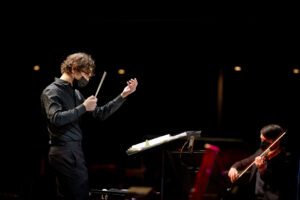 Classmates Reunite on the Louisville Stage
Abrams has been conducting and composing since he was just 12 years old. As the youngest conducting student ever to be accepted into the esteemed Curtis Institute of Music, he developed and grew his musical talent around the best musicians of his generation. It was there in the early 2000s that Abrams first accompanied Wang on piano, and the two developed a friendship that has endured throughout each of their successful careers.
Wang, known for her theatrical style and lively energy, dazzles her audience with gorgeous and powerful melodic lines. Her interpretations are often sparkling and intense, bringing a crisp touch to renditions of classical pieces. With stunning versatility, Wang can pivot her stylistic execution from classical to contemporary within seconds in astounding displays of technical finesse. 
She plays with fluidity and mastery throughout each performance, serving jaunty playfulness in one moment and devastating passion in the next. Wang does it all in posh couture and stiletto heels, heightening the musical experience while giving the impression that she's having as much fun as the audience. Her chemistry with accompanying orchestras is rapturous, creating pure magic that is achingly beautiful to behold. It's no wonder she was named Musical America's Artist of the Year in 2017 — the fervor she brings to the stage for each performance is infectious and uplifting.
With a comprehensive understanding of Wang's magnificent range of style, Abrams proposed the composition of a concerto written expressly to showcase her sweeping musical strengths. The resulting concerto is buoyant, populist, and fun, akin to Gershwin's Rhapsody in Blue and Concerto in F. 
The program will conclude with the lush and solemn melodies of Rachmaninoff's Tchaikovsky-inspired second symphony. Rich with vast tonal variety and exquisite musical phrasing, it's sure to be a gorgeous conclusion to a uniquely brilliant and breathtaking performance.
For more information or to purchase tickets for these or other Louisville Orchestra performances, click here.  
By Amanda Kern