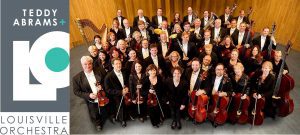 The Louisville Orchestra has been instrumental in the growth of the arts in Louisville since 1937 when conductor Robert Whitney, Louisville Mayor Charles Farnsley and other business leaders of the community launched Louisville's now-beloved fully professional symphony orchestra.
The Louisville Orchestra has hosted thousands of performances and enlightened the souls of many under the direction of some of the most talented conductors in the world. Audience publisher, Douglas Dreisbach, caught up with President John Malloy to find out more about the importance of the arts, the orchestra and the upcoming performance at the world-renowned Carnegie Hall. This interview was also featured in the April edition of Audience Magazine. 
Douglas Dreisbach: How are you and the team at Louisville Orchestra doing?
John Malloy: So far, we have been very blessed that we haven't had any positive cases that have caused us great consternation, so everybody's working diligently. I think the big thing for us is making sure we are over-communicating given the uncertainties with the current situation, this season, shutting down, and now what we do or don't do about the 2020-21 season, and of course, Carnegie in February. There is a lot going on, but we are staying focused on starting back up in the fall.
DD: Tell us about your role with the orchestra and what your priorities have been, and how they may have changed since the current situation began.
JM: I've been on the board of the orchestra for about 10 years, and in the last three, I have served as the president. Really, our top priorities, even during this uncertain time, have been the same. We remain focused on our mission of changing lives throughout our community by promoting a culture of music through outstanding performances and really pushing hard on the educational front.
Additionally, we work with the other arts groups and the Louisville arts ecosystem to collaborate with the opera and ballet and seek out other opportunities where we can. As the president and leader of the organization, I am really trying to make sure we concentrate all of our efforts on bringing about the artistic vision of our maestro, Teddy Abrams. We are making sure not only that we are reaching the broader community that we serve, but also taking advantage of some of the national opportunities that we have, as well. These opportunities recently included the partnership with Jim James and the CD (The Order of Nature) that was released, which resulted in the invitation to perform at Carnegie Hall. So really, following Teddy's lead, and making sure we are getting the reach and the brand lift we need in order to touch all of the organizations and individuals we seek to touch is important.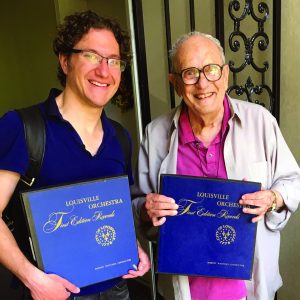 DD: Speaking of Teddy, we have seen a lot of artists creative expressions with "quarantine concerts" and local musicians playing for nursing homes and elder care facilities in different ways. These are so inspiring to see. Why do you feel the arts and music is so important to our community and the overall mental state of society?
JM: Music, and the arts as a whole, have been and will continue to be a healing modality. I think what is most important is that we are increasingly living in a divided world, politically, racially, etc., and it is terribly concerning to many of us. The arts, and the vision of Teddy, allows us to bring folks together in a way that is very nonjudgmental. Everyone can experience our concerts, our interaction with our musicians and Teddy in their own way, and still be part of a collective whole. I think that's what's magical about the arts community.
We see it not only in the visuals we see and hear from the community we serve, but there is also  a lot of research that suggests it provides a therapeutic relief, a broader collective outlet to the world that is not negative, not condescending and not politically based, like so many other aspects of our lives where those things live.
So, especially in uncertain times, we have taken the opportunity to stream content and creativity and for Teddy to get out in the community. We have musicians doing virtual ensembles. Just recently, we had musicians playing individually and sending those mini-concerts through to our donors, our board and our patrons. We need to thank our musicians for all of the effort they have put forward and just continue that outreach. We are getting great feedback through social media about those efforts, and we can't thank them enough.
DD: What have you learned from this situation and do you think there will be anything positive to from it?
JM: I don't know that we've learned a great deal other than the need to quickly react to the situation. We have been very proactive in our planning and responded exceptionally well. I think one of the great benefits of calamities of any kind are the ability of people to come together collectively and solve problems with viable solutions.
We had a call recently with the musicians, several board members, and staff, just to talk about next steps and what we're going to do in the fall. These interactions really strengthen our bond between one another and allow us to work through these difficult times. We may even be in a situation in which we don't open in the fall, depending on how long this extrapolates out and whether our venues will be available for us to even play. But through it all, we want to stay focused on Carnegie. It is a lifelong dream of many of our musicians to play there. We were very blessed to get invited to play.
So, I don't know if there are necessarily any learnings. Most of us board folks are business people who have weathered ice storms and tornadoes and other things that have impacted our communities and caused problems. This is another opportunity for us to seek to work together and close the divide that we see day to day. I think the other important aspect is making sure that we are not isolating ourselves, be it the orchestra, opera, Broadway series or any group. We need to lift each other up, making sure that no party emerges at the detriment of another and that we all lift up and come back together.
DD: You mentioned Carnegie Hall. If there is a bright light to look forward to, that is certainly it. Tell us a little bit more about how big this is for the Louisville Orchestra, for our community, and a little bit of how it came to be, and what makes it so special.
JM: It is important for people to understand that you can rent Carnegie Hall, and you can play there. But we were invited as part of Carnegie's regular season, which is a great honor. It really stems from the last three years of great initiatives to get us to this point. We did the "All In" CD release. We did the project with Jim James. We were on the Jimmy Fallon show and CBS Sunday Morning, so we're getting good reach. I think those accomplishments have really been recognized, not only in our community, but nationally as well.
So, it is not by happenstance. It is strictly by strategy and what Mr. Abrams has been trying to accomplish and what I've been focused on to ensure that we are pulling his vision together in a way that we can fund, because the arts are always strapped for dollars, but in a way that accomplishes the overall vision.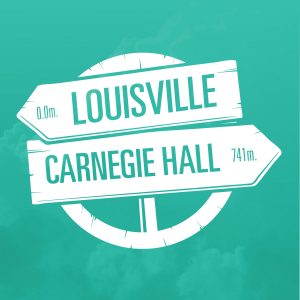 DD: The 2020-21 season looks fantastic. The Pops Series is coming back with fantastic film music where conductor Bob Bernhardt will pick some of his favorites. Then the always-popular holiday concert was included again and an Aretha Franklin tribute. Tell us more about putting together the new season and what we should really look forward to.
JM: With these things, we really follow the lead of maestro Abrams and what he tries to accomplish with many diverse and innovative opportunities. So you'll see more and more innovation coming from the Louisville Orchestra, not only with the concerts we play in Kentucky Center, but also at Paristown Hall and other venues that will be unique and different.
I don't know if there's anything specifically I look forward to. Carnegie's obviously a big deal. But serving our local community with concerts is also important. We are very blessed with conductor Bob Bernhardt. Our community absolutely loves Bob, and he does a fantastic job with the musicians and really getting audience appeal. And then, of course, Teddy. He awakens the musical world, make no mistake about it. And he'll continue to do that. So, I don't know if there's one area I'm looking forward to. I'm really looking forward to the whole season.
DD: What is the best way for patrons to support the Louisville Orchestra and your team during these times?
JM: First, we need to pass on our appreciation for the season ticket holders and ticket holders that we had during this past season and the concerts that we had to cancel. Just north of 50% donated their tickets that allowed us to continue to pay staff and musicians and keep the cash flow moving in the orchestra. I would say I'd ask them to do what we are doing and plan for a normal season. We are planning to get right back up with our September kickoff and have a great season, but in order to prepare for that, we need our subscription ticket-buyers to go on and commit. I think there's some timidity in the patron market right now with the uncertainties, and that's certainly understandable, but we are preparing full steam ahead to come back in September. If we could continue to sell our subscription series, it would be fantastic and supply us the money we need to effectively plan and pull off that season.
DD: Have you been ordering any food from local restaurants that you would like to give a shout out to?
JM: I am blessed that my wife and I have been married for over 30 years, and the kids are gone now, so it's just her and me. We pretty much take care of the cooking and everything ourselves, trying to eat as healthy as we can and work on our wellness programs doing a lot of cycling and other things together. We are finding a lot of comfort being able to spend a little more time together and cook at home and hang out. So, that part's been a really good thing.
DD: In closing, is there anything you would like to add?
JM: I think it's important that we really thank our patrons and sponsors, and at the end of the day, if we don't have them, there's no one to play to, and the music just evaporates in the air. So, we can't thank them enough. Not only for staying with us season after season, but also in these uncertain times. We encourage them, and I've been sending out notes to patrons, "Don't forget about us. Come back, and we'll see you in the fall."