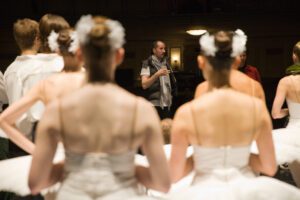 The mission of the Louisville Ballet is to make moving art that inspires connection, conversation, and a profound sense of community by striving for bold collaborations and nurturing the next generation of artists, celebrating diversity and creating access for all. This has been a year to really push those boundaries and reconfigure the way the ballet achieves some of these goals.
Audience publisher, G. Douglas Dreisbach, caught up with Louisville Ballet Artistic Director, Robert Curran, who has led the company through a re-imagined Season of Illumination to bring the community in Louisville and beyond the magic of the ballet.
Listen to the full interview for free below.

G. Douglas Dreisbach: When stages went dark back in March, what were your initial thoughts, and how did you adapt and emerge to some of the exciting things you are doing today?
Robert Curran: One of the most important refocusing ideas that we had was the belief that we are an agency that is a luxury or an entertainment industry. But we are a service industry. There are people out there that rely on us. Whether it is for an experience to keep them whole, or whether they rely on us for their physical health and well-being, for their mental health or emotional health, we are a service agency for them. It was really important for us in the early days to refocus on that and figure out how we were going to stay in the lives of the people that we serve, and the people that need us.
So, our Louisville Ballet school and our Louisville Ballet community engagement programs made very quick pivots online and continued to serve in new and exciting ways the people that we have long served in the conventional, traditional, regular ways, and I am proud of the way those teams continue to offer the quality of service that we are used to delivering.
From the company side, we pivoted very quickly to a digital stage, which is really something I have wanted to do ever since I arrived here. The thought was a platform that allows us to connect further, with a wider group of folks, and give the opportunity for people to get some idea of what Louisville Ballet is, without expecting them to come to Whitney Hall or the Brown Theatre, attend a class in person or be involved in one of our community engagements programs.
So, we jumped on that very quickly. We made the decision early that we were not going to try and have in-person performances this season, and we were well-positioned with the Season of Illumination to make that pivot successfully, illuminating all areas of Louisville Ballet on the digital platform. By quite literally using light and make some really exciting contributions to the digital dance landscape, we created that vision.
It was really sad, no doubt, to have to go dark on the stages. I was heartbroken to not be able to present Kentucky Volume 1 on the stage. But at the same time, in our inevitable or intrinsic adaptability and versatility, the artists of the ballet and all of the people that work for the ballet made that decision very quickly to get online.
But, it was also very exciting once we made that decision, and still remains exciting, because this digital platform that we're creating is going to last long, and certainly will still exist when we do eventually return to the stage.
GDD: Do you feel the new digital and streaming capabilities helped to attract new audiences or patrons by giving more access to the ballet? Not only in this market, but around the world?
RC: Yes, absolutely I do. I think that, unless you have content up there, and have strategy for that content, you will not build a critical mass of work that paints a picture of who you are as an organization. So, I do feel that getting content up that enriches the experiences of those folks that are able to come and experience our performances live, but also gives a taste of what we are capable of to those who are not able to see our performances live, is a fantastic opportunity. There are folks near and far who do not know what they do not know about the arts and about ballet specifically, so if this is a way for us to illuminate what we are doing and what we create, and bring to our community and to each of their individual lives, it's a fantastic thing.
GDD: In a recent conversation, I said, "We can't wait for the shows to come back." Of course we all look forward to that moment, but the response I got was, "We never left!" Meaning that the content creation and collaborations that have connected so many people with the performing arts in a new way have never been explored at this magnitude. Do you agree with that?
RC: Absolutely, I would 150,000% agree with that. Certainly, the busy-ness of Louisville Ballet has not diminished whatsoever. In fact, it has been increased, I think, and I just need to take a moment to say it's been increased under incredible financial pressure. So, Louisville Ballet, as just one arts organization in town, does not have available the million-dollar-plus ticket revenue that we would normally have in a year. However, we are continuing to offer programs; be they dance films, school classes, or community outreach programs. We have had to do that under even more financial stress and pressure than we normally would. But still, we have not stopped.
GDD: When the company rehearses for a performance, and it is continuously pushed back and rescheduled because of COVID, how do you keep your team energized and focused?
RC: Well, firstly, we have tried very hard not to do that, and that goes all the way back to our decision to not do any live, in-person performances this season. We did not want to put a date for a live performance out there and then have to keep shifting it. So, we made the call early that we were just not going to make a 69th season, an in-person season. We tried very, very hard not to do that.
When the delays are caused by potential risks to the health and safety of human beings, I feel like there is, and has been, flexibility there. There has been a willingness to understand and an acceptance of the fact that it is largely out of our control, and our role as an organization and as individuals that live in this community is to be a part of the solution, in terms of the pandemic, and not be part of the problem.
We have been very clear about the deep care we have been taking of our artists and our administrators. The protocols we put in place show how seriously we take the artistic process with relation to our artists' and collaborators' health, and that's been right at the forefront for us, that we want to be a part of the solution. We do not want to be a part of the problem.
So, I feel confident, not only in the decisions that we have made, but also in the way that we have communicated to the patrons that we are lucky to have, that there is a simpatico there in these very challenging times.
GDD: As we move into the new year, the future is still so unknown as to where we will be in a month, three months, six months. You have been very progressive on continuing with the Season of Illumination, in a digital format. How have your goals and opportunities changed?
RC: Well, some have changed, and some haven't. Something that has not changed is that we see ourselves as an integral part of our community, both in the services we provide and in the art we create. We are right at the beginning of a five-year strategic plan that continues to affirm Louisville Ballet as a vital part of our community. We have a lot of excitement built into that strategic plan and are really focused on who we always have been.
But things that have changed would be our approach to the digital stage, our approach to the ways that we can share the art we create, share the profit of its creation, and share more about the artists and collaborators that are involved. That is exciting to me. I cannot say enough how much I'm motivated and inspired by the idea of getting artistic content up, enriching that content online, and also enriching the experience of our patrons who come to see us in person through another online experience.
So, that is a big change for Louisville Ballet, and certainly the lemonade that we have made from the lemon of this pandemic. But at the core of it, our mission, our vision for our future, our commitment to art and artists, our commitment to new work, continues just as strong as it has before. And as I have mentioned, never stronger is our commitment to our community and the role we play in serving them.
GDD: What kind of feedback have you gotten from patrons and people who have subscribed to the digital stream?
RC: We have received a lot of great feedback from our patrons. I think the thing that has come through loud and clear is how appreciative they are of us continuing to create new work, how appreciative they are of us continuing to support the artists that make up Louisville Ballet and that collaborate with Louisville Ballet, and how much they appreciate our innovative approach, that we're not putting up archival footage of live performances exclusively. We are creating new work specifically for the digital formats. I could not be more grateful for the support that our patrons and donors have given us in this innovation, and it is exciting to hear the positive feedback.
No doubt this is a platform that is not for everyone. There a very strong desire in my heart and that of our patrons, to sit in the theater and experience something live. It has a very powerful place in my life and in the lives of others, so this is a platform that will never, in my mind, completely replace the live performance aspect of a ballet company.
And so, I do understand that the digital experience is not for everyone. When you are in the theater watching a performance, you get to choose where you look and what you look at, but in a film, that decision is made by the director. And I understand that that is something that is not for everyone, but really, the response that we have had in these unusual, uncertain times — to the work that we have continued to do and the support that we've continued to provide to our artists in their livelihood, but also in their ability to express themselves — has been very well appreciated, and has been appreciative.
GDD: What is the best way for people to support the Louisville Ballet currently and moving forward as we move into another year of unknown?
RC: Engage with us. Talk to us. That is my humble request to everyone. There are people on the phones. There are people on our social media platforms. There are ways to get involved. There is information. And learning about us, getting involved with us, engaging with us, is the beginning of a relationship that is mutually beneficial. I can guarantee that. And to those who can afford to support us now, in this very, very difficult time, please do. But start with engaging with us first, because we want to be able to demonstrate to our community the value that we provide, both to individuals and to the community at large. We want to earn the support that we believe we deserve but we need to get to know you, and you need to get to know us, first.
So, please visit LouisvilleBallet.org check out LouBallet on Instagram and on social. Get on Facebook. Have a look at what we're doing. Get to know us. Ask questions. We'll answer them. We'll ask you questions. And see how special we are as a company in our community and what we can bring to your life.