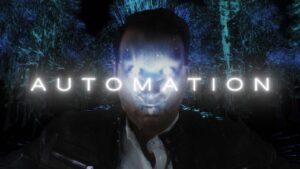 YOUR Louisville Orchestra and Teddy Abrams are ready for the final concert of the season and to entertain their patrons May 13 and 14 in what is sure to be a fantastic performance.
Teddy will conduct Fantastique and Cellist Ives Dhar will perform a new work by composer Adam Schoenberg called Automation.
Just because the piece is called "Automation," doesn't mean it's going to play itself.
There's the solo cellist, Ives Dhar. He's going to play his part. And there's the Louisville Orchestra. It's going to play its part.
But the third part of "Automation" is a wild something that is going to play itself.
If everything works as planned, the audiences will get to see and hear all three: the cellist, the orchestra, and that mysterious third player that's going to play itself — all by itself.
Huh?
Don't worry, all will be revealed … or present more questions than it answers.
The concert, under the baton of symphony director Teddy Abrams, also includes a composition by Louisville composer KiMani Bridges called "STATiC," plus the centerpiece of the show, the brilliant "Symphonie Fantastique, by Hector Berlioz, a classical music favorite since its Paris premier in 1830.
"Automation," on the other hand, is brand new. Not just new in time, but in format, which is where the piece playing itself comes in.
Dhar says the concept goes back five years to a brainstorming session of Dahr and composer Adam Schoenberg, who've been pals since their college days at Juilliard.
"I've always wanted Adam to write something for me, and we were sort of riffing off each other and throwing ideas out there," says Dhar. "I said wouldn't it be cool if there were a hologram playing a cello on stage with me?"
A crazy idea, the cellist and the composer laughed. "Like that's ever going to happen."
But they didn't forget about it.
"The more we talked," says Dhar, "the more we liked exploring the idea of how people interact with a digital world these days.
"So I went down the rabbit hole and researched the idea and found there was a kind of legendary instance of hologram artists back in 2012 at Coachella (Music and Arts Festival, in California). The hip hop artist Tupac Shakur had died and they kind of resurrected him for this concert — in holograph form."
A hologram, we learned from Dr. Google, is a three-dimensional image projected by light sources. A hologram can take the form of a ghostly 3-D moving figure that you can walk around to see from all angles.
Dhar says at the time the technology they'd need to create a hologram cellist on stage — with a real cellist and an orchestra — was prohibitively expensive. "Not to mention there are a lot of parts to it. It did not travel or transport well, and I already had a cello and all this stuff to haul around the country."
But in the five years since their hologram brainstorm, the musicians found the cost of the technology coming down, with fewer parts to schlep around.
"Now they've got these things called holo nets, like a scrim, nearly a transparent scrim," says Dhar. "You get a projector, and you have to develop the right graphics, but you can project what looks like a hologram up there."
Dhar and Schoenberg next enlisted the aid of a team of technology scientists — artificial intelligence experts, you might say — from Occidental College, in Los Angeles. (Barak Obama's alma mater.) People who Dahr says were intrigued with the challenge. It would be their job to give the hologram the ability to play its own music. The essense of artificial intelligence.
Now all they needed was the music.
"Obviously, with Adam, we wanted this first and foremost to be a great piece of music," says Dhar. "Adam is … he's a tremendous composer for symphony orchestra. But he also has all this experience in film."
And the tech imagination required to bring music to video.
"In the musical world, it's acoustic, and electronic,"says Dhar. "Most classical music is acoustic, right? And most popular music nowadays is electronic. We're at that intersection."
As a premier classical soloist based in New York, Dhar is obviously rooted in the acoustic, symphonic world. But he's also interested in the digital world.
That intersection, and the possibility of collision, provided composer and cellist with the narrative for "Automation."
"It's the world of human beings interacting with AI every day," explains Dhar. "It's not a story, by any means, but an arc. It goes like this: A human cellist is dying to play with someone else, so he creates an AI cellist. A robot. The robot learns from the human, and learns exponentially — eventually challenging the musician."
But things get away.
"The AI cellist surpasses the human, but does inhuman things and eventually short circuits and blows, everything just cuts out. This moment is really the heart of the piece. The human cellist is lost, wondering what does it mean —this thing we have created that surpasses us in nearly every way?"
Maybe we're all kind of asking ourselves that question these days
An orchestra of the future and the past
Playing experimental compositions is something the Louisville Orchestra does well. And it is not easy work. Players often encounter phrasing and chords that are far out of the of the norm. Sometimes just far out. But that's the uniqueness of the Louisville Orchestra's mission. Teddy Abrams and his symphony are trying to nurture a new generation of composers who will write new music for symphonies to perform for coming audiences.
But the orchestra is also terrific at playing the classics. The music audiences love. That's ALSO its mission. This concert it is the Berlioz "Symphonie Fantastique." Other concerts it might be Brahms or Mozart or Dvorak. Next season the orchestra will perform Beethoven's "Fifth Symphony" — as familiar and beloved as it gets.
And on those nights it will be just like when a rock band swings into its biggest hit. The audience warms to the music. Gets in a sway with it. And the warmth radiates back to the players onstage.
For tickets and more information, visit LouisvilleOrchestra.org
By Bill Doolittle