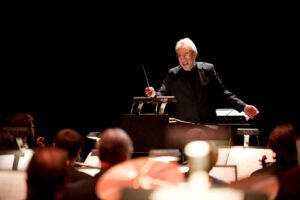 Principal Pops Conductor Bob Bernhardt will celebrate his 40th season as part of the Louisville Orchestra with Irresistible John Williams on January 15. In this performance, Bernhardt selects his favorite musical hits from the iconic composer for an evening of the most memorable compositions in American film history.
Audiences can look forward to hearing beloved classics that have enchanted generations of listeners, including scores from Raiders of the Lost Ark, Schindler's List, Jurassic Park, and Star Wars. Even Harry Potter is expected to make an appearance (musically, of course).
As a personal friend of Williams, Bernhardt describes the experience of conducting his music as "a great delight, among the most fun concerts I get to do in my life." The performance will be authentic, as Williams is known for producing his music note by note with his own hand.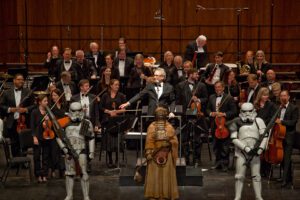 A favorite of orchestras and audiences alike, Bernhardt is celebrated for the lively gusto and deft talent he brings to the stage. With experience conducting everything from educational concerts to opera, he brings a wealth of unique flair and expertise to the podium. Bernhardt boasts an eclectic mix of professional experiences over his extraordinary career before ultimately discovering his forte for Pops orchestra. During his time with the Rochester Philharmonic, he held the distinguished title of Principal Conductor and Artistic Director.
Bernhardt has served as Music Director and Conductor of the Tucson Symphony, a Guest Conductor of the Kentucky Opera, as well as Music Director and Conductor of the esteemed Amarillo Symphony. He is a frequent guest of the Boston Pops, with invitations stretching all the way back to 1992.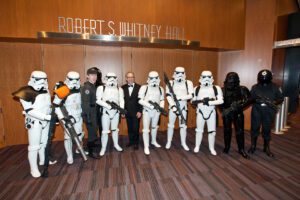 His invitations to conduct come from across the nation, and include appearances at symphonies in Baltimore, Detroit, Cincinnati, Pittsburgh, Dallas, Seattle, Florida, Las Vegas, and Phoenix, among others. Bernhardt worked 18 consecutive seasons with the Kentucky Opera, and 19 seasons with the opera company in Chattanooga. He's also been invited to conduct with the Nashville Opera. In his travels, Bernhardt has had the opportunity to work with Broadway stars and pop legends, including The Beach Boys and Wynonna.
The delightful combination of Williams' music and Bernhardt's mastery is sure to make for an unforgettable experience for the audience.
For more information or to purchase tickets for these or other Louisville Orchestra performances, click here.
By Amanda Kern