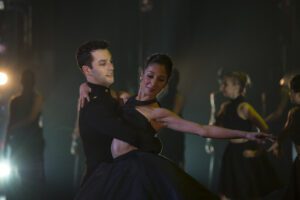 Louisville Ballet returns to the historic Brown Theatre for an exhilarating update to the timeless classic, Swan Lake. The inaugural production of the 70th Anniversary season, Swan Lake has been reimagined again from Artistic and Executive Director Robert Curran's original premiere in 2016.
Curran collaborates with Louisville-based media artists, Ryan Daly and Garrett Crabtree, laser scenic designers, and Tiffany Woodard, costume designer, to create a unique interpretation of this classic tale of love and betrayal.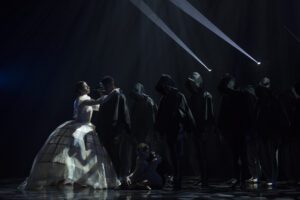 Curran describes his exciting vision for the performance: "I love the traditional Swan Lake, but one of the problematic aspects of the original is that it is expected to be physically homogeneous. We need to be telling historical stories with new constructs so that we are speaking to and representing the communities we serve. Setting Swan Lake in the future is about creating a world where life is still not perfect, but where love is our savior and is what makes life bearable."
Designers Daly and Crabtree invite audiences into a futuristic world of play on light and dark with scenes created by laser motion, setting a stage unlike anything traditionally seen in ballet theatre. Curran notes, "Since the '60s, laser technology has been a symbol of the future, of science fiction. The way the movement of the lasers is an extension of the movement of the dancers is astounding to me. They represent the story by allowing us to create a whole new character."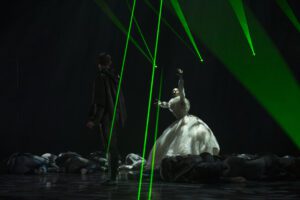 While the laser technology is not new to this season's production, audiences will be introduced by costume designer Woodard to updated pieces that challenge traditional tropes of light, dark, and uniformity. Rather than in black and white, dancers cast as swans will wear stylized tutus that match their range of skin tones. In doing so, the ballet will push back against Swan Lake's history of requiring dancers of color to whiten themselves, or even not get cast because their skin color would detract from the "required" understanding of whiteness.
Curran describes the choice behind these new costumes: "We at Louisville Ballet embrace diversity in skin color and ethnicity. The traditional construct of, 'white is good and black is evil,' is incredibly problematic with how binary it is. It's a hard line that doesn't fit with Louisville Ballet's exploration of Swan Lake."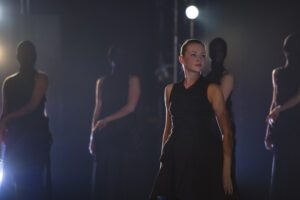 "In this enlivened production, my hope is that we've created something that will surprise and transport our audiences," he adds. "We have intentionally preserved the heart of this exquisite story's exploration of profoundly human struggles — family relationships, love, betrayal, and redemption."
Curran concludes, "The hierarchical world of the original Swan Lake is very limited in its interpretation. I hope that isn't the world we will live in in the future. Art is the way to set the past towards the future we want: love triumphing over oppression."
For tickets and more information, visit LouisvilleBallet.org
By Eliza Metts