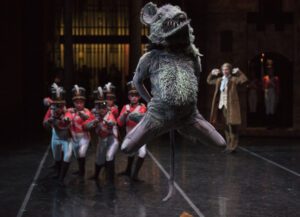 For millions of Americans, the holiday season isn't complete without a trip to the theatre to watch The Nutcracker, choreographed by Val Caniparoli. But in 2020, safety supersedes tradition, leaving venues around the country dark for the foreseeable future. 
Such is the case for The Kentucky Center, where the Louisville Ballet performs this holiday classic. This June, the company announced the 2020-21 Season of Illumination will be all-digital and include a new ballet art film production entitled Kentucky! Volume 1 and the Brown-Forman Nutcracker, with more productions to be announced later. 
While many regard the pivot as bittersweet, artistic director Robert Curran says it was an unexpectedly easy decision, and one that has brought a renewed sense of excitement to the company.
"Obviously, we knew a digital season would be the safest choice for both our company and our patrons, but it was also a really exciting move," says Curran. "Since joining the Louisville Ballet seven years ago, it's been my intention to create a digital stage, and this is the perfect opportunity to do it."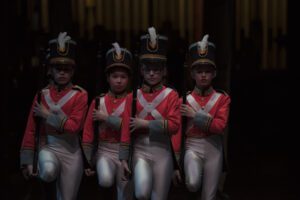 This season's digital streaming of the Brown-Forman Nutcracker will be available December 7 through 15 and was made possible thanks to a happy twist of fate. Last year's production was filmed by WDRB-TV for rebroadcast on Christmas Day, and was produced with an elegant artistic eye in a professional production the give viewers the best experience possible. 
Uncovering New Layers
The Louisville Ballet's famed rendition of the holiday classic follows Marie, played by Leigh Anne Albrechta, and her enchanting journey with her Nutcracker prince. Audiences will see all of their favorite scenes — from the festive party scene, to the company's famous snow scene, through the tour of exotic lands in Act II — beautifully produced in high definition, all from the comfort of home. 
Albrechta said filmed ballet productions can uncover more layers of a ballet story because of the ability to capture nuances such as facial expressions and costuming details up close, while the digital streaming platform enables the viewer to rewind and rewatch a favorite scene. 
"It's like having the best seat in the house, in your own house," she says.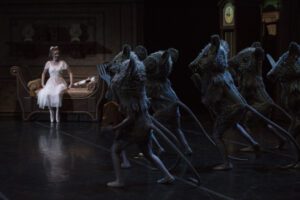 The digital platform is also an ideal way to introduce ballet to young children who may not be quite ready to sit through a full performance, or for families who do not live within easy driving distance of a company or venue offering a full-scale rendition of the classic tale. 
Albrechta recalls being enthralled as a child while watching New York City Ballet's televised performance of The Nutcracker starring Macauley Culkin and Louisville Ballet School alum Wendy Whelan.    
"We didn't have anything like that where I grew up," says Albrechta, who hails from Fremont, Ohio. 
And that broader audience also includes the friends and loved ones of the performers who may live miles away and be unable to travel to performances. 
"In any given city, most ballet company dancers aren't from there," adds Albrechta. "This platform lets our loved ones across the country and around the world watch, and that's really meaningful to all of us."
Having the production already available on film allowed the company to devote this fall to exploring and creating new digital works, while giving the dancers — who are typically accustomed to live stage productions — a preview of what it's like to be filmed.
"Ballet is already very detail-oriented, but with various camera angles, and more up-close shots, we had to be even more mindful of facial expressions and other nuances," says Albrechta. She also noted that the ability to pause and reshoot a scene, as opposed to dancing the entire production straight through from start to finish, allows the dancers to come to each scene fresh, without fatigue. 
"The energy stays high throughout," she says. "We don't have to worry about wobbly legs in the last scenes!"
Still, a fall season without the hustle and bustle of Nutcracker auditions, rehearsals, costume fittings, and rehearsals is a bit surreal for dancers who may have spent decades performing The Nutcracker year after year since childhood.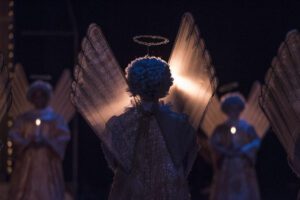 Albrechta, who has performed several roles in Brown-Forman Nutcracker over the years, including the female role in the Arabian Divertissement and Sugar Plum Fairy, jokes that she's done with her Christmas shopping early for the first time ever this year. Curran, who hails from Australia where The Nutcracker isn't a typical holiday tradition since Christmas falls during the summer months there, says the performance has become something he looks forward to each year since moving to Louisville.
For ballet mistress and children's casting manager Helen Daigle, a season without corralling dozens of tiny dancers feels a little empty, albeit a bit quieter. Louisville Ballet casts up to 100 children from around the area each season to fill the first act's party scene. 
"For so many children, the privilege of performing in The Nutcracker is a rite of passage, and many of our children come back year after year," says Daigle. "Their excitement and enthusiasm are unmatched, and we certainly are missing them right now."
Lowering Barriers, Enhancing Performances 
Louisville Ballet is far from the only arts organization to look to a digital format. New York's Metropolitan Opera announced in September that it would suspend live performances until at least September 2021, but is streaming archived performances, which have proven to be popular.   
Curran pointed out that the lowered barriers to entry for streaming performances — such as free or reduced ticket prices, and no need to travel to a venue at a specific time — has likely brought more people to the performing arts than before, which may help fill seats as venues reopen to live performances.
"The more arts organizations are able to take on these strategies, the more we can break down preconceived notions of what the arts are, and who the arts are for," he says.
Like so many aspects of our daily lives that have been forever altered by this year's pandemic, digital streaming for arts organizations is here to stay. And in Curran's opinion, that's a very good thing. While live productions will likely always have their place, digital capabilities allow organizations to enhance performances with behind-the-scenes videos, character sketches, artist profiles, and much more.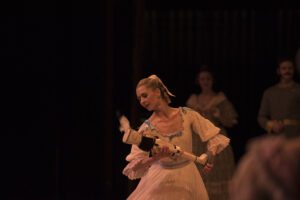 This year's Brown-Forman Nutcracker is enhanced by the inaugural Winter Fair Gala, a digital experience from December 3 though 6, which includes an evening of virtual ballet performances and holiday toasts on Saturday evening, virtual Nutcracker story time in partnership with the Louisville Free Public Library and Carmichael's Bookstore, the Louisville Ballet Youth Ensemble Winter Concert, and much more. All proceeds from the gala will benefit the Louisville Ballet and its programming.
"These new digital platforms allow us to be more diverse in every sense of the word, from the types of organizations we collaborate with to the audiences we are able to reach," says Curran. "The ways in which we can enhance a live performance are really limitless."
Curran says he looks forward to pushing the boundaries of collaboration and incorporating emerging technologies such as CGI and augmented reality to continue to bring multi-dimensional viewing experiences to audiences in Louisville and beyond. 
From Isolation to Unity
Now more than ever, he says, is a time for organizations from a broad range of disciplines and geographies to unite to support one another and their respective communities. The past year has brought increased isolation in so many ways, yet technology offers a new sense of unity, and the opportunity to present Louisville and the state of Kentucky to the world stage like never before. 
For instance, Curran says that this season's Kentucky! Volume 1, the first in a three-part ballet cycle, weaves together the past and present of the Commonwealth in a non-linear style. The production also incorporates a spoken word artist and is designed to cast the history of Kentucky through a new lens.
"Everything we are pushing for is unique," says Curran. "I feel very strongly that Louisville Ballet has an obligation to create a sense of pride, nostalgia, and wellbeing in our community. Now more than ever, it's vital that we tell the story of our community and instill a sense of unity to our viewers."
To purchase tickets or for more information about Louisville Ballet's Season of Illumination, please visit louisvilleballet.org. 
And to find out more about Louisville Ballet's inaugural Winter Fair Gala, including their Nutcracker Gift Shop and online auction, visit the Winter Fair website here. 
Article written by Beth Clayton
Streaming Content
Louisville Ballet At Home
Bring the joy of dance into your home with these previews and behind-the-scenes videos.
Kentucky! Volume 1

have been moved to December 7-21. CLICK HERE to watch the preview.
Behind the Brown-Forman Nutcracker: The Making of a Dancer CLICK HERE to view.
Watch a preview of The Nutcracker's famous Snow Scene. The full performance will be available online December 7-15. CLICK HERE for the preview.