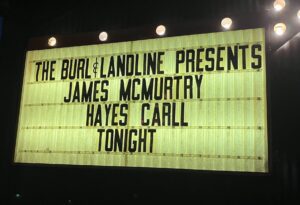 Audience502 made a trip to the 859 to check out James McMurtry and Haye Carll at The Burl in Lexington. It was our first time to the venue that is a pure hidden gem of the commonwealth. If you haven't been, be sure to check out their upcoming shows and get there! Located just west of downtown Lexington in the historic Distillery District, the area was surprisingly accommodating with several bourbon-themed restaurants and pubs across the street with plenty of parking. Our pre-show stop was at The Breakroom that was the actual breakroom for employees of the original distillery on site. It was a perfect spot to find a cold beer or cocktail (no food) and the bartenders were great and company was fantastic.
Opening up the evening was the Texas singer songwriter Hayes Carll who had an energetic set backed by a great band including several solid slide guitar solos and melodies. His wide collection of songs stretches from sarcastic humor to deeper lyric compositions. Drunken Poets Dream, Nice Things, Hard Out Here and several more were part of the setlist that served as a great warm up for McMurtry.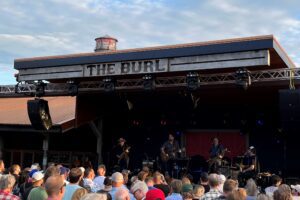 James McMurtry is known for his deep lyrics and songwriting, guitar melodies and solos and this set was fantastic with him and his band delivering on all fronts. Playing many of the crowd favorites from his large library of songs, the setlist included Blackberry Winter, Canola Fields, Ft. Walton Wake Up, No More Buffalo, Too Long in Wasteland and more.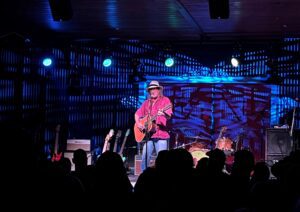 The sound quality was a ten, and open standing room layout with an area for folding chairs if you care to bring one. Get there early for food, or to spend some time in the old-fashion arcade located just across from the main stage.