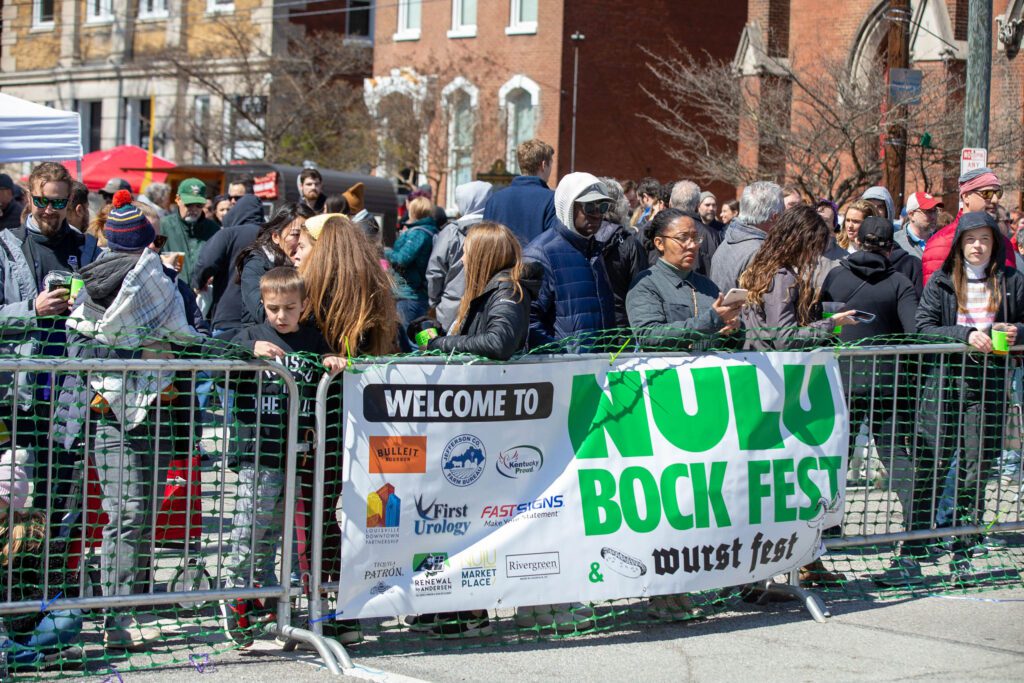 One of Louisville's favorite festivals returns on March 25 with safe and fun goat racing, local Bock Beer, and the annual Wurst Fest. This year will welcome more local breweries than ever before including Against The Grain, Butchertown Brewing, Mile Wide Brewing, Monnik Beer Co., and West Sixth Brewing with others to be added in the next several weeks.
Each brewery will serve its 2023 Bock Beer, along with other selections, at the event. Beer is available for purchase at booths along East Market Street.
Check out the activities, schedule of events and more below… See you there!
New for the 2023 celebration:
Bock Fest and Wurst Fest expand from two to three blocks of East Market Street

A new marketplace in addition to the Jefferson County Farm Bureau Farmer's Market featuring up to 50 new vendors and other craftsmen – accepting registrations now at nulu.org/Nulu-Bock-f

A larger goat race track along the 800 block of Market Street with grandstands to allow increased visibility for visitors

Two new goat races added to the lineup for a total of eight including the 2nd Annual Forecast Dash

More music and more breweries for guests to enjoy throughout the day
For non-beer drinkers, Bulleit Bourbon will have specialty craft cocktails and mixed drinks for sale alongside the Bulleit Woody Wagon, a 1930's tear-drop camper designed by Brad Ford as a Neiman Marcus fantasy gift. The Patron Tequila Shack returns for a second year featuring freshly make margaritas courtesy of Crowler Catering. And Rivergreen Cocktails will serve gin cocktails in 12oz cans made with fresh juices and other natural ingredients.
The Annual Wurst Fest is presented by KY Proud and will welcome local restaurants featuring Kentucky Proud Wurst Sausages. Chefs will have the opportunity to put their spin on this traditional dish. Local esteemed celebrity judges will taste each sausage and crown the Best of the Wurst Fest winner at 2:30 pm.  Current participants include Crowler Catering, Cafe Lou Lou in NULU, Against the Grain Smokehouse, Monnik Brewery, and Mile Wide Beer Company. Restaurants wishing to participate in the Wurst Fest competition should contact Trevor Cravens at [email protected]. Wurst Fest participants will be located along the streets at booths where attendees can purchase a Wurst Fest sausage and other food options.
To highlight its mission of connecting agriculture to the urban community, Jefferson County Farm Bureau will host a Farmers' Market of over 30 members showcasing fresh foods, crafts, and other items for sale. They will also sponsor the Jefferson County Farm Bureau Family Fun Area featuring family-friendly activities and displays for the kids including the Tipping Tractor, Bessie the Milking Cow, the Discovery Trailer, Bubble Truck, a petting zoo and more.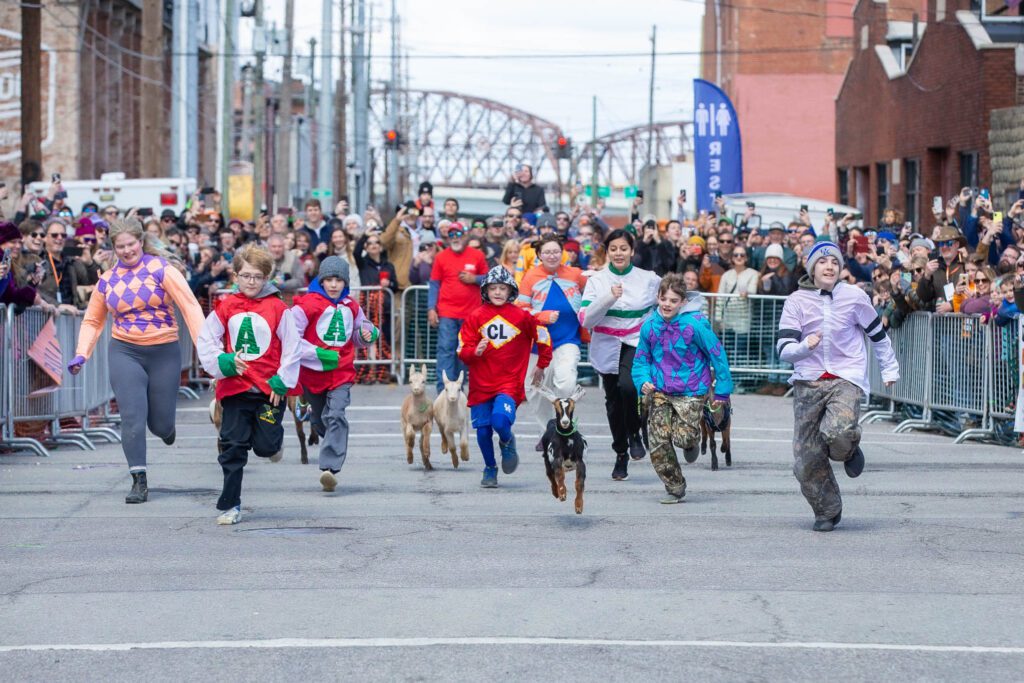 The festival will also include live music from local musicians on the Main Stage in the 600 Block of East Market Street. See the complete schedule below for more details.
Happy Goat Races, presented by Jefferson County Farm Bureau, will happen during the event where goats are walked and run by handlers down a special race track. To better accommodate spectators, the goat races now include grandstands on either side of the track for better viewing of the action in the 800 block of Market Street.
The goats participating in Bock Fest are happy to be there and come to us from the  owners of Sunny Acres Farm who help make Bock Fest possible along with  the Louisville Aggies, a local 4H Group making sure everyone has the best experience possible.   
A total of eight races will take place beginning with the Blessing of the Goats and Bock Beer at 12:00 pm and ending at 6:00 pm. The featured race will be the Tom Drexler Forecast Dash Baby Goat Race at 2:45 pm where Louisville's Meteorologists battle it out for a $500 prize made to the winning forecaster's charity of choice. Alden German with WHAS-11 was the winner of the inaugural forecast dash in 2022.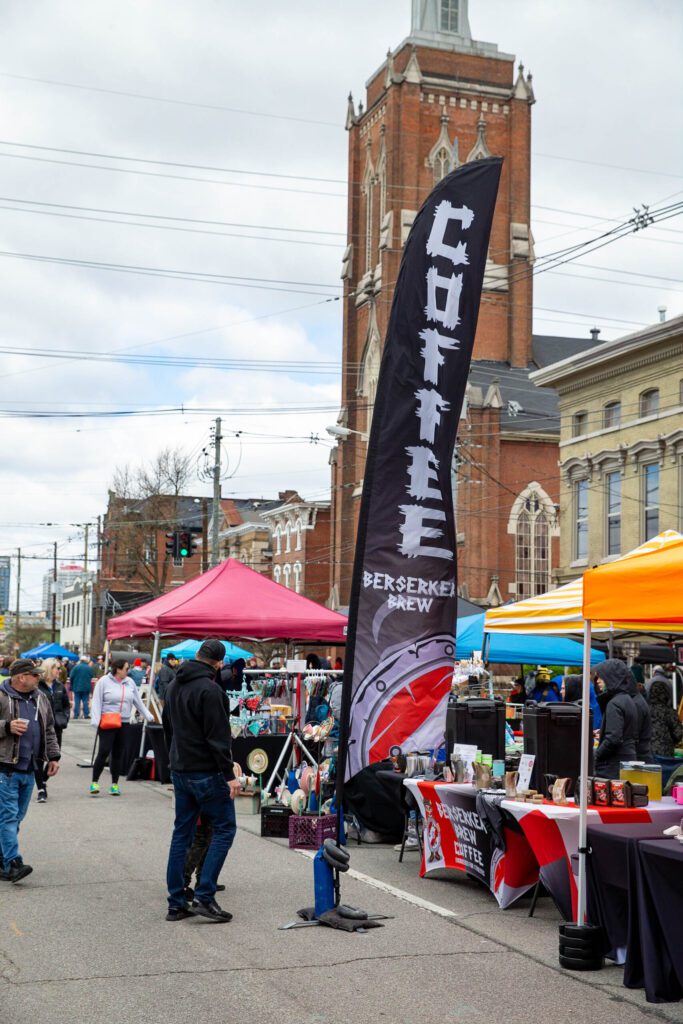 WHAT: Bock Day Celebration presented by NULU Neighborhood Association
WHEN: Saturday, March 25, 2023, Noon to 6 pm
WHERE: 600, 700 & 800 blocks of East Market Street
COST: Free to attend
DETAILS:
NULU's Bock Fest returns in person with new and expanded attractions after record-breaking attendance in 2022. 
Bock Fest Pre-Parties
 Saturday, February 18th – 5-9pm
Kick off Bock Fest season at Red Tree with baby goat photo ops and specialty cocktails for sale
Saturday, March 4th – 2-6pm 
The G.O.A.T Cocktails of Bock Fest. Come see the goats and try the cocktails of Bock Fest at Taj Bar.
Saturday, March 11th – 12-2pm
Goats on a Float at the St. Patrick's Day Parade with Louisville Downtown Partnership handing out koozies and walking the goats
Saturday, March 18th – 11-1pm
Baby Goat Yoga at Nulu Marketplace. Join us in the courtyard for some bend and zen with baby goats led by Zentensity's Denise Ingle.
Saturday, March 18th – 1-6pm 
The Bock Fest Paddock Party. Meet the Contenders and check out the shops in Nulu Marketplace and enjoy a Bulleit Bourbon Slushy or a West Sixth brew. Marketplace shops and Bock Fest merchandise for sale in the courtyard.
Sponsors
Sponsors of the event include Jefferson County Farm Bureau, Angel's Envy, Bulleit Bourbon, Louisville Downtown Partnership, UofL Health, KY Proud, First Urology, Hotel Genevieve, JEB Advertising, NULU Marketplace, Renewal by Andersen, TAJ Bar , Think Tank Marketing, Tom Drexler, Tractor Supply,  Food will be provided by NULU area restaurants, many of whom will participate in the Wurst Fest. Their sausages will be available for sale to the public during the event.
Happy Goat Races presented by Jefferson County Farm Bureau
12:00 pm – Blessing of the goats and Bock Beer
12:30 pm – Renewal by Andersen Adult Goat Race
1:15 pm – First Urology Baby Goat Race
2:00 pm – Tractor Supply Adult Goat Race
2:45 pm – FEATURED RACE Tom Drexler Forecast Dash Baby Goat Race
3:30 pm – Hotel Genevieve Adult Goat Race
4:15 pm – Taj Bar Spirits Classic Baby Goat Race
5:00 pm – Angel's Envy Adult Goat Race
5:30 pm – Nulu Marketplace Classic Baby Goat Race Championship
6:00 pm – Adult Goat Race Championship
Live Music on the Main Stage presented by UofL Health:
12pm – Louisville School of Rock https://locations.schoolofrock.com/louisville
1:30pm – Wicker Frog Alternative Acoustic https://www.facebook.com/wickerfrog
3:00pm – Luke Powers https://www.facebook.com/LukeAPowers/
4:30pm – Nick Dittmeier and the Sawdusters https://nickdittmeier.com
About NULU Bock Fest
NULU Bock Fest continues an annual Spring ritual tracing back to the mid-19th Century to mark the changing of the season when the dark German lager, known as bock, was released across the city after a winter of aging. The holiday, which usually coincides with Lent, was hugely popular in Louisville during its first brewing boom, but fell out of favor during Prohibition.
About Goat Racing
Goat races are traditionally associated with Bock Day, as "bock" means "goat" in German. The event will kick off with the ceremonial blessing of the goats at Noon, and the day will include nine  races with separate divisions for kids (baby goats) and adults. The goats will race on a special expanded race track in the 800 block of East Market Street with grandstands for spectator viewing.  Area businesses are encouraged to sponsor goats, and all goat welfare and race ethics are being overseen by their owners, Sunny Acres Farm as well as the local chapter of the 4H, the Louisville Aggies.  Louisville Aggies is a partner of Bock Fest and is supported by the NULU Business Association. Funds from Bock Fest help them purchase additional goats, participate in fairs and show their goats.  Businesses who are interested in sponsoring a goat may visit https://www.nulu.org/Nulu-Bock-f  or call Trevor Cravens at 859-492-9492.
About Bock Beer
Bock beer is a rich, complex, malty, low-hop style of lager. There are many varieties of bock that can all be different — Maibock, Doppleback, and Eisbock.  Although it is now almost always a lager, bock was originally an ale that was brewed by German monks in the Fourteenth Century.  The monks would often drink the rich beer during their times of fasting. 
About NULU
NULU is best known for its art galleries, specialty stores, antique shops and a growing number of local, upscale restaurants.
The term "NULU" is a portmanteau meaning "New Louisville". As home to the greenest commercial building in Kentucky, many historic restoration projects, as well as several restaurants offering organic and locally sourced ingredients, NULU has emerged with a culture of sustainability.