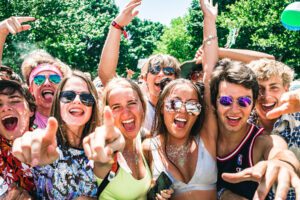 One of the biggest music festivals in the region is returning to Louisville this weekend for the first time since 2019, and fans are ready! Forecastle Festival is a three-day music festival that takes place annually at Louisville Waterfront Park and will host an expected 75,000 fans over the weekend. Started in 2002 by Louisville-native, JK MCKnight to showcase music, art and activism, the festival has increased in popularity every year and was selected as one of Rolling Stone's "Coolest Festivals" of the year.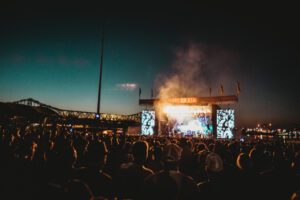 This year's lineup is filled with some of the biggest names in the business with the likes of Louisvillian Jack Harlow, Tyler the Creator, Black Pumas and more. Once again this year, there will be three stages anchored by the Mast Stage (Main Stage on the Great Lawn) flanked by the Boom Stage and Ocean Stage located near the Joe's Crab Shack and the expressway overpass, allowing multiple bands to play at once giving fans all they could want for the weekend.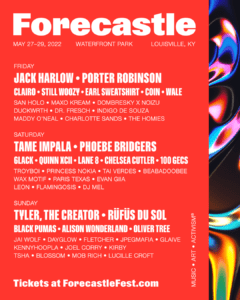 We are excited for the weekend and hope you enjoy this quick guide to enjoy the 2022 Forecastle to the fullest.
Friday
The weekend kicks-off in style with a great line-up headlined by Jack Harlow to cap off the evening. Get there early to get the lay of the land and discover some of the earlier acts including Earl Sweatshirt (5:45-6:45pm) on the Mast Stage. Earl Sweatshirt has several recent hits including Riot!, Sunday (feat. Frank Ocean), and Couch (Feat. Tyler the Creator). He will have an awesome set you won't want to miss.
Another artist to check out on Friday is San Holo (7:45-8:45pm) on the Ocean Stage. Popular songs include Light, Honest and We Rise. With a techno, dance flare, this set should be a good prep for the final act of the night, and the highlight of the entire weekend, Louisville-Native, Jack Harlow (9:45-11:00).
Jack will bring the energy from the get-go. Expect songs from his rookie album, That's What They All Say, including What's Poppin and Route 66. Also expect songs from his latest Album, Come Home The Kids Miss You, including First Class and Nail Tech. Friday will be a great start to a great festival.
Saturday
Saturday will be another great day with several popular acts as well as some up and comers you will want to check out. Tai Verdes (5:00-6:00pm) The Boom Stage and will perform his hit song A.O.K. along with some of his other songs like Stuck in the Middle and Sheesh!.
6Lack (8:45-9:45) will be another great set to see on The Boom Stage performing some of his hit songs like Pretty Little Fears (Ft. J. Cole) and OTW. He is also featured on Calling My Phone by Lil Tjay.
Lastly, the main set for the day will be Tame Impala (9:45-11:00pm) on The Mast Stage and will finish the night with a high energy set including his hit songs like The Less I Know The Better, Feels Like We Only Go Backwards and Borderline just to name a few.
Sunday
Capping off the weekend, Sunday will be another high energy day and possibly be the best day of the whole weekend. Oliver Tree (5:45-6:45pm) is an artist that has blown up on TikTok and will perform on The Mast Stage with his popular songs like Life Goes On, Freefall, and Alien Boy. Next up will be JPEGMAFIA (6:45-7:45pm) on The Ocean Stage whose hits include 1539 N. Calvert and Bald!. Expect a crazy vibe at this set with a lot of energy. Black Pumas (7:45-8:45pm) will perform on The Mast Stage and features a blues and R&B vibe that will be a great set-up to the Sunday headliner, Tyler, The Creator who will take over The Mast Stage to round out the weekend. Along with Jack Harlow, Tyler, The Creator is likely the most popular and anticipated act of the weekend. Expect Tyler to play some of his hit songs like EARFQUAKE, See You Again (Feat. Kali Uchis), WUSYANAME (Feat. YoungBoy Never Broke Again). Tyler will be an amazing end to the night and a great way to end the festival.
Other than Music
While the spread of music will be fantastic all weekend, be sure to check out some of these areas to fill out your schedule.
Liquid Death Country Club
Step inside the most exclusive clubhouse at Forecastle Festival. Wander the luxury grounds while you sip ice-cold mountain water and refreshing cocktails. All it will cost is selling us your soul in a legally binding contract for all of eternity. So join today!
Sierra Nevada Hazy Little Lounge
The best time for a refreshing Sierra Nevada beer? When you're vibing to your favorite artists. Stop by the Hazy Little Lounge to experience Forecastle with a delicious beer in hand.
Tito's Handmade Vodka Airstream
Make sure you stop by the Tito's Handmade Vodka Airstream Lounge located on the Great Lawn! Stock up on swag and sip on a cool cocktail while you sit back and catch a set. For every Tito's cocktail sold, Tito's will donate $1 to Kentucky Natural Lands Trust up to $10,000. Make sure to tag #lovetitos while you sip n' support at Forecastle!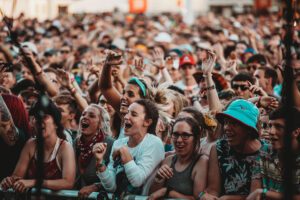 Tickets & Info
Tickets and information is available at ForecastleFest.com with prices ranging from $120 for a one-day general admission ticket to $650 for a three-day VIP ticket.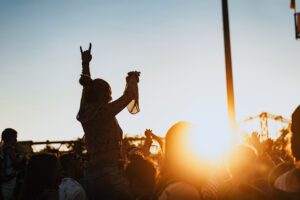 What to Take
Check out ForecastleFest.com for a full list of allowed and prohibited items, but a few things to be aware of are listed below.
The following items are ALLOWED:
CLEAR bags made up of clear plastic, vinyl, or pvc, and no larger than 12″ x 12″ x 6″. Small clutch purses and fanny packs with no more than 1 pocket.  Clutch purses no larger than 4.5″ x 5.5 (See Full Bag Policy Below)
Baby Strollers
Frisbees
Binoculars
Blankets, Sheets, Towels
Empty reusable water bottles and hydration packs, and plastic or aluminum water bottles
The following items are PROHIBITED:
Any bags that are NOT CLEAR bags made up of clear plastic, vinyl, or pvc, and are larger than 12″ x 12″ x 6″. Any Small clutch purses and fanny packs with more than 1 pocket.  Clutch purses that are larger than 4.5″ x 5.5 (See Full Bag Policy Below)
Aerosol containers, including sunscreen and personal beauty products. NOTE: Sunscreen in non-aerosol containers is allowed in the size of 3.4 ounces or less
Coolers of any kind. (Exceptions may be made for medical use)
Framed backpacks, multiple pocket back packs and any pack that is not aligned with the allowed backpacks above. (See Full Bag Policy Below)
Any and all professional audio recording equipment
Drones or any other remote flying device
Hammocks
Glass containers of any kind
Illegal and Illicit substances of any kind
Outside food or beverage (including alcohol) of any kind
Umbrellas
Pets (except service animals)
Selfie sticks
Skateboards, scooters, bicycles, wagons, carts or any personal motorized vehicles
Tents, canopies, or shade structures of any kind
Weapons or explosives of any kind
Fireworks
All Louisville parks prohibit smoking of any kind, including vaping.
For more information and full list of allowed and prohibited items, visit ForecastleFest.com
By Jacob Dreisbach