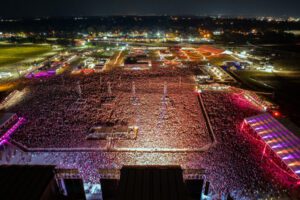 Hailed by
Forbes
 as "one of America's most unique festival offerings,"
Bourbon & Beyond
 returned in a big way this past weekend, bringing in over 140,000 attendees, breaking an attendance record for the festival.
Held over four days for the first time – September 15-18 – at the Highland Festival Grounds At The Kentucky Exposition Center in Louisville, the World's Largest Bourbon & Music Festival offered something for everyone. The one-of-a-kind entertainment offerings included some of the best and brightest music stars in Americana, roots, blues, country and rock n roll, as well as a range of culinary programming from some of the country's top chefs and a wide palette of bourbon tastings and workshops celebrating the rich culture of Louisville.
The festival has now announced 2023 dates, to be held over the weekend of 
September 14-17
 at its home at the 
Highland Festival Grounds At The Kentucky Exposition Center
. Weekend GA and VIP passes, along with camping, are on sale now for $10 down at
 www.BourbonAndBeyond.com.
Bourbon & Beyond's memorable music performances included a rousing set by fan favorites Pearl Jam on Saturday in their only U.S. festival appearance this year. It was also the first time the band has played a Danny Wimmer Presents festival and their first time back in Louisville since 1994. The quartet played a number of hits from their classic debut album Ten and ended with a cover of Prince's "Purple Rain." Earlier in the day, singer Eddie Vedder made a surprise appearance during a set from Crowded House's Neil Finn and son Liam Finn. Vedder guested on "World Where You Live" by Crowded House as well as "I Got You" by Neil Finn's former band Split Enz.
Sunday's headliner and Kentucky native Chris Stapleton delivered a stacked set that merged country, southern rock and blues and showed why he's been named the Academy of Country Music's first-ever Artist-Songwriter of the Decade. In addition to his mega hits like "Parachute," Stapleton also brought out guitarist Mike Campbell for a few songs. Campbell – known as a member of Tom Petty and The Heartbreakers – had a set earlier in the day with his band The Dirty Knobs and later joined Stapleton for a cover of Tom Petty and The Heartbreakers' "I Should Have Known it" as well as the song "Arkansas" that he wrote with Stapleton.
Thursday night closed with a knock-out set from Jack White, who covered parts of his entire catalog with solo works as well as numbers from The White Stripes, The Raconteurs and The Dead Weather including "The Hardest Button To Button" and "Steady As She Goes." The performance comes at a time that American Songwriter calls "one of the most significant years" in his life.
Friday night also featured headliner Kings Of Leon fresh off a summer tour of Europe and their first show in Louisville since 2017, delivering hits like "Sex On Fire" and "Use Somebody." Also that day the Followill family unveiled their brand-new whiskey line "Kiamichi" at Bourbon & Beyond, which offers a 5-year rye, 8-year rye, and a 19-year bourbon available to buy later this year.
Other memorable performances included The Doobie Brothers 50th anniversary celebration featuring Michael McDonald, Pat Simmons, Tom Johnston and John McFee, Brandi Carlile, Alanis Morissette, Greta Van Fleet, Father John Misty, Jason Isbell and the 400 Unit, St. Vincent, NEEDTOBREATHE, The Revivalists, Caamp, Japanese Breakfast, Lukas Nelson & POTR, Courtney Barnett, Cold War Kids, Marcus King, and many more. In total, 80 artists played on four stages throughout the weekend.
In addition to music, there was also a very special appearance by the stars of "It's Always Sunny In Philadelphia," Glenn Howerton, Charlie Day and Rob McElhenney, who brought their popular "The Always Sunny Podcast" on the road for the first ever live taping in the podcast's history. The trio also stopped by the Kentucky Venues Culinary Stage presented by Kentucky Proud and GE for a matchup with chef Tiffani Faison in which they cooked and chatted about their new Four Walls Irish American Whiskey.
Other programming on the Culinary Stage (hosted by Ed Lee and Chris Santos of respective Top Chef and Chopped fame) included Santos in the ultimate burger showdown with Sam and Jake Kizka of Greta Van Fleet; Sam won with his incredible take on an Impossible burger. There was also chef Antonia Lofaso who teamed up with Hogslop String Band, as well as Gin Wigmore guesting in Amanda Freitag's cooking demo and Neil Finn joining Sri Lankan-American chef Sam Fore who hails from Lexington, Kentucky.
In addition, James Beard nominee Anthony Lamas of Louisville's Seviche curated a fine dining experience for Beyond VIP and Rocks Room presented by Zelle guests throughout the festival weekend, the latter offering a one-of-a-kind dinner and a show opportunity with intimate performances from St. Vincent, Caamp, Courtney Barnett and Shakey Graves.
The Team Kentucky Bourbon Stage hosted by Chris Blandford and Trish Suhr also had memorable activities including crowning the winner of the Louisville Cocktail Competition presented by Kroger, after Mayor Greg Fischer called on all Kentucky Bourbon Brands to participate in the event earlier this summer. Judges included Mayor Fischer as well as leading bourbon authority Fred Minnick, Black Bourbon Society's Samara B. Davis, chef Chris Santos and Bourbon Women's Peggy Noe Stevens. The winner was S.C. Baker with Knob Creek who took home the $15,000 cash prize and forever known as the maker of "The Louisville."
The Team Kentucky Bourbon Stage also featured The Vampire Diaries stars Ian Somerhalder and Paul Wesley discussing their hand-selected bourbon brand, Brother's Bond with moderator Chris Blandford. Another highlight was Angel's Envy co-founder Wes Henderson and Blackened Whiskey's Master Distiller and blender Rob Dietrich announcing a brand-new collaboration. Additional panels included sessions and tastings with the world's leading bourbon authority Fred Minnick, conversations about What Women Want (in Whisky), a famed roundtable featuring Kentucky's first families of Bourbon and so much more.
Forbes has said of Bourbon & Beyond, "Since 2017, Bourbon & Beyond has drilled down on Kentucky's number one export and the presence of its famed Bourbon Trail to give fans a unique opportunity to sample rare whiskeys and Kentucky bourbons. Featuring some of America's best chefs, the Louisville festival's celebration of the culinary arts, spirits, live music and more makes it one of America's most unique festival offerings."
Other media praise for this year's event includes:
"Having been expanded to four days, this year's Bourbon & Beyond featured an absolutely staggering lineup of music featuring more than 60 bands/artists, numerous culinary and bourbon workshops, tastings and displays, and a seemingly endless variety of bourbons and whiskeys on hand for purchase. For the two weeks in September that Bourbon & Beyond and Louder Than Life take place … Louisville is the epicenter of music festivals in the world." – LEO Weekly
"Bourbon & Beyond is living up to its name – there's so much more than just music to enjoy." – WAVE-3 TV
"This setup is amazing … Bourbon & Beyond returns to Louisville with rocking vibes." – Courier Journal
Bourbon & Beyond thanks its premier partners: Angel's Envy, Anthem, Bardstown, Basil Hayden, Bard Distillery, Big Green Egg, Bird Dog Whiskey, Bluegrass Distillers, Boone's Homegrown Bourbon, Boundary Oak, Brother's Bond, Bud Light Seltzer, Budweiser, Bulleit Bourbon, Calumet, City of Louisville, Coastal Spritz, Cutwater Spirits, Crowne Plaza Airport Expo, Delta Dental, Ehrler's Ice Cream, Fender Premium Audio, Four Walls, George Dickel, Go RVing, Heaven Hill Distillers, Huber's Starlight, Jack Daniel's, Jefferson's Bourbon, Jim Beam, Kelvin Cooperage, Kentucky Derby Museum, Kentucky Proud, Kentucky Tourism, Kentucky Venues, Kiamichi, Knob Creek, Kroger, Legent, Louisville Marriott Downtown, Louisville Slugger Museum & Factory, Louisville Tourism, Maker's 46, Maker's Mark, Michter's, Middle West, Monk's Road, New Riff, Nomadic Movement, Old Forester, Pappy & Co, Parlor Root Beer, Pegasus Distilled, Rabbit Hole, Redline Bourbon, Resilient Bourbon, Ronz World, T-Mobile, Team Kentucky, The Music Experience, TickPick, Tito's Handmade Vodka, Travel Smart Vacations, Uncle Nearest, U.S. Army, Wilderness Trail, Wild Turkey and Zelle. In addition, Bourbon & Beyond welcomed back the famous Kroger Big Bourbon Bar for its third year as well as the all-new Kentucky Bourbon Craft Trail Craft Tour for the first time.
Bourbon & Beyond would also like to thank its 2022 Kroger Big Bourbon Bar Partners: Angel's Envy, Bardstown, Boone's Bourbon, Brother's Bond, Bulleit, Calumet Farm,  Elijah Craig, Four Roses, George Dickel, Huber's Starlight Distillery, Jack Daniel's, Jefferson's, Kentucky Peerless, Larceny Bourbon, Legent, Maker's 46, Michter's, Middle West Spirits, Nelson's GreenBrier, Old Forester, Rabbit Hole, Red Line, Resilient, StoneHammer, Uncle Nearest, Wilderness Trail, & Wild Turkey. As well, Bourbon & Beyond would like to thank its 2022 KDA Craft Bar Partners: Bard Distillery, Blue Grass Distillers, Boundary Oak Distillery, Log Still Bourbon, and New Riff Distillery.
Bourbon & Beyond also thanks nonprofit partners Dare To Care, To Write Love On Her Arms, American Red Cross Kentucky Region, Headcount, Artists for Trauma, Take Me Home, Living The Dream and Kentucky 4-H Foundation.
Bourbon & Beyond is produced by Los Angeles-based Danny Wimmer Presents, one of the largest independent producers of destination music festivals in America. 2022 events include Aftershock, Bourbon & Beyond, GoldenSky Country Music Festival, Inkcarceration Music & Tattoo Festival, Louder Than Life, and Welcome To Rockville.
For more information on Bourbon & Beyond please visit:
Facebook:@bourbonandbeyond
Instagram: @bourbonandbeyond
Twitter: @bourbonNbeyond
Hashtag: #BourbonAndBeyond
We believe in quality before quantity. Please drink responsibly.