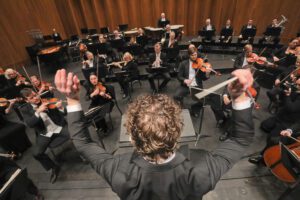 Audience is your connection to the performing arts and entertainment in Louisville. We are excited to continue to provide show previews, reviews, recommendations and more on Audience502.com, in our monthly magazine (Audience Magazine) and more.
As we jump into the fall season here in Louisville, we are excited to present some of our top picks for everything from plays and operas to concerts and festivals. We hope you get a chance to check out some, or all, of our suggestions. Also be sure to check out our preferred event calendar at Audience502.com/audience-events for our latest recommendations. Enjoy!
September
15-18   Bourbon & Beyond – Festival Grounds @ The Kentucky Fair & Expo Center
Well, if you haven't heard about the line-up this year at Bourbon & Beyond, you are in for a treat. In what is the first of two weekends (Louder than Life is Sep.t 22-25) of music presented by the talented team at Danny Wimmer Presents… don't miss your chance to experience the best in bourbon, culinary, fan experiences, and of course, great music! CLICK HERE for our exclusive interview with the Dany Wimmer team about B&B and LOTL.
Don't Miss Acts:
Thurs. 9/15: Alanis Morissette; The Revivalists; Jimmie Vaughan
Fri. 9/16: Jason Isbell & The 500 Unit; Lukas Nelson & POTR; Houndmouth; King of Leon; Christone "Kingfish" Ingram
Sat. 9/17: Pearl Jam; Greta Ven Fleet; Drive-By Truckers; St. Paul and The Broken Bones
Sun. 9/18: Chris Stapleton; The Doobie Brothers; CAAMP; Marcus King
22-25   Louder Than Life – Festival Grounds @ The Kentucky Fair & Expo Center
On the heels of Bourbon & Beyond, the Danny Wimmer Presents team rolls out another weekend of music, this time, with a little more punch! Louder Than Life has grown into one of the premier heavy metal and rock festivals in the country, and it's in your backyard! Don't miss another chance to experience festival life with everything from food and drink to the invigorating sounds of bass and rocking guitars to fill the air.
Don't Miss Acts:
Thurs. 9/22: Nine Inch Nails; Bring Me The Horizon; Evanescence; Tenacious D
Fri. 9/23: Slipknot; Shinedown; GWAR
Sat. 9/24: KISS; Alice Cooper; Rob Zombie; Jerry Cantrell
Sun. 9/25: Red Hot Chili Peppers; Alice in Chains; incubus; Papa Roach; Jelly Roll
17  Louisville Orchestra – Opening Night! – Swing, Swagger & Sway – Whitney Hall
From smoky blues to exuberant big band, Teddy Abrams opens the LO Classics season with a big and brassy tribute to jazz in the classics.
Teddy Abrams, conductor; Tessa Lark, violin
(Coffee series concert is Friday, Sept. 16 at 11:00)
17  Petty Nicks – Tribute Band for Tom Petty & Stevie Nicks – Bomhard Theater
October
 23-2  Kentucky Opera – Season Premiere – La bohème – Brown Theatre
For over 100 years, audiences have been captivated by Puccini's unforgettable music in this sweetly sentimental tale of young lovers in Paris. (Sung in Italian with English captions.)
Performances Sept. 23 @ 8:00; Sept. 25 @ 2:00; Sept. 27 @ 1:30; Sept. 29 @ 8:00 and Oct. 2 @ 2:00
30-2  St. James Court Arts Show – Old Louisville – St. James Court
Join thousands of artists, vendors and guests meandering from exhibit to exhibit and art tent to art tent at the 66th Annual show.
5  (Concert) Judah & The Lion – Happy Again Tour – Paristown Hall
15 Louisville Orchestra – Teddy Talks Schumann (Classics Series)
Teddy Abrams will lead us through the genius of Schumann's piece with his explanations and examples from the stage before conducting a full performance of Robert SCHUMANN: Symphony No. 4.
Teddy Abrams, conductor
(Coffee series concert is Friday, Oct. 14 at 11:00)
15 – Southern Accents: Tribute to Tom Petty & The Heartbreakers – Mercury Ballroom
The effort that Southern Accents put into their stage-presence to match Petty's moves and likeness separates any other tribute band out there. Don't miss these guys!
18-23  Broadway in Louisville – Fiddler on the Roof – Whitney Hall
The original production won ten Tony Awards, including a special Tony for becoming the longest-running Broadway musical of all time.
26 (Concert) Marcus Mumford
27  (Concert) Straight No Chaser: The 25th Anniversary Celebration – Whitney Hall
Enjoy one of the biggest make a cappella groups in the world whose captivating sound of nine unadulterated human voices coming together to make extraordinary music that is moving people in a fundamental sense.
27  (Concert) An Evening with Lindsey Buckingham – Brown Theatre
Lindsey Buckingham is one of the most inventive and electrifying musicians of his generation finding success with one of rocks most iconic bands, Fleetwood Mac.
For more preferred Live Events, visit Audience502.com/audience-events