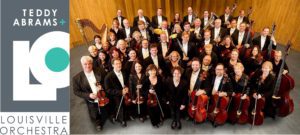 On Saturday, November 24 Bob Bernhardt and the Louisville Orchestra will celebrate the holiday season with two concerts filled with Christmas cheer and the phenomenal talent of LaKisha Jones from American Idol! The festivities begin at 11AM with a one-hour concert for the whole family. Bring the kids early to meet Santa in The Kentucky Center lobby and participate in the pre-concert activities! At 8PM, the two-hour LO Pops concert brings more music and magic of the holidays!
Principal Pops Conductor Bob Bernhardt continues to bring his unique combination of easy style, infectious enthusiasm and wonderful musicianship to the city and orchestra he loves. He has been a constant presence with the Louisville Orchestra for the past 37 years.
LaKisha Jones makes her Louisville Orchestra debut with her favorite holiday tunes like Mariah Carey's, "All I Want for Christmas is You" and "O Holy Night!"
The Louisville Youth Choir joins in for musical highlights from popular holiday films like Home Alone and The Polar Express!
Tickets to Home for the Holidays range from $15-$85* and are available by calling 502.584.7777 or visiting LouisvilleOrchestra.org. Pro-rated subscription packages are still available by calling 502.587.8681 or by visiting LouisvilleOrchestra.org.