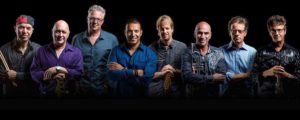 Overview: This dynamic, crowd-pleasing, studio-tight CHICAGO tribute features spectacular attention to every detail of the CHICAGO songbook. Hits like: "Saturday In The Park," "If You Leave Me Now," "25 or 6 To 4," and "You're The Inspiration" have left crowds in awe and on their feet more than once, evoking comments like "Spine-tingling," "Brought me back to my youth," and "Perfect in every detail." Brass Transit goes far beyond just imitating the songs, they embody the music.
BOB BERNHARDT, conductor
IAN JUTSUN, lead vocals
TONY CARLUCCI, bandleader
BOB McALPINE, guitar
PAUL DELONG, drums
DON BREITHAUPT, keyboards
DOUG GIBSON, trombone
PHIL POPPA, saxophones
JAY SPEZIALE, bass
Single tickets available in August 2018!
click here to purchase season tickets.