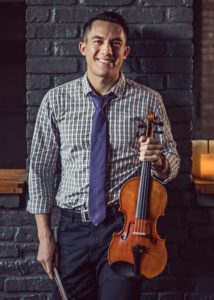 The third set of Louisville Orchestra's Music Without Borders concerts An Evening in Italy will be led by LO Concertmaster Gabriel Lefkowitz, making his Louisville Orchestra conducting debut. This concert will whisk you away to the monuments of Rome, the bridges of Venice, and the fountains of Florence. Highlights include Rossini's overture from The Barber of Seville, and the beautiful and challenging "Winter" from Vivaldi's The Four Seasons with Lefkowitz as soloist.
Performances of An Evening in Italy will take place in three locations: The Temple on Thursday, February 28 at 7:30PM; St. Francis in the Fields Episcopal Church at Harrods Creek on Friday, March 1 at 7:30PM; and across the bridge at the Paul W. Ogle Cultural and Community Center at IUS on Saturday, March 2 at 7:30PM.
Gabriel Lefkowitz joined the LO as Concertmaster in 2016. Prior to his appointment with the LO he was the Concertmaster with the Knoxville Symphony. A versatile musician of the 21st century, Mr. Lefkowitz is an active soloist, chamber musician, conductor, and a composer for films and video games.
Tickets for An Evening in Italy are $25* in advance or $30 at the door. Advanced tickets for the concerts at the Temple and St. Francis in the Fields are available by calling 502.584.7777 or online at LouisvilleOrchestra.org. Tickets to the performance at the Ogle Center are available by calling 812.941.2525 or online at LouisvilleOrchestra.org.
An Evening in Italy
Music Without Borders Series
THU 28 FEB 2019 • 7:30PM •The Temple • 5101 US-42
FRI 1 MAR 2019 • 7:30PM • St. Francis in the Fields • 6710 Wolf Pen Branch Rd, Harrods Creek
SAT 2 MAR 2019 • 7:30PM • Ogle Center at IUS • 4201 Grant Line Rd., New Albany, IN
Gabriel Lefkowitz, conductor + violin
The mission of the Louisville Orchestra is to change lives throughout our entire community as only the Louisville Orchestra can – by promoting a culture of music through outstanding performances + education. Our sponsors believe in this mission: The Louisville Orchestra receives funding from the Fund for the Arts, The Kentucky Arts Council, and the Association of the Louisville Orchestra.

Republic Bank is the sponsor for the Music Without Borders Series.
Support for these concerts are provided by Adolf and Sara van der Walde and Israel Rosenbloum Fund, and Elite Homes.
To learn more about becoming a donor, contact Edward Schadt at 502.585.9413.
*6% sales tax will be added to each ticket purchase.