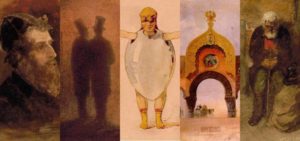 Pictures at an Exhibition was written as a reaction to artwork. We turn the tables and ask artists to create new works of art with music as their inspiration. We promise a multi-sensory arts experience as we collaborate with artists at the Kentucky College of Art + Design.
On Friday, Concert Talk begins at 10:00 AM in Whitney Hall hosted by Classical 90.5 WUOL. On Saturday, Concert Talk begins at 6:45 PM in Whitney Hall hosted by Classical 90.5 WUOL. Also on Saturday, the Bluegrass Motorsport Donor Lounge is open in the Mary Anderson Room before the concert and at intermission.The program will depend on the selections used by the artists who will be offered this list:
GEORGE FRIDERIC HANDEL: "Alla Hornpipe" from Water Music
ROBERT SCHUMANN: Symphony No. 3, Mvt. 4
IGOR STRAVINSKY: "Infernal Dance" from The Firebird
BELA BARTÓK: Music for Strings, Percussion, and Celesta, Mvt. 4
MAURICE RAVEL: "The Fairy Garden" from Mother Goose
CHARLES IVES: "The Housatonic at Stockbridge" from Three Places in New England
MODEST MUSSORGSKY: Night on Bald Mountain (1/26 concert only)
MODEST MUSSORGSKY: Pictures at an Exhibition
Teddy Abrams, conductor
For more information visit www.louisvilleorchestra.org.
Location: The Kentucky Center, 501 W Main St 
Date(s): Friday, January 25th – Saturday, January 26th
Ages: All ages
Price: Tickets start at $20.00* (Friday) and $27.00* (Saturday) *sales tax not included
Running Time: Approximately 1 hour (Friday) and 2 hours (Saturday)