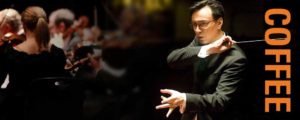 Overview: Ken-David Masur, the next generation of the talented Masur family (his father Kurt was a noted-conductor), is making his mark as a bold and fearless conductor whose performances as Associate Conductor with the Boston Symphony are thrilling audiences. He makes his LO debut conducting our own principal oboist as soloist and Brahms' (1833-1897)  first significant symphonic work.
ERIC NATHAN:  the space of a door
RICHARD STRAUSS:  Oboe Concerto
JOHANNES BRAHMS:  Serenade No. 1
ALEXANDER VVEDENSKIY, oboe
KEN-DAVID MASUR, conductor
Single tickets available in August 2018!
CLICK HERE to purchase season tickets.