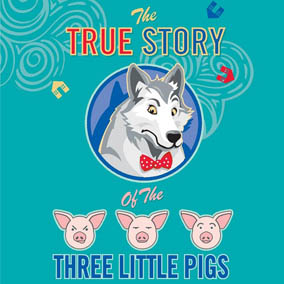 There are two sides to every story, and when the Big, Bad Wolf takes the stand in Piggsylvania's Trial of the Century, he finally gets his say. But whether he'll get a fair trial in piggy court is anyone's guess! Will the pigs make a puppet out of justice, or is the wolf's catchy song-and-dance about a sneeze gone wrong all razzle-dazzle? This musical adaptation of the popular children's book is sure to delight!
Please note the April 13th, 2:00 PM event is a Sensory Friendly Performance.
Location: Brown Theatre, 315 W Broadway – GET DIRECTIONS
Date(s): Friday, March 22nd – Saturday, April 13th
Ages: Recommended 5+
Price: Ages 13+ $20.00* | Ages 1-12 $15.00*
*sales tax not included
Running Time: Approximately 1 hour
Access Services: Accessible Seating, Assistive Listening System, Audio Description (4/13 @ 2 PM), Caption Theater (4/13 @ 2 PM), American Sign Language (4/13 @ 2 PM), Sensory Friendly Performance (4/13 @ 2 PM) | 502-566-5111 (V) or 502-566-5140 (TTY)
CLICK HERE to purchase tickets.