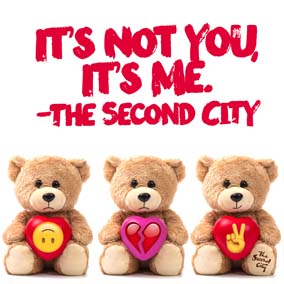 The Second City has been laughing at love and its infinite scroll of side effects for decades. In the world-famous comedy company's latest laughter-inducing undertaking, IT'S NOT YOU, IT'S ME, THE SECOND CITY takes shots at heartbreak, missed connections and the mire of human relationships. Your friends, your parents, even your blind date will find something achingly familiar to laugh at, thanks to comedy's newest generation of writers and performers…who all fit squarely into the "it's complicated" category!
SCENE at the Center, the small plates eatery, offers bar and food service two hours prior to most performances in Whitney Hall and the Bomhard Theater. Kitchen service ends as the curtain rises, but beverage service will continue throughout the performances and extend through midnight on Friday and Saturday nights.

Location: The Kentucky Center, 501 W Main St
Date: Friday, February 1st @ 8:00 PM
Ages: Adult Language and Themes
Price: Tickets are $35.00*
*sales tax not included
Running Time: Approximately 1 hour 30 minutes
CLICK HERE to purchase tickets.