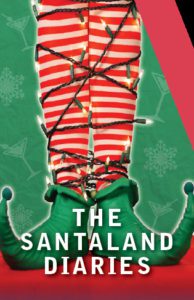 What has become one of the most popular holiday performances at Actors Theatre of Louisville, Santaland Diaries brings great humor to the season through December 23rd.
The play was written by David Sedaris, before he became a bestselling author, who once survived by working odd jobs where he could find the opportunity. He picked apples in Oregon. He reinforced the edges of window screens with a stapler (to keep squirrels from invading attics) in Chicago. He cleaned apartments in New York City. And, broke and jobless after first moving to the Big Apple, he got a gig playing an elf at Macy's "SantaLand," which would inspire his beloved and hilariously biting personal essay, "Santaland Diaries."
Sedaris is now a literary celebrity. He's one of the few writers who can fill Carnegie Hall with his adoring fans and who's been considered funny enough to appear regularly on The Late Show with David Letterman. During his days as Crumpet the Elf, however, he never thought he'd see his dream of being a published author come true. "I'm wearing a green velvet costume; it doesn't get any worse than this," Sedaris- as-Crumpet quips darkly. But his career would profit immensely from this time spent faking holiday cheer and herding frazzled families for their photo with Santa. It was "Santaland Diaries" that introduced Sedaris's signature deadpan humor to a national audience, catapulting him to fame in the early 1990s.
Since 1977, Sedaris had kept a diary, often carrying a notebook with him to record experiences both bizarre and mundane. (He's known for his ability to highlight the weirdness of everyday life, zeroing in on personal quirks or strange encounters that are often highly relatable, but that we might never think to document in such comic detail.) As with many of his other early writings, the pithy observations in "Santaland Diaries" originally came from these journal entries. According to Sedaris, "'Santaland' was just stuff in my diary. All I did was take things from my diary and arrange them."
One night, he was reading excerpts from his diary onstage at a small New York club. He later recounted in an NPR interview:
"[Radio host] Ira Glass was in the audience. He introduced himself…. Later, he called, asking if I had anything Christmassy for a show that he was doing at the time called The Wild Room, which was sort of a primitive version of This American Life. So I recorded the Santa story for that, and then he put it on [the daily NPR program] Morning Edition."
Sedaris could never have predicted the rush of popularity that followed. "My life just changed completely," he has said, "like someone waved a magic wand." In conversation with NPR, he elaborated:
Play Notes:
"'Santaland' was the first thing I ever had on the radio. I'd read out loud before and had things published in small magazines, but no one had ever heard of them. When I did a reading out loud, there might have been eighteen people in the audience. To go from that to the Morning Edition audience is a pretty substantial leap.
"After 'Santaland,' the phone just started ringing. One time, a telephone operator even called me. She called to say that she had heard [the piece]. I didn't know operators were allowed to make calls. I was thinking, 'Don't you need to be at your switchboard? Maybe somebody needs to go to the hospital.' …I was very, very surprised.
"Again, it was just from that one story. It was one thing for someone you went to high school with to call, but then people called wanting me to do commercials or write a movie. It was heady to go from having no opportunities to so many."
The rest is history. Thanks to the wild success of "Santaland Diaries," Sedaris, in his words, "went from having 50 listeners to 50 million listeners." Soon after, he landed the book contract that led to his first published collection of essays and short fiction, the critically acclaimed Barrel Fever (in which "Santaland Diaries" also appears).
Today, there are more than 10 million copies of Sedaris's books in print, and his work has been translated into 25 languages. Meanwhile, his recording of "Santaland Diaries" has aired on Morning Edition during the Christmas season every year since
2004, and is one of the show's most requested features. Not too shabby for a man who'd often joked that he was only qualified for "jobs that needed no skills."
The Santaland Diaries is now showing at Actors Theatre in the Victor Jory Theatre through December 23rd, so be sure to go check out this David Sedaris masterpiece before Christmas!
CLICK HERE to purchase tickets