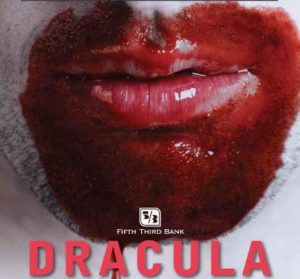 Dracula is one of the most recognized vampire stories in history. The plot derives from an 1897 novel by Irish author, Abraham Stoker and tells the story of Dracula's attempt to move from Transylvania to England so that he may find new blood and spread the undead curse.
Stoker was born in 1847 in a seaside town north of Dublin, Ireland and suffered a mysterious ailment in his childhood which kept him unable to walk until he was seven. Both of his parents were storytellers: his father, a civil servant, told vivid tales about the theatre. His mother told him Irish folk tales as well as stories from her childhood—stories about drinking the blood of the family cow for nourishment during the Potato Famine and about the cholera epidemic of 1832, during which some victims were mistaken for dead and buried alive.
As a young man, fully recovered from his childhood illness, Stoker worked as a Clerk to the Registrar of Petty Sessions for the Irish government (his first book, The Duties of Clerks of Petty Sessions in Ireland [1866], was significantly more exhaustive and less sensational than his most famous work).
Stoker filled his evenings with theatre, eventually volunteering as the drama critic for Dublin's Evening Mail. During this time the wooed Florence Balcombe from her other suitor, Oscar Wilde. After their marriage, Stoker published several short stories, including a volume of fairy tales based on the cholera outbreak of his mother's youth.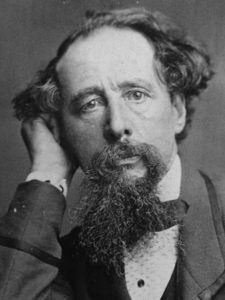 When he was 29, Stoker met the famed British actor Henry Irving. The two became friends, and when Irving formed his own company soon thereafter, Stoker became his acting manager. He held the job for 28 years. Irving—known for his brooding and temper, as well as definitive performances of heroes and villains alike—would prove a powerful creative influence for Stoker, who is theorized to have crafted Count Dracula as a star vehicle for Irving (and to have based some of the Count's less savory characteristics on Irving's domineering personality).
Bram Stoker spent seven years plotting, re-plotting, researching and crafting the action and prose of Dracula. The novel is written in diary entries, letters and newspaper clippings, and Stoker's research took him around England, plotting train and boat schedules with a diligence befitting a former civil servant.
Although it introduced one of the most famous vampires of all time, Stoker's work was met with mixed reviews and middling sales in his lifetime. Perhaps more disappointing, after hearing the reading Stoker staged for his benefit shortly before the novel's publication, Henry Irving called the work "dreadful."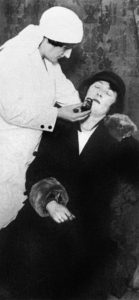 Stoker never lived to see Dracula adapted for the stage, although it became a theatrical sensation relatively soon after Stoker's 1912 death, and has gone on to inspire countless movies, television shows and novels in the 121 years since its initial publication. From the folk tales of his youth to the theatrics that saturated his daily life, Stoker crafted a character for the ages.
Take a deep breath and enjoy the explosion of action and effects, passion and terror in this year's production of Dracula.
Performances at Actor's Theatre Louisville from September 7 – October 31. Tickets are on sale now… CLICK HERE to purchase yours today!