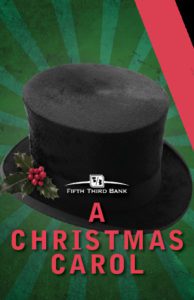 The long-standing annual Holiday classic, A Christmas Carol, is underway at Actors Theatre now through December 23rd. Here is a look back at the famous play and how Charles Dickens created what would become a classic tradition and the Invention of Christmas.
When Charles Dickens published A Christmas Carol in 1843, Christmas wasn't a major holiday in England. It had become somewhat unfashionable among the middle and upper classes, and the working-class families who did celebrate it barely had time to do so—Ebenezer Scrooge's reluctance to give Bob Cratchit a day off was no exaggeration!
Other grim aspects of life in Dickens's England may have blunted any seasonal cheer: up to one-third of Londoners lived in poverty, tuberculosis was rampant, and child mortality was high.
Celebrating Christmas in England had also occasionally been controversial, and it was even briefly illegal in the mid-1600s, when Oliver Cromwell and his fellow Puritans mandated that December 25 be dedicated to fasting and repentance—no extravagant English traditions in sight.
Dickens, however, loved those traditions. His son Henry remembered that at Christmastime, Dickens "was always at his best, a splendid host, bright and jolly as a boy and throwing his heart and soul into everything." But having spent part of his childhood working in a factory, Dickens was keenly aware that not everyone was well-off enough to enjoy Christmas. And so for him, the day wasn't just about
indulging and merry-making; it was also a time for generosity and self-reflection. His perspective struck a chord: A Christmas Carol was an instant hit, not only in England but also throughout Europe and the United States, and it popularized many holiday customs, including eating turkey and saying "Merry Christmas."
That said, it's perhaps a stretch to call Charles Dickens "the man who invented Christmas," as scholar F. G. Kitton did in 1903. Though the nickname has stuck, it so happens that the publication of A Christmas Carol coincided with a broader reemergence of the holiday in Victorian England. English-language carols exploded in number and popularity during Dickens's time, and the same year that A Christmas Carol came out, the first commercial Christmas card was introduced. Christmas trees became a fad in England and the United States a few years later, thanks largely to Queen Victoria's husband, Prince Albert, who brought the custom from his native Germany.
In other words, Dickens's writing both inspired his fellow Victorians to rediscover Christmas and reflected how they were already doing so. But Dickens also pressed his readers to keep the season's spirit of compassion alive year-round—an idea that remains powerful today.
~ Jes
The show will run today through December 23, so be sure to check it to experience this holiday magic between now and then! CLICK HERE to purchase tickets