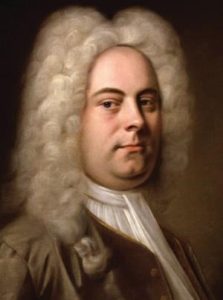 Utterly transcendent! An inspiring performance of this seasonal masterpiece in a location that glows with the grace and joy of Christmas. Kent Hatteberg leads the Louisville Orchestra, the Louisville Chamber Choir and a select group of soloists at Cathedral of the Assumption. What makes this performance even more divine is its astonishing history.
George Frideric Handel was born in Halle, Germany, in 1685 and died in London in 1759. He composed Messiah in 1741 and led the first performance in the New Music Hall, Dublin, in 1742. The text, taken entirely from biblical passages, was assembled by Charles Jennens. The score calls for soprano, alto, tenor and bass soloists; chorus; 2 oboes; bassoon; 2 trumpets; timpani; strings; and continuo.
Handel spent most of his adult life living in London, composing dozens of Italian-style operas for a city that couldn't get enough of them. They were usually successful, but not always; both he and his opera company neared the brink of financial ruin more than once. Eventually Londoners lost their thirst for opera, and though Handel tried desperately to keep his string of successes going, it was no use.
Yet just as his operas began failing, oratorios were becoming the next big thing in London. Oratorios are really operas in disguise; the difference is that oratorios portray biblical subjects and are meant to be presented in concert form. But oratorios use orchestra, chorus and soloists, and they contain arias, duets, ensembles, choruses and recitatives,masterworks as Saul, Israel in Egypt and of course Messiah.
When Handel composed Messiah, his finances were at a low ebb. Two of his operas had failed in succession, and rumors began that he would leave England altogether. When he was invited to Dublin by William Cavendish, Third Duke of Devonshire, he welcomed the change of scenery and hoped that his trip would fatten his purse at the same time. Handel put on a series of six subscription concerts of his works featuring himself as organ soloist. They along with the occasional orchestral movement. They were a hit with the public, and Handel supplied as many as could be consumed, including such were a smashing success—so much so that another series of six were promptly scheduled and Handel became the toast of the town.
Messiah, however, was not part of Handel's profit-making enterprise. Before he left for Ireland he was asked to compose a work for a concert that would benefit three Dublin charities: Mercer's Hospital, The Charitable Infirmary and a society for the relief of imprisoned debtors. (Though he was in some difficulty himself, Handel was always quick to aid a charitable cause.)
He completed Messiah in an astonishing 24 days, just before he sailed for Ireland. By the time Messiah was performed in Dublin at Eastertime, Handel's popularity there had become so great that a huge audience was expected; ladies were advised to forego their hoops and gentlemen their swords so a larger audience would fit in the hall and more money could be raised.
Messiah was a sensation. The Dublin Journal said, "Words are wanting to express the exquisite delight it afforded to the admiring crowded audience."
Handel hoped to duplicate the success of Messiah in London, but at first it seemed a lost cause. Where his Old Testament oratorios were well-received, the New Testament Messiah seemed somehow to have crossed a line: there were many who objected to the story of Jesus being turned into an "entertainment" given that theaters were considered dens filled with shady characters of loose morals. Over the course of several years, Handel put on Messiah three times, but it was received with utter indifference on each occasion. It was only when Handel harkened back to Messiah's original purpose—a production intended to raise money for charities—that Messiah not only succeeded but became the musical fixture it is today.
In 1750, Handel offered to produce his Messiah at a concert to benefit London's Foundling Hospital, a "Hospital for the Maintenance and Education of Exposed and Deserted Young Children"— and somehow the public's perception of the work changed overnight. So many clamored for tickets and so many had to be turned away at the door that a repeat performance had to be hastily organized. The public's reaction was ecstatic, and
the foundling hospital's coffers were filled. The benefit performance was repeated annually and the practice of performing Messiah every season—a now250 year tradition of standing—began.
Messiah differs from Handel's other oratorios. For one thing, it relies heavily on its choruses to deliver its narrative. For another, it has no plot; it is not a biography of Jesus and there is no dramatic action. In fact, it has no characters at all. It is, rather, a musical exegesis of the Christian faith. It is not really about "what" or "how" at all—it is about "why."
Messiah's music is remarkable in its scope, its depth and its sheer beauty. It is a long work, but it doesn't seem so: Handel's music is a study in balanced proportion and exquisite pacing. There are three large sections. Part I begins
with an unsettled, minor-key orchestral Sinfonia. It continues with words from the prophet Isaiah and others, predicting the coming of the Messiah, giving the circumstances of his birth, and relating God's plan for the redemption of Mankind. Part II tells of Man's rejection of Jesus, his passion and his resurrection. Part III is a hymn of thanksgiving that death is finally overcome.
Messiah's arias are where Handel is at his most poignant and his most personal. The highlights are far too numerous to mention, but among them are the joyous "Ev'ry valley shall be exalted" and "O thou that tellest"; the wandering music of "The people that walked in the darkness"; and the glorious interplay of "The trumpet shall sound."
But the real power of Messiah lies in its choruses. It is there that Handel transcends the individual and reaches for the universal, in the jubilant "And the glory of the Lord"; the mesmerizing melismas of "And He shall purify"; the
innocent and sunny "For unto us a child is born"; the utterly remarkable "Glory to God"; and the magnificent trilogy of choruses that conclude the work, culminating in the monumental "Amen." And of course, there is "Hallelujah!"
The reason why people in many places—though not all—traditionally stand up for the "Hallelujah!" chorus is not known. Some say that King George II stood during the "Hallelujah!" chorus at an early performance and, of course, when the king stands up, everybody stands up. Whether the king was saluting the brilliant music, was suddenly wakened by it or merely needed to stretch his legs is unclear. Some object to the practice as a disruption to the music, while others feel it adds a charming spirit to the occasion. In any case, this chorus is perhaps the best-known piece of classical music ever written, and rightly so.
Neither a biography nor a catechism, Messiah is unique among works of sacred music. From widely scattered snippets of biblical text, it makes an extraordinary unity of spirit and of faith. Though its long tradition began as a Lenten observance, its transformation into a Christmas experience is altogether fitting. Conceived as an act of charity, it is far more than a sacred offering from a generous man; it is one of the gifts of life itself.
Holiday: Handel's Messiah will be showing Thursday November 29th, Friday November 30th, and Saturday December 1st. CLICK HERE to purchase tickets.