When the pandemic shut down stages around the world, entertainers and audiences alike were left searching for ways to fill their entertainment needs. Livestreams and other creative collaborations were plentiful and fantastic, but they didn't quite replace the feeling you get at a live performance: The bass in your belly. The camaraderie of fellow fans.
The energy from the lights going down and hearing that first note, to the moments after the final encore when the lights come back on.
After a long and quiet year and a half, Old Forester's Paristown Hall is ready to rock again with a lineup of bands and musicians that will bring audiences to their feet. The first performance will feature The Paul Thorn Band on Aug. 27. It is sure to be a show you won't want to miss.
Audience Interview: Paul Thorn: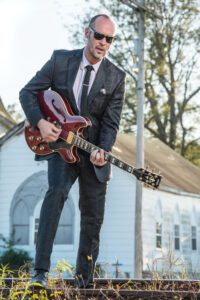 Audience Publisher, G. Douglas Dreisbach, caught up with Paul Thorn to talk about his return to the stage, his musical inspirations and why music is so important to us all. Be sure to check out his show, as well as the other great concerts coming to Paristown. The full lineup can be found at KentuckyPerformingArts.org.
Douglas Dreisbach: We're excited that you will be the first band to play at Paristown Hall since the venue reopened. That's a pretty big deal. How did you deal with the pandemic and not being able to perform in front of live audiences?
Paul Thorn: When the pandemic hit, I didn't have a gig for over nine months, and then during that time, I caught COVID. It put me under the weather for about two weeks. I laid in bed feeling rough. But I survived that, and I started back doing a few gigs, just me and my guitar, without my band because half the venues were closed permanently, and the venues that were open were at half capacity, so there was really no money to take the band out. So, we all felt a hit. It was like we lost our jobs.
But during the pandemic, besides losing money — which I can get past that, that's no big deal —what really was beautiful about it for me was that I got to be at home. When you do this for a living, people don't realize how much you have to be away from home and what a strain it puts on any family. So, even though the pandemic was bad, and I got sick and all that, the majority of it, I was in heaven because I could take my daughter to soccer games. I got to go to all the things that I miss a lot of, like football games, just stuff like dragging the garbage out to the road. Just little mundane things that seem horrible to some people, I felt like I was in Disneyland.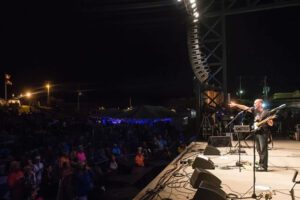 GDD:  During COVID and no live shows, we saw musicians doing different things like streaming from their homes, giving guitar lessons online and other creative things to stay active and visible. How did you spend your time? You mentioned family time, which is awesome. Did you also work on your new album?
PT: We cut our new record at the end of 2019, but when the pandemic shut the whole world down, it was a bit foolish to put a new record out when there's no way to tour and no way to promote it. So, we waited until things got back on track, which it looks like it's going that way now. The new record is coming out in August. We have a better shot at getting heard now because we can go out and tour, and we can do all the things you need to do to promote a record.
But other than that, during the time off, I did a lot of artwork and stuff around the house that needed to be done, I wrote a few songs, and life is moving on. We all got hit pretty hard, but when you get hit hard, you've got to get back up. So, I'm in the getting back up phase right now with a lot of good things on the horizon.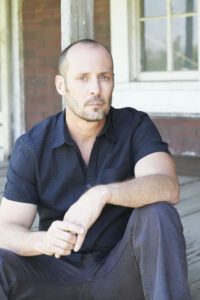 GDD: Speaking of getting hit and getting back up, you grew up in Tupelo, Miss., where you had a stint as a boxer for a while. How did you go from boxing to realizing that you're a singer and a songwriter?
PT: My dad is a Pentecostal preacher, so I grew up singing in church. That's where I really got my start with music. I was a boxer and was ranked No. 29 in the world at one time with a record of 14 and 4. The thing I'm most known for is a fight I lost against one of the greatest fighters that ever lived, Bert Duran. He is probably in the top five greatest of all time.
GDD:  You have played here in Louisville a few times before. What do you like about Louisville? Do you get a chance to go around town, pre- and post-show, or do you generally come in, perform, and head out?
PT: Louisville has the Muhammed Ali museum, which is great and awesome, and I think he was the greatest. I'm just the goodest. I'm the goodest, and he's the greatest.
As far as seeing the town, that just depends on where we're coming from. But when you're on tour, it's not like you're going on vacation. You're going to work. And I enjoy my work, but it's not a vacation. It's rare that we get a day to just go see the sights. We have some, but not as much as people think.
GDD: When you go on your tour, do you have a specific set list you stick to for the full tour? Or do you change it up every show or have some improv folded in?
PT: Every year, we'll work up two or three sets, and we'll just alternate them city to city. I'll play a lot of old stuff that fans want to hear, and then I'm really proud of this new record we put out, and I'll be playing a few songs off my new record, too.
GDD: Tell me about the new record. It's called Never Too Late to Call.
PT: It's coming out in August, but right now two songs off the record are available on Spotify. I hadn't put out an album of original material in six years, and so, it's been a minute. But there's a lot of reasons for that. The main one — I had lots of songs, but I didn't think I had any real good ones, and I wanted to wait until I had some songs I really felt good about. I do now, and I'm really proud of these songs.
There's a lot of things autobiographical on this. Like a lot of people during the pandemic, drinking became an issue. I drank for quite a while, but even before the pandemic, my drinking had gotten a little bit out of hand, and I could see it was taking a toll on me in a bad way. So I quit drinking. A lot of this, not the whole record, but there's a lot of stuff on the record … that are like my getting-sober songs — the songs that I wrote when I was drinking too much. And it can sneak up on anybody. Just two, straight-laced guys who live in my neighborhood, who just seemed like normal-functioning, high-functioning people, had to go to rehab during the pandemic, because during the pandemic, people just started drinking more than usual, and drinking too much. When I do shows, I'll say sometimes, "How many of y'all's drinking accelerated during the pandemic?" And they all just start laughing and raise their hand. It can sneak up on you. So, I laid it aside, and I feel a thousand times better. Some of the record touches on that.
GDD:  It's interesting you say that. I'm a big fan of Jason Isbell, and I saw an interview with him where he talked about giving up drinking several years ago. At first, he thought it was going to affect his creativity and songwriting. But he found that it didn't. It actually inspired him to do more. Have you found that, or has it altered your creativity in songwriting since you stopped drinking?
PT: Yes, absolutely. Part of it was, a lot of days, I was waking up with a hangover. And you can't do anything when you've got a hangover. The snowball got too big. It just started out as a little snowball, and then it became an avalanche. So, I decided I don't need it anymore. After I got a little time under my belt, I'm feeling so much better. There are people that can drink, and it's fine. Some people can have a drink or two, and that's it. But I couldn't do that anymore, so I don't need it no more. I'm happy.
GDD: Your music carries a humorous side, with songs like, "I Don't Like Half the Folks I Love," "Pimps and Preachers," "It's a Great Day to Whoop Somebody's Ass," and others, but the meaning of each of them is serious and real. How do you come up with your lyrics, and when did you realize that humor and music can go together?
PT: Well, "Pimps and Preachers" was written because my father was a Pentecostal preacher, and his brother, my uncle, was a pimp. I just wrote about it. That's not a fiction. Those are real people. And as far as, "I Don't Like Half the Folks I Love," who can't say that, you know? There's a reason we get together only once a year, for Christmas and Thanksgiving, because that's all we can stand sometimes. Some of our family, we love them, but they are hard to be around, and you love somebody, but you don't necessarily like them.
GDD:  Your music has some blues, some rock vibe and a little folk at times. How would you describe your music and the goal of what you want it to be?
PT: That's a hard question. I like to put empathy in my songs, and I like to make my songs where the listener feels like it's them that I'm singing about, because we all go through the same joys and the same hardships. … It's just people — we've got a different name, but we're all going through the same stuff. And I want my music to resonate and the listener to … after the song, say, "I believe Paul knows exactly how I feel." We're all the same.
GDD:  Do you have any musical inspirations, who you listen to and aspire to?
PT: Yeah, I like songwriters, and when I say songwriters, these names get thrown around a lot, but there's a reason for it because they're people like Kristofferson or John Prine. I mean, those are songwriters. If you can write a song like them guys and aspire to be as good as them, that's what I try to do. When I was a boxer, at my best, I was not even close to being what Muhammed Ali was, but I had something I could aspire to be, you know what I mean? I could try to be that great. I couldn't be that great, but I could try. He showed an example, where if you work hard, you can do something.
GDD:  Do you have a favorite guitar? Or do you travel with several when you tour? And how do you pick that as part of your travel situation?
PT: My favorite guitar, I don't actually carry around with me. My favorite guitar is a 20-year-old Gibson Hummingbird, and the neck got broke off of it when I was out on tour one time, and then when I got it fixed, I just decided to retire it and leave it home, even though it's my favorite one. But the one I use on the road actually is — I've got one of those carbon fiber guitars. It's made out of the same materials they've made spaceships out of. Extreme heat, and extreme cold —neither one bothers it, so it never goes out of tune. If you had a wooden guitar, and maybe you're in the shade, and you step out in the sun a little more, it'll go out of tune because the temperature affects the wood. But this carbon fiber guitar I've got — it stays in tune for the entire show. And it's not a pretty a guitar as my Hummingbird, but in a lot of situations, it's better. Some people are turned off by these carbon fiber guitars, but I think they're great.
Quick Hits with Paul Thorn:
First guitar? My first guitar was one my Daddy got me — a Glen Campbell Ovation Acoustic in '63. To be honest, it's not that great of a guitar, but it's sentimental. And I keep it, and I've got it hung up on the wall of the house.
First Live Show You Performed? It was at this fish and steak house when I was five years old. It was me and my ventriloquist doll telling jokes.
Musician you like to jam with onstage, living or dead? Elvis Presley. I'd like to play the guitar in Elvis's band. I wouldn't want to go up there and try to do what he does because he would pretty much outshine anybody. He had the gift of — he had that little factor that you can't really define, you know?