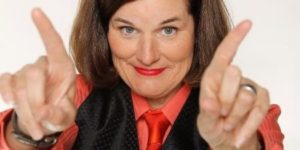 Paula Poundstone is one of our country's preeminent comedians, known for her smart, observational humor and spontaneous wit that has become the stuff of legend. She tours regularly performing over 85 shows a year. Paula is a popular panelist on NPR's # 1 show, the weekly comedy news quiz,Wait, Wait…Don't Tell Me! Her new weekly podcast for Maximum Fun, Nobody Listens to Paula Poundstone, is a comedy field guide to life. 

Each week Paula and her co-host, Adam Felber, a friend and fellow panelist on Wait Wait…Don't Tell Me! bring on leading expert guests and use their unique comedic sensibility to help us navigate life in the 21st century.  Along the way, Paula attempts to explain existence through her kaleidoscopic perspective, and Adam tries to interject some rationality.
Location: The Kentucky Center, 501 W Main St
Date: Thursday, January 31st @ 8:00 PM
Ages: Adult Language and Themes
Price: Tickets are $35.00*
*sales tax not included
Running Time: Approximately 1 hour 30 minutes
CLICK HERE to purchase tickets.